Sponsored Products
Featured Reviews of Comforters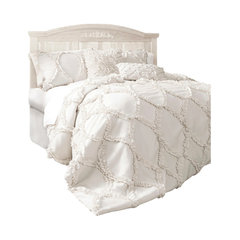 Eleanor 3-Piece Comforter Set, White, King
Comforters
Beautiful!: Just remodeled my bedroom with shiplap and this comforter is gorgeous, fitting in with the shabby chic look! Extremely soft and very white! I ordered queen size and fits true to size on queen bed. Extremely happy!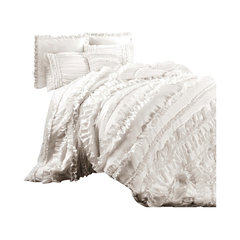 Eloise Ruffled 4-Piece Bedding Set, White, King
Comforters
Lush Decor: Was concerned that fabric was polyester as I had searched for cotton. When the Belle 4 package arrived I could see that I would really enjoy the bedspread. Absolutely love it. The best thing is that it is so lovely on the bed it prevents me from cluttering it, from junking up my bed with clothes. Could not be more pleased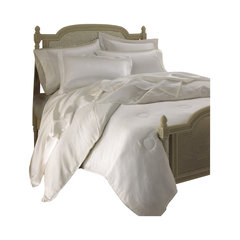 Ellington Mulberry Silk Comforter, Oversized King, All Season Weight
Comforters
So soft: This is a beautiful silk comforter. I could not be more pleased with it. It has just the right weight, and folds beautifully. I keep it at the end of the bed during the day because it is so lovely. I would highly recommend it!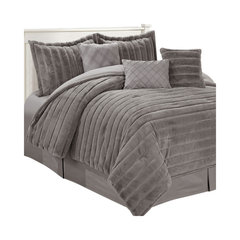 Rabbit Faux Fur 7 Piece Comforter Set, Silver, King
Comforters
Super soft!: We have a king size (NOT Cali) and it could be a little longer on the sides, but it covers the mattress. The skirt hides the box and in our frame, the comforter sits right above the side rail, so it's perfect size for our bed. It's way softer than I thought it would be too. Not sure why my photos turned sideways when I uploaded, sorry!)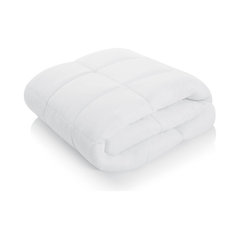 LINENSPA All-Season Down Alternative Quilted Comforter, White, Queen
Comforters
So soft!: Beautifully soft comforter. Good fit for our cal king duvet cover. No crinkling sound when you use it!! It is lightweight but still a little too warm even in our 58 degree home at night.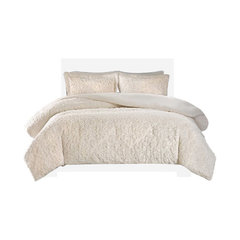 Paisley Embroidered Long Fur Ultra Plush Comforter Mini Set, Ivory, King
Comforters
Very Nice!: Purchased two XL twins for a dorm room. Felt like it was a good find because could not find anything like it in stores. It looks like it did on the Houz website. Feels great and good quality! Ordered arrived in a timely manner. I would recommend this product to others.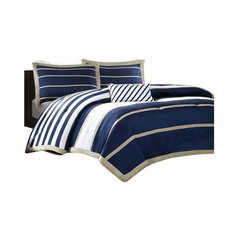 Peach Skin Printed Comforter 4-Piece Set, Navy, Full/Queen
Comforters
Nice medium comforter: Nice colors, good feel, a little lighter weight than I was expecting. Comes with matching decorative pillow & pillow cover (for twin set = just 1 pillow cover & 1 pillow. Solid product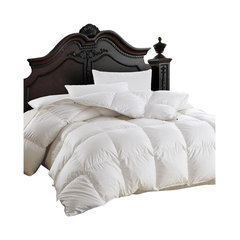 Luxurious Siberian Goose Down Comforter 600 Thread Count 750FP, King
Comforters
Just arrived: We aired the comforter out as suggested. It is now nice and fluffy and feels the quality of one I have had for years. It also has corner ribbons to tie the duvet onto. Thus far we are quiet pleased.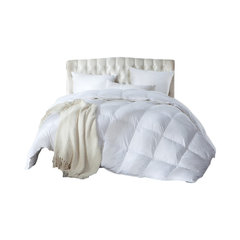 Luxurious Siberian Goose Down Comforter 1200 Thread Count 750FP, Queen
Comforters
Beeding: Great bedding and shipped really fast. Very Affordable! I would buy from Houzz again!!! Again they sent me my item fast and it was just what the picture looked like!!!!! My questions were answered quickly. I had an excellent experience.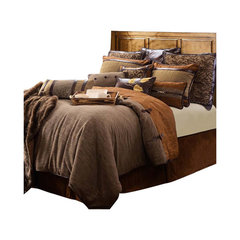 5-Piece Highland Lodge Collection, Super Queen
Comforters
Finally a comforter that covers our mattress: Finally a Queen that really covers our deep mattress and box. Good quality. Waited until set arrived to decide on more pillows. Didn't choose curtains but rather wood slat blinds. Easy colors to make your own.