Platform Beds
Stop buying box spring replacements and invest in a sturdy platform bed instead. A platform bed frame cuts out the middleman, better know as the box spring, and opens up the possibilities for increased storage or extra sleeping space within the same footprint as a regular frame. Before you start shopping, learn how to choose the best platform beds by reading the information below:
What is a platform bed?
A platform bed is a bed frame that is constructed in a way that does not require a box spring to be used beneath the mattress. The platform frame is typically built with plenty of wooden or metal slats running from side to side making it sturdy enough that it fully supports and distributes the weight of the mattress (the job of a box spring in other bed designs). One added bonus is that the openings between the slats allow your mattress to breathe more, which may help reduce buildup of things such as allergens and moisture. Without the need for a box spring, you have more space for potential storage or simply rocking the low-profile look, if that's what you're going for. Foregoing the box spring can also save you a few extra bucks too. If your goal is to save space in your room and turn your bed into a storage powerhouse, try a
storage platform bed
with drawers underneath to maximize every square inch. You can also stash a
trundle
under the bed platform for overnight guests — blocking dust bunnies from gathering beneath the bed is a nice bonus too!
What do I need to know before purchasing a platform bed frame?
Be cautious if you plan to use platform bed frames with a solid memory foam mattress and the slats are too far apart. A good rule of thumb for any type of mattress is that the slats should be about 3 inches apart from one another in order to form a solid foundation. Anything much further apart may not provide the support your mattress needs. Also consider the width and thickness of each slat — the skinnier and thinner they are the more flimsy they tend to be, which can lead to bowing. You can alway use a thin but sturdy board on top of the slats to provide a solid surface in lieu of a box spring. How your platform bed frame is assembled is another important consideration. Most often the slats are connected to the outer frame with screws and nails; however, some higher-end styles may have mortise and tenon construction. Mortise and tenon tends to be the sturdier choice, since screws and nails can loosen over time. Another option may be tongue and groove, which is similar to mortise and tenon but features shorter links, making it less sturdy. Also know that you aren't restricted from adding box springs to platform beds if you want the mattress to sit up higher; it's all a personal preference!
Sponsored Products
Featured Reviews of Platform Beds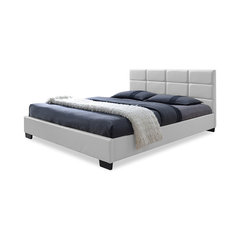 Vivaldi Faux Leather Padded Platform Base Bed, Queen, White
Platform Beds
modern looking: i like the purchase. it is modern looking with clean lines. i like the leather look and feel. the one possible negative is the frame is low to the floor. i would have prefer it to be 6 to 8 inches taller off the floor. yet it is a great value, and well put together bed.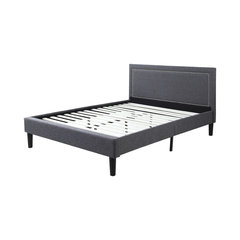 Nailhead Trimmed Grey Linen Fabric Platform Bed with Wooden Slats, Queen
Platform Beds
Love it: Love it, looks great in our guest room ready for when my mum visits from England. Everyone tells us how it looks like a hotel guest room with this bed in it. Fabulous and pretty well made for the price although if you have a good mattress with a warranty you'll have to put some plywood instead of the slats not a big deal though & only necessary if you have a warranty on your mattress. Big thumbs up!!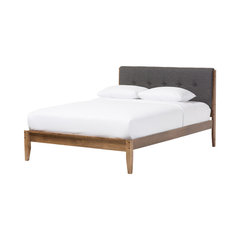 Leyton Mid-Century Modern Gray Fabric Upholstered Platform Bed, Queen
Platform Beds
Wow love the bed! Great quality for the price!: Wow love the bed! Great quality for the price! Just know that the stock photo doesn't show the cover pegs that cover/hid the screws... that they are included just not shown on the stock photos. Easy to put together. Comes in 3 boxes. Hint: I used a 10 1/2" or so memory foam mattress with it, any thicker and the bed may look funny due to the fact its a lower more modern bed. Yes the wood and the color of the headboard is as pictured very true to the stock photo.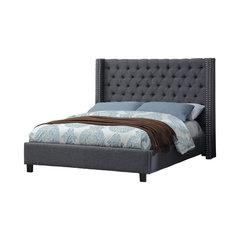 Allendale Linen Bed, Gray, King
Platform Beds
Great Bed!: I received the bed in two boxes. Overall, it was easy for me to put it together by myself. The only issue I had was with the left wing, it wasn't sliding in as easily as the right one. It took me a while to see that it was a screw on the main frame that was stopping it. Once, I screwed it all the way the wing slide in easily. The bed looks awesome, better than the picture. Great construction also. Highly recommend it.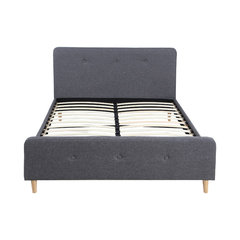 Mid Century Modern Gray Linen Fabric Low Profile Bed Frame, Queen
Platform Beds
Good for the price: Assembly instructions were good. Fabric is thinner than I expected, but I guess it matched price point. It seams sturdy enough, but only base that on sleeping. We shall see if it holds up! My mattress is a heavy and thick one and still shows enough of the headboard.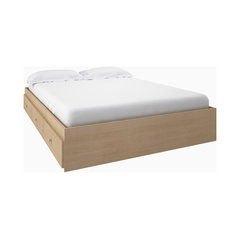 Alegria Full Size Storage Bed, Natural Maple
Platform Beds
Pretty nice!: So I was expecting a huge box and everything to be headache inducing, but everything was relatively easy! I put together the whole thing by myself. It says you need a hammer but that's a lie all you need is a screw driver and an hour of your time and you've got a nice comfy platform bed!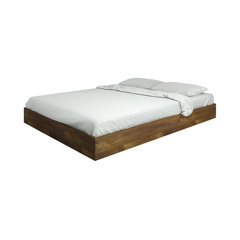 Nexera Nocce Platform Bed
Platform Beds
Affordable and Modern!: I really wish this came in a king but I loved the frame so much I decided to go with a queen. Pics look like the bed is closer to the floor than it really is. I constantly get compliments on it. Thinking about putting panels behind for a headboard. 10/10 would recommend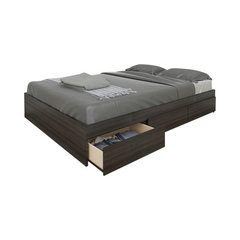 Appeal Minimalist Storage Bed, Full
Platform Beds
Great bed.: Easy to assemble, all parts and hardware labeled. The bed is reversible so your drawers can be on either side. Looks great and now I'm not sleeping on the floor. Great for apartments.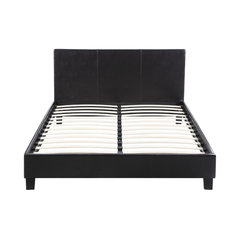 Classic Bonded Leather Low Profile Platform Bed Frame, Paneled Headboard, Quee
Platform Beds
Bed Frame: I am a bigger guy. Putting this bed together was simple. It is for a guest bedroom and I did test the bed after construction, but i did not trust the integrity of the bed strength. It held me for the 5 minutes I laid on it. We will see how it holds up after the holidays upcoming. It is serving its purpose so far.
Cutler Platform Bed, Gray, Queen
Platform Beds
Nice and solid: Very solid, and easy assembly. Too high for additional box under mattress, and slightly low (for my taste), for no platform under mattress. Love the finish - not too "shabby." Fits well with my dark shaker style furniture and adds great contrast.