Beds
After a long day, most people crave the comfort of a warm, cozy bed. You spend eight hours (more or less) a day sleeping on it, so it should be above all comfortable and functional. That being said, beds are also the centerpiece of your bedroom, so it should be stylish and set the tone for the rest of the space. Whether you're looking for a platform bed, canopy bed or sleigh bed, there are beds out there that will complement your space.
What size bed should I buy?
When determining size, you need to think about who will be sleeping in the bed, as well as what will fit in the space. In terms of the former, whether you're sleeping solo or with someone else, consider your preferences and how you sleep. Do you tend to move around a lot, or do you tend to curl up and stick to one spot for the night? Height is also an important consideration: there's a 5 inch length difference between standard full and kings. Even if a king seems like your optimal choice for sleeping, carefully measure your room to be sure it's going to fit;
queen size
may be a more viable option. You want to be able to walk comfortably around the piece and have easy access to your surrounding furnishings. Check out our
Mattress Size Guide
for more info about making the best choice.
Should I buy a platform bed or sleigh bed?
Although it seems like a no-brainer purchase, there are many different styles that you'll need to consider. First, determine your preferred style. Do you like contemporary or traditional? Eclectic or mediterranean? This will help you decide on a final purchase. For a traditional option, try a sleigh or canopy bed. If you like sleek modernism, opt for a platform piece or just a simple bed frame. Material alone can also make a difference. Consider an antique wrought iron bed for classic elegance, or use a reclaimed wood frame for a more contemporary look.
Beds take up too much space — what else is available?
Need an extra sleeping spot but have nowhere to put it? Opt for a Murphy bed, which is conveniently stored up against the wall and can be turned down only when needed. Or maybe buy a trundle bed, which takes up the space of a twin — with another twin underneath. Don't have room for any of these options? Futons and sleeper sofas are always a popular alternative.
1 - 36 of 18,254 products
Sponsored Products
Featured Reviews of Beds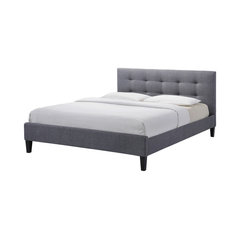 Alicia Tufted Platform Bed, Gray, Queen
Beds
Excited about this bed!: Really happy I bought this bed. It was easy to put together (took my boyfriend and I less than 1 hour) and looks great. It's a little shorter/closer to the floor than I thought, but oh well.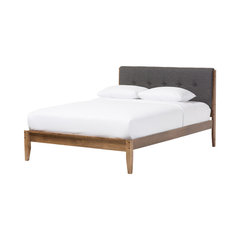 Leyton Mid-Century Modern Gray Fabric Upholstered Platform Bed, Queen
Beds
Wow love the bed! Great quality for the price!: Wow love the bed! Great quality for the price! Just know that the stock photo doesn't show the cover pegs that cover/hid the screws... that they are included just not shown on the stock photos. Easy to put together. Comes in 3 boxes. Hint: I used a 10 1/2" or so memory foam mattress with it, any thicker and the bed may look funny due to the fact its a lower more modern bed. Yes the wood and the color of the headboard is as pictured very true to the stock photo.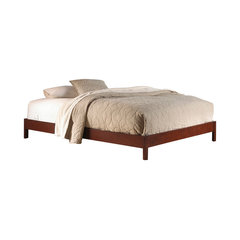 Kemble Platform Bed, Mahogany, Twin
Beds
The Perfect Platform Bed Frame!: The Quality of this all wood platform bed frame is very good! Its one of the few that I found that actually lets the mattress set down inside, instead of laying on top. It was everything I expected from the pictures and description. This was very easy to set up, it went from box to complete set up in less than half an hour. It's very sturdy, all the parts were there, no scratches dents or dings. I would definitely recommend this product.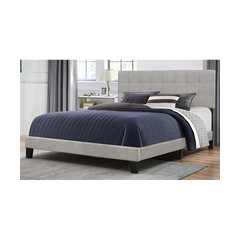 Hillsdale Delaney Upholstered Queen Panel Bed, Glacier Gray
Beds
Easy: The product was very easy to assemble, having a power drill would have made the base easier to put together but it looks great and only took me about 30-45 minutes to get together.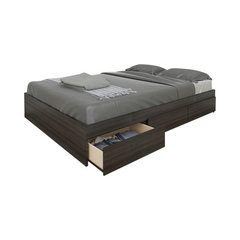 Appeal Minimalist Storage Bed, Full
Beds
Great bed.: Easy to assemble, all parts and hardware labeled. The bed is reversible so your drawers can be on either side. Looks great and now I'm not sleeping on the floor. Great for apartments.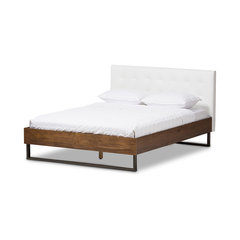 Mitchell Rustic Walnut Black Faux Leather Bronze Platform Bed, White, Queen
Beds
Most versatile bed ever...: You won't be disappointed. This bed offers a sturdy frame, a detailed finish, and a transitional style that works almost anywhere in any of the colors offered. I've specified 6 in the past 4 months and each one makes up beautifully.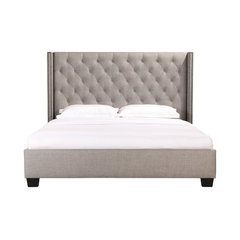 Combe Upholstered Bed With Nailhead Trim, King
Beds
Combe Upholstered Bed With Nailhead Trim, Queen: This bed has such a luxe look, like something you would see at a 5-star hotel. I love the button tufting and nailhead trim. The color fabric is easy to match to existing decor as well. Assembly instructions are pretty simple, you just connect the side rails to the headboard and footboard, install the central support and then place the slats on the side rail support.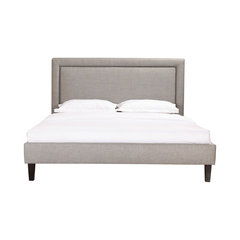 Laval Upholstered Bed With Nailhead Trim, King
Beds
Beautiful: This bed frame is beautiful and luxurious. It was easy to assemble, and you can fit an adjustable base if you don't use the slats. It has about 6 inches of clearance underneath; I'm able to use underbed storage bins.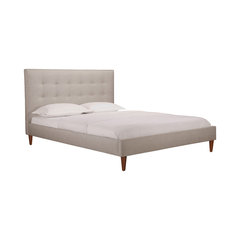 Monty Upholstered Bed, Beige, Queen
Beds
Love this bed!: I looked all over the internet for a gray upholstered bed that is of good quality but doesn't break the bank. This bed definitely fit the bill! I was impressed at how nice it looks in person, and it was less than half the price of a bed I was eyeing at West Elm...and it shipped faster too!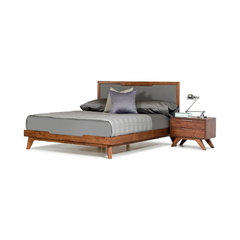 Nova Domus Soria Gray and Walnut Bed, Queen
Beds
Solid, contemporary: I was looking for a new bed for my husband and myself for a long time. I wanted a natural wood frame and he was looking for upholstered headboard. This is an excellent combination of the two and works for both of us. I've added white and silver bedding and it the bed seems less masculine and dark. It's solid and there hasn't been any creaking of the joints and we did put it together ourselves. Instructions did not come with the bed but are available on the manufacturers website. All parts were included and in perfect shape. Just one thing: The wood laminate seems prone to scrapes if something is dropped on it. I know we'll be using a wood marker here and there on the wood rails edges to darken the scrapes here and there. Otherwise, it is very nice and a good value.