Poufs and Floor Pillows
If you want to liven up your floor space and provide a unique seating arrangement for guests, look no further than floor cushions. Also known as a pouf, hassock or even zafu, these cozy floor pillows come in a huge variety of colors, styles and materials, which allows them to blend with any interior design scheme.

A traditional Moroccan pouf adds a bold pop of color plus texture with hand-embroidered designs. Similarly, a hassock can add a brilliant blue, green, red or any other color of the rainbow. A knitted pouf or leather pouf is a great way to add a dash of texture or an organic vibe to a mainly modern interior. To perfectly complement Asian-themed décor, choose a zafu, or Japanese meditation pillow.

When not in use, poufs can easily be stowed away out of sight until the next batch of guests arrives, or if you enjoy their delightful colors and textures, you can keep them out as a permanent decorative accent. Because they're easy to move and lightweight, your floor cushions can follow the party anywhere – you can even use an outdoor pouf set in the garden.

These versatile and comfy floor pillows are a great way to maximize and brighten up your seating space, and you'll find the perfect set of poufs right here on Houzz.
Sponsored Products
Featured Reviews of Poufs and Floor Pillows
Luther Fabric Cube Pouf, Tan
Poufs and Floor Pillows
Perfect: I purchased two of these for my family room. The color and fabric is just perfect and will pretty much go with any color scheme. Very comfy for propping your legs up. Great price as well...I did ALOT of shopping before purchasing these.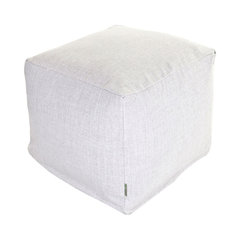 Majestic Home Goods Magnolia Wales Small Cube
Poufs and Floor Pillows
Beautiful Cube: The ordering, shipping, and receiving process was smooth and easy. The cube is super cute, functional, and light enough to be easily moved and positioned for top comfort. The quality is very good and I would purchase this product again. Very happy customer!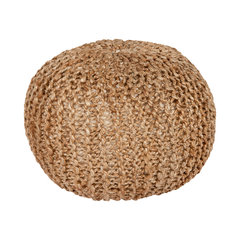 Bermuda Sphere Pouf, Khaki
Poufs and Floor Pillows
Attractive and useful: I like the looks of this poof. It is lightweight and moves easily from one space to another. (But don't lift it at the center top as it is knotted there and loosens). A friend of mine saw this and purchased one for herself.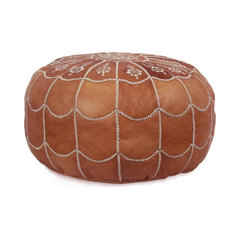 Moroccan Leather Stuffed Pouf, Dark Tan
Poufs and Floor Pillows
The perfect pouf: This is well made and nice and heavy. I also wanted a pouf that was higher and this is. The color (dark tan) is classy looking and the stitching makes it stand out. I love it!!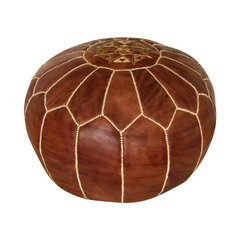 Delia Leather Pouf, Brown
Poufs and Floor Pillows
Great little pouf!: I love this little pouf, it's a perfect fit for my small space and my decor. It does have a strong smell initially (slightly chemically leather smell), but over the last couple weeks it has almost faded completely.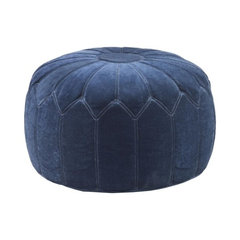 Kelsey Round Pouf Ottoman, Blue
Poufs and Floor Pillows
LOVE IT!!: I had a much more expensive pouf from Jonathan Adler, and honestly, I like this one better. It is a beautiful shade of blue, not quite navy, but almost. The fabric is soft and luxurious looking. The outer cover is washable. Although the pouf is relatively lightweight, it feels very sturdy when sat upon. I like that it can be easily moved around the room, if needed. It really ties my living room together....I can not recommend it more!!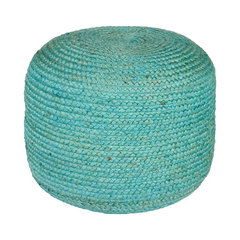 Surya Tropics Contemporary Jute Cylinder Pouf
Poufs and Floor Pillows
nice quality; not EXACTLY like the photo, but better in most part.: the shape of this pouf is a bit more spherical (but not ball-shaped) than the cylindrical one in the photo, and the color is not nearly as bold, but it is a lovely piece regardless. good quality construction with the expected variations in color that come with this material. the color is a light aqua, not nearly as vivid as the photo representation, but this worked out to the benefit of our décor. looks great in front of a very expensive saddle leather swivel chair i splurged on. good value!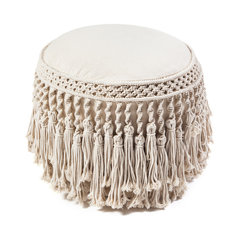 Macrame Round With Tassels Pouf
Poufs and Floor Pillows
Perfect accent!: This macrame pouf is a perfect accent piece for our transitional beach style living room. It is just the right size and height to use as either an ottoman or extra seat when we entertain.