Flags and Flagpoles
As they gracefully flap in the breeze, flags are a fun and colorful way to display a bit of personality in your front yard or garden. Garden flags come in a variety of sizes, shapes and designs, so you can show the world how much you really love cats or share a warm seasonal greeting with passersby. These tend to be smaller in size than your typical country or state flag and have a smaller flagpole that can be inserted into the ground or attached to a porch railing.

If you'd like to add a patriotic vibe to your home, an American flag makes a bold statement with its red, white and blue coloring. Bunting is another way to show off pride for your country and can easily be attached to a porch or deck railing. If you do choose to fly a United States flag or show off a red, white and blue bunting, keep in mind there's a certain flag etiquette that should be followed:
• Display: If you're flying the United States flag on a single flagpole with any other flags, make sure it's at the peak position. In a group of flagpoles, the Unites States flag should go to its own right and flags of other nations can be flown at the same height.
• Bunting: Proper display of bunting requires that blue be on top, followed by white and then red.
• Half-staff: You may notice that the flag is flown at half-staff on certain days to honor fallen heroes or special holidays. On Memorial Day, U.S. flags are flown at half-staff until noon, then raised back to the peak position.
• Do nots: To show proper respect for our country and its people, make sure you never let your American flag touch the ground, use it as clothing or as a cover, mark on it or tie it down to the flagpole. You should also never fly the flag upside down unless there is an emergency.
1 - 36 of 23,824 products
Featured Reviews of Flags and Flagpoles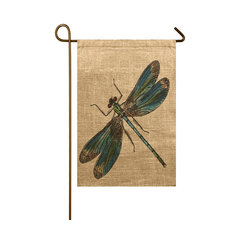 Dragonfly Burlap Garden Flag
Flags and Flagpoles
I am extremely pleased with this garden flag.: I am extremely pleased with this garden flag. Very unique from those that you normally see around in most stores and the quality is exceptional. The colors are vibrant and the burlap is a nice texture. Houzz always has fantastic offers and different products. My order arrived very quickly. You won't be disappointed with a Houzz purchase.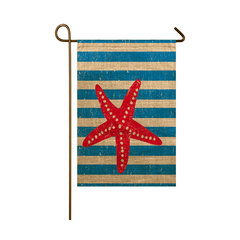 Starfish Burlap Garden Flag
Flags and Flagpoles
Summer fun!: This garden flag arrived quickly and it came in a flat package, not folded, so we just hung it up and placed it in our garden. It is just colorful enough but still simple. It is a nice weight and dries quickly when it rains. We love it!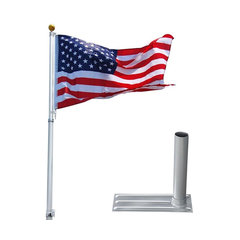 20' Telescopic Aluminum Flagpole Tire Mount Stand Bracket Kit Usa Flag Ball Pole
Flags and Flagpoles
Very happily surprised: Was expecting to be disappointed, but this is truly a high quality flagpole. The materials are sturdy, but lightweight and the anchoring system is ingenious. We bought this for trips in our trailer - the front stabilizer will be lowered onto the base to keep it from going anywhere. Could not be more satisfied. And, the price was way better than cheesy fiberglass poles we looked at when we visited a flag, kite, windsock, etc. store at the beach.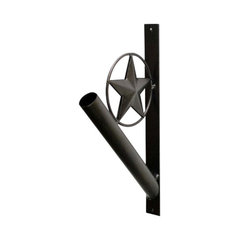 Iron Flag Pole Holder, Star Design
Flags and Flagpoles
I love this flag holder!!: I love this flag holder!! I looked everywhere online for one & this is the only one I found that looked expensive but was super affordable. The star adds that rustic touch perfect for our farmhouse.