Chairs
Whether it's a rocking chair for the front porch or a cushy armchair for your reading nook, we all need a seat or two (or three) in our home. A recliner or chaise lounge is always a popular living room addition, while a glider, reading chair or massage chair is relaxing in a bedroom. Regardless of what you're looking for, the options are endless, and the search is overwhelming. As you add more chairs to your home, consider the following:


What kind of accent chairs do I need?

There are many different styles, so finding the right one to fit in the right spot can be a daunting task. Before shopping for new seating, get a feel for what you're looking for. Are you trying to round out your living room set? Comfort is key, so look for an wingback, chaise lounge or recliner. Want to fill that empty corner in your dining room (and also have additional dining room seating on hand)? Opt for a more casual side or accent chair. Looking for really relax in your bedroom or nursery? Gliders and rockers will put you to sleep in no time. Once you figure out its function, it's easy to narrow down your options.


What style chairs work for my space?

As you pick out the pattern, color and material, start by understanding what you like and what will blend in (or stand out) in your current decor. A tufted or wingback club chair gives off an elegant, sophisticated vibe, while an piece with nailhead details or chevron pattern is more contemporary. Bring a pop of color to your space with a bright or multicolored option, or add some much-needed pattern in an all-white room. You can also add style by experimenting with material. Leather and wood are classic options, while an upholstered or plastic piece can veer more modern, depending on the other finishes. When it comes to material, you want to think about both practicality and design; after all, wood and plastic are more durable when little kids or pets are involved since they're easy to wipe up and hard to ruin.


How do I determine whether a recliner or chair is ergonomically correct?

Most often, this applies to office chairs where people spend hours sitting. However, any piece that you spend time in should be ergonomically appropriate. To start, test out all options you're considering for purchase — your body will innately know whether it's right for you or not. If it feels good, check out the back support, particularly for kitchen or dining room options that are generally more upright. The lower portion should provide support while being slightly curved to follow the contour of your spine. As for the seat, it should feel comfortable when you first sit down and stay that way for several hours. There should be at least an inch of space between your body and the sides of the furniture to allow for some movement. If you're looking for an option with arms, make sure their height is proportionate to your body. If they're too high, you'll have trouble relaxing your shoulders while your arms are resting.
1 - 36 of 51,471 products
Sponsored Products
Featured Reviews of Chairs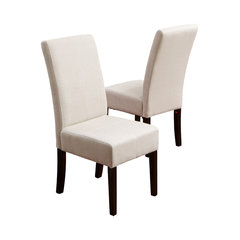 Emilia Fabric Dining Chairs Ivory, Set of 2
Chairs
Just what I wanted: The chairs are perfect. I got them to replace some wooden chairs that I hated. The color was exactly as pictured, not really Teal but exactly as shown in the picture. Pretty simple to put together. I could understand why some folks had problems with the screws but once I figured out that they go in at an angle it was easy. Very comfy and attractive. Would recommend to anyone.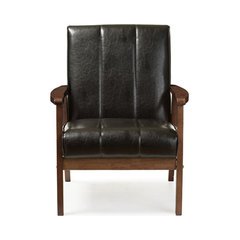 Nikko Faux Leather Wooden Lounge Chair, Black
Chairs
Comfy, sleek, and sturdy: We bought the chair and love seat and it's sooo perfect for our small space! It looks high quality. The chairs have the perfect amount of Cush and slight lean back angle to be comfy. The first was a little tricky to assemble but the second was a breeze once we figured out not to tighten the bolts all the way as you go not until the very end.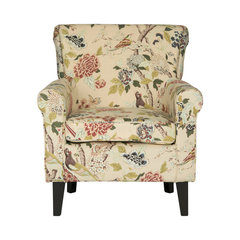 Hazina Club Chair, Multi Print
Chairs
Firm Beauties: These chairs are absolutely perfect for my sitting room. They look expensive but were very reasonably priced. I prefer a firm chair and these have satisfied my expectation. Quick and easy to assemble. I love them and recommend them to anyone.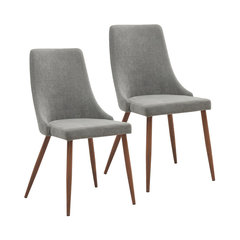 Rigby mid century Modern Upholstered Dining Chairs, Gray, Set of 2
Chairs
Great chairs: These chairs are great looking and go well with most decor. They take time to put together (9 screws per chair that you have to use an allen key for (provided in the packaging).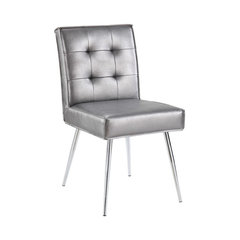 Susie Tufted Retro Dining Chair, Silver
Chairs
wrong parts, but fixed right away: I purchased two of these chairs for my office - and one of them had the wrong legs. I reached out to Houzz and they were able to get the distributor to send me the right legs within a matter of days. These chairs give the retro look I was wishing for!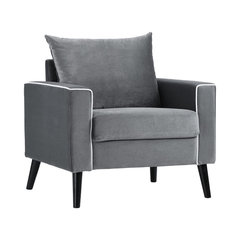 Mid-Century Modern Velvet Fabric Armchair Living Room Accent Chair, Dark Gray
Chairs
Nice Chair: Love the look of my new chair and it was very easy to assemble. The only complaint (if any) would be the seat cusion is a bit stiff..... I'm hoping it will soften over time :)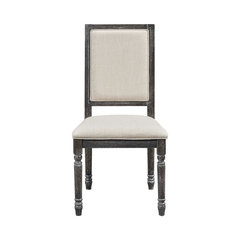 Muse Upholstered Back Chair, Set of 2
Chairs
Great deal: These chairs are perfect. exactly what i wanted, which is good since it took me forever to decide. Had i known they would look so good in person, I would've bought them sooner.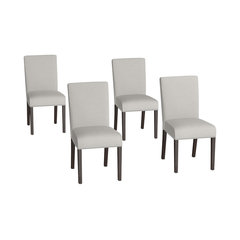 Hammada Upholstered Dining Chairs, Set of 4, Taupe
Chairs
Delighted!: The Caribbean Blue chairs add the perfect pop to our distressed grey dining table. They are attractive, well padded, and easy to assemble. Our order arrived within three days. These chairs would also pair well with a more formal table.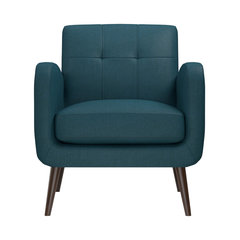 Observatory Armchair, Peacock
Chairs
Beautiful color!: This chair is such a nice addition to my small living room. I have lots of dark and other shades of grey. This mustard yellow color brightens the space and gives my living room a fun and elegant look. The fabric is beautiful and the style is sleek and comfortable. All I had to do was screw the legs in. I love my mustard yellow chair and I didn't have to break the bank to acquire this beautiful piece of furniture.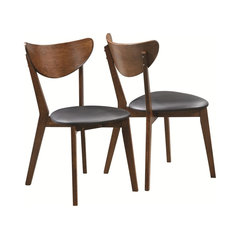 Coaster Dining Chair, Dark Walnut Finish, Set of 2, 105362
Chairs
Beautiful & Functional: Chairs where pretty easy to put together. The stickers to lable the pieces where missing from several of the parts. But was able to figure it out. Sturdy and comfortable. Five Stars.