1 - 36 of 42,273 products
Sponsored Products
Featured Reviews of Flush-Mount Ceiling Lights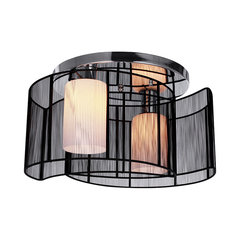 Modern 2-Light Glass Semi Flush Mount With Black Shade
Flush-Mount Ceiling Lights
Love this fixture: Its a bit different, but it goes perfectly in my bathroom--against white walls and black & white wallpaper. I like that it is a black fixture that is still very light and doesn't weigh down the room at all.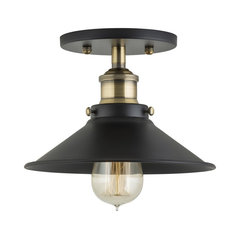 Andante Industrial Semi Flushmount Ceiling Lamp, Antique Brass
Flush-Mount Ceiling Lights
Farmhouse remodel: The Linea di Liara Andante Industrial light is sturdy, compact and perfect for a porch light. I plan to put it on an enclosed summer porch and it has just enough "old era" flair and simplicity for my project. I was very impressed with how well made it is and the price.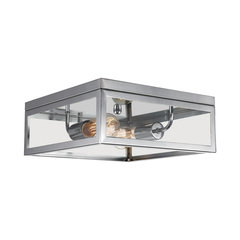 Flush-Mount Ceiling Lights
Pretty light, but you need an extra washer to secure it.: The main screw that holds it to the bracket can screw right out—you need a washer bolt on the top side so it stays secure. Also, the bulbs are exposed on the bottom-no glass, so make sure you get pretty bulbs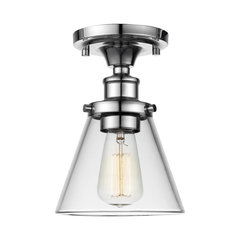 Mercer 1-Light Chrome Flush Mount Ceiling Light
Flush-Mount Ceiling Lights
Great fixture: This is a great fixture and a good price. It looks sleek and modern. Be aware the photo shows the fixture with a longer light bulb so you have to get that bulb for the exact effect.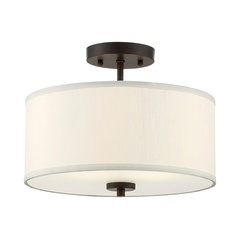 2-Light Semi Flush Mount Light, Oil Rubbed Bronze
Flush-Mount Ceiling Lights
PERFECT!: This light is a great deal for the money (paid $56). It installed in 10 minutes (no surprises). It is exactly what I hoped it would be - makes me want to leave the light on all the time! Felt cheap out of the box but doesn't look that way at all installed. Used in front entry of home.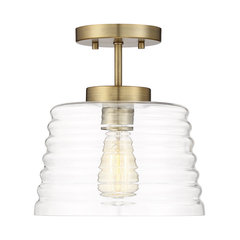 1-Light Semi Flush Mount Light, Natural Brass
Flush-Mount Ceiling Lights
Love the look in my kitchen: I had the electricians install this light in my kitchen to go with a brass sputnik lamp in the eat in area and a pendant over the sink. They are all slightly different versions of aged or natural brass, but they don't look terrible together. I like that this has a vintage feel to it, my home is mid century and this fits in. It doesn't throw weird ripples from the shade either.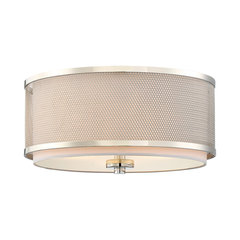 3-Light Semi Flush Mount Light, Polished Nickel
Flush-Mount Ceiling Lights
high quality - great finish for price: For the price, we love these lights! They are high quality and easy to clean, and give off a great amount of light. I'm giving it 4 stars as it was a little challenging to install these.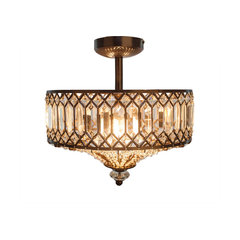 14.5" Tiered Jeweled Glass, Bronzed Metal Semi-Flush Mount Lighting Fixture
Flush-Mount Ceiling Lights
Matching light to fan.: I was pleased to find this fixture because it somewhat resembled my old ceiling fan on one side of the room. The top looked close to the top of the fan and the bit of sparkle was similar to the cut glass on the fan top and light glass.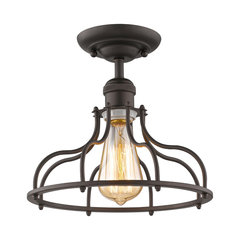 Jaxon 1-Light Rubbed Bronze Semi-Flush Ceiling Fixture 10"
Flush-Mount Ceiling Lights
OMG! YES!: I have been looking for lights to replace the ceiling fans on my wraparound porch for over a year now! I finally found the perfect one! I ordered one of these to make sure it was perfect and after putting it up, came in the house and ordered 6 more! Just exactly what I have been looking for! Putting it up was a little challenging, any time you put a ceiling light up it can be. The next 6 should be easier though, because now we know what we are doing! I love this light!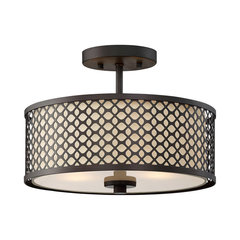 Transitional 2 Light Semi-Flush Mount in Oil Rubbed Bronze
Flush-Mount Ceiling Lights
Absolutely Stunning!: I bought two of these lights. One for our entry and one for the hallway. We absolutely love them! They are clean and sleek looking with so much personality. They really fancy up our place.