Side Tables and End Tables
End and side tables not only balance the look of a living room or bedroom set, but they also function as a place to set beverages and hold reading lights. In order to capture both form and function, you want to think about how you'll use an end table most, as well as what style will complement the room's overall decor. Do you want it to be an accent piece that stands out, or something that won't steal the show? Either way, your quest for the perfect end tables should start with the following information to help you navigate your options.


What kind of end table should I get?

Side tables can serve many functions: holding lamps, resting coffee cups, storing remote controls and so much more. With that in mind, think about what exactly you plan to be using your end table for to help determine the ideal size and shape. If you could use a little extra storage in your living or family room, go for end tables with storage, like drawers or shelves, but keep in mind these styles do tend to look a bit bulkier than others. In terms of style, the selection is wide; so whatever style you're trying to meet, it's likely you'll find it. To complement furnishings with clean, well-defined lines, think contemporary or modern end tables. On the other end of the spectrum, rustic end tables can add an eclectic or farmhouse vibe, while something like a mirrored side table can bring a hint of glamour to a room. It's often helpful to ask yourself whether you want your new pieces to blend in with their surroundings, or be more of a focal point in the room.


How tall and wide should a side table be?

To get this right, take a good look at the furniture your side table will be complementing. In general, it should be the same height as or several inches lower than the arm of your chair or sofa, and the width should be in direct proportion. Side tables that are too high or too short will be uncomfortable, and anything too wide will weigh down the surrounding furniture. If you plan to place a lamp or other substantial objects on it, make sure that it can support their weight and that their size doesn't visually overpower the table.


What is the best material for an end table?

If you're going for top quality, solid wood end tables are strong and durable, and, depending on the construction, can complement most styles. Leather end tables will add a rich complement to your decor and will only get better with age. Metal or glass end tables will add a nice touch to contemporary or eclectic interiors. Be weary of designs constructed from particle board, especially if disguised by a nice veneer: while they're less expensive, they typically don't last long. When choosing material, also keep maintenance in mind — any surface that will be home to beverages will inevitably come in contact with water and moisture, which could be damaging to the surface. For this reason, be sure to seal the top of any wooden end tables, and have coasters at hand as a preventative measure.
1 - 36 of 23,132 products
Sponsored Products
Featured Reviews of Side Tables and End Tables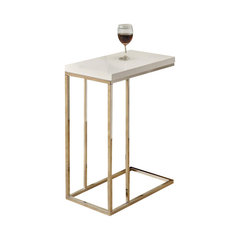 Monarch Hollow, Core Accent Table in Glossy White and Chrome
Side Tables and End Tables
Stylish as it is Useful: This is great little piece to add to a small living room. Can be used as a mini work desk for my laptop while sitting on the sofa or a place to eat dinner in front of the tv. Perfect height and size. Looks very stylish too - works nicely when mixing metals in a space. (antique brass and chrome)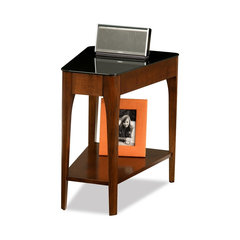 Leick Obsidian Glass Top End Table, Chestnut
Side Tables and End Tables
Love it: We absolutely love this table. We needed a table to fit between a large recliner in the corner wall and a sofa next to it. It is small and beautiful, yet large enough for a lamp as the back side is wider. It's looks beautiful and the quality seems to be well made.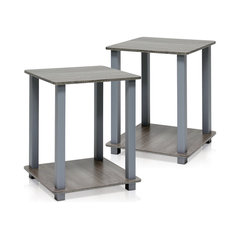 Furinno Simplistic End Table, Set of 2, French Oak Gray/Gray
Side Tables and End Tables
Simple, cost effective, polished look: Both tables are awfully lightweight and I am nervous they will knock over but they look so polished in my family room. I just bought these and have had them setup for only about a week so time will only tell however I'm pleased with my purchase. I would be wary if there were toddlers running around even with these tables weighed down because then I could just see the tables being knocked over. We don't have kids so I think we're OK.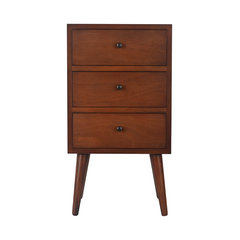 Janet Mid Century 3-Drawer Wooden Side Table
Side Tables and End Tables
Cute side table!: Very cute table and looks nice in my living room. Packed and shipped very well and easy to assemble - just the legs! It's not a big table for sure, but perfect for a small space or condo/apt living.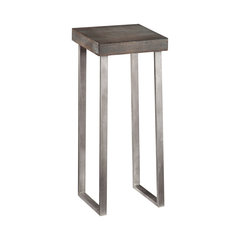 Side Tables and End Tables
Sweet Little Table: I love these tables! They came within a matter of days and no damage at all. I bought two to use as accent tables in the dinning room because they matched the table exactly. They were easy to assemble and were perfect for what I needed, and they looked exactly as their were pictured. I am very well pleased. I would definitely recommend them.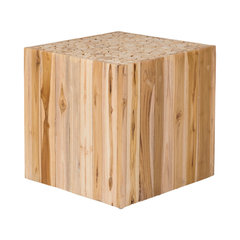 East At Main's Merrill Brown Teakwood Square Accent Table
Side Tables and End Tables
Different in a Great way!: First of all, I felt sorry for my delivery man, as this table is a very solid construction. It is beautifully crafted, and blends very well with my sporadic theme in my living area. This table also doubles as a solid stool if needed. Great work!!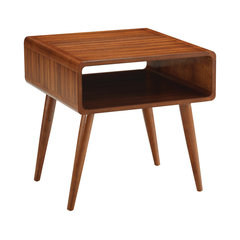 Side Tables and End Tables
Nice/Large end table...: If you're looking for something larger, modern, with rich-wood paneling...this is it. It does have a very mid-century feel so make sure that style blends with yours if purchasing. Great value.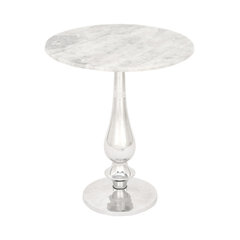 Graceful Aluminum Marble Accent Table
Side Tables and End Tables
Stunningly beautiful: These are amazing and the marble is lovely, thick and heavy. Each piece is different and it worked perfectly because one was for my bedroom and the other for my living room and the different variations of color of each was perfect. Even though the marble is heavy the base is wide enough to keep them stable. Would buy again.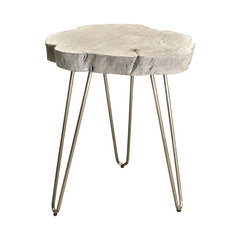 Solid Wood/Iron Accent Table, Gray
Side Tables and End Tables
Really pretty, but irregular sizing makes my pair look weird: These are really lovely little tables and I'm very happy with them, except for one small detail....now, I know they're natural wood so they aren't going to be perfectly matched, and that's the utter charm of them! But..... there's fully 3+ inches difference in the diameter of the two I was sent (which I'm using as nightstands) and they just look a bit off on the sides of the bed. If you're buying just one table, or multiple tables not intended for a symmetrical placing, I'd give these five stars and say buy away because they're really gorgeous. If, however, you're hoping to use them as matching tables, I'd be a little cautious. Order away, but cross your fingers that the tops they send you are in the same forest size-wise.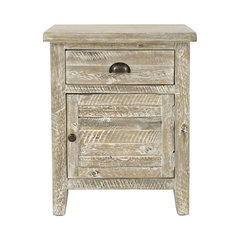 Artisan's Craft Accent Table, Washed Gray
Side Tables and End Tables
Nice Farmhouse Accent Table: Perfect distressed table for our small living room and it goes with our farmhouse decor. I have a vintage lamp on top. I love the drawer and storage. It arrived already assembled. Beautiful solid wood and great quality!