Wall Decals
A wall decal can quickly and easily breathe life into otherwise plain surfaces; after all, it adds color and visual interest without the hassle or commitment of paint or wallpaper. For renters, or those who frequently change their mind, wall stickers are the perfect solution to spruce up a space. If you're in search of some vinyl wall art to add to your home, the following will help you:


What kind of wall decal designs are available?

If you can dream up a design, chances are it exists. Wall quotes have become a popular way to express beliefs and display welcoming sayings. Wall decals for kids come in every size, shape and color, and they are an inexpensive way to make your child's room fun and lively — some options can even be drawn on like a chalkboard! If you can't find the perfect one among the masses of nursery wall decals and tree wall decal designs, you can always have custom wall decals made to suit your needs.


Are removable wall decals suitable for rentals?

Yes, almost all decals for walls are removable and will not damage the surface they're mounted on. So if you've been eyeballing that amazing sticker mural that makes you feel like you're in the middle of a wooded forest, go for it. Always double check the label on your wallsticker to make sure they're removable before you apply.

Browse through decal ideas on Houzz to discover one (or two or three) that fits your space.
1 - 36 of 54,563 products
Sponsored Products
Featured Reviews of Wall Decals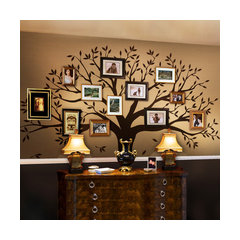 Family Tree Wall Decal, Chestnut Brown, Standard 107"x90"
Wall Decals
family tree wall decal: love the tree; however, took a lot longer to do than i thought! There were two branches that were incorrectly designed and leaves ended up on top of each other. Had to cut one off. So the design did not end up the same as pic.It was in #3 and #4.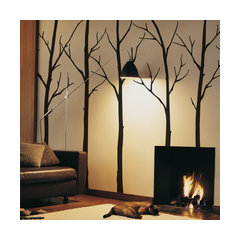 Wall Decals
looks great: wasn't sure about them when I ordered but they look incredible. very well made and professional looking. needs time to do it right, I mixed and matched branches and it wound up looking better than the pics in the step by step instructions. well worth the money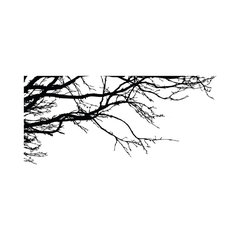 100"x44" Tree Top Branches Wall Decal Vinyl Stickerck
Wall Decals
Beautiful but entirely too difficult to apply...: Yes they look beautiful after the 90 minutes it took to put this up. This was definitely an exercise in team building and unless you have a patient partner don't attempt this application. The piece is split into uneven sections that one has to match as it is built...no problem there. BUT...the main branch piece is so large that it bubbles and folds due to the size as we are trying to remove the backing, holding it on the wall with arms stretched and our heads pressed against the first layer of backing. . If this decal is considered removable I think this will only happen if you remove the wall. Once it sticks there is no moving it or adjusting it even during application. Again...yes it's really strikingly beautiful. When you finally get it up be prepared for marriage counseling unless you have patient husband like mine. Even he was on the verge of quitting.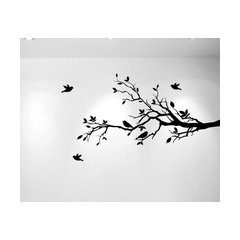 Tree Branches and Love Birds, Vinyl Sticker, 56"x28", Black, Right to Left
Wall Decals
Flat surface, great shipping!: Decal needs to go on a flat surface, so if you are planning on putting it outdoors and it's not flat, it might not work as well. I received the item in less than a week from when I ordered it!!! They were great at communicating when the item had shipped. I would definitely recommend and buy from them again!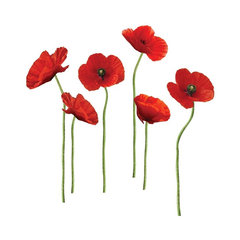 Poppies at Play Giant Wall Decal
Wall Decals
Looks great!: Easy to put on (and to take off and reposition). Really makes the small bathroom plain wall area look spectacular. A good 40" high by 60" wide sprouting from the baseboard and hydronic heating element, but can be adjusted smaller or larger. Transparent edging around the flowers can be detected, but only on close inspection.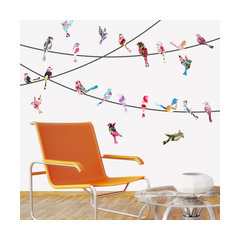 Wall Decal, Watercolor Birds on a Wire
Wall Decals
Very cute: I bought this to decorate the wall around my granddaughter's crib. I love that I can play with the arrangement and the birds are bright and colorful without being kitchy. It's a great way to decorate a spot that might need to be changed in a few years.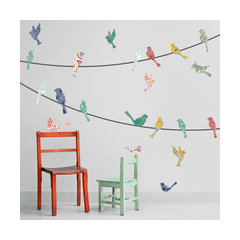 Wall Decal, Paisley Birds on a Wire
Wall Decals
LOVE LOVE LOVE: I ordered these as a surprise for my nature loving 13 year old daughter at Christmas because she loves to decorate and organize things. She has changed the configuration of where they are in her room a few times and they are so pretty! It makes me happy to look in her room and see what creative new way she has decides to place the birds. They are great quality and easy to move around.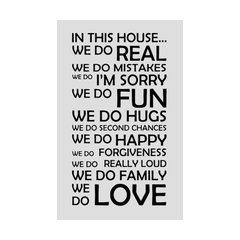 "In This House We Do" Vinyl Wall Decal, Matte Black, 22"x40"
Wall Decals
Love this quote: I've purchased a few wall Decals and I must say for as big as this decal is, it was easy to apply to the Wall. I just have one issue and that it was uneven and I had to cut it to try an line it up properly.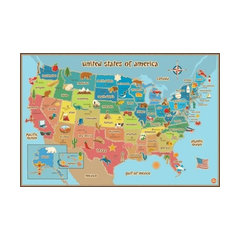 Kids USA Dry Erase Map Wall Decal
Wall Decals
Good product, bad description.: I'm happy with the product, although in the description it doesn't say anything about it having to go on a smooth surface for best use. I would have liked to have known this prior to purchasing it.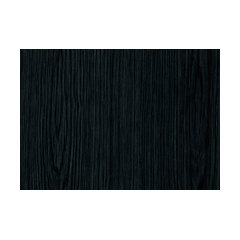 Wall Decals
A little different than pictured, but nice: It's good to view the picture of the paper actually used on a piece of furniture. That picture is more accurate. I used this on an old desk and it looks great. I just wish the width was a little wider! Looks good though, and the paper actually has a wood grain texture.