Bathroom Accessories
Even though decorating a bathroom isn't that glamorous, there are many different ways to add color and character to this otherwise dull, sterile space. Bathroom necessities, including shower curtains, bath mats, towels and mirrors, can brighten up a space, while shower caddies, soap dispensers, tissue boxes and glass canisters can help with storage. As you get ready to revamp your bathroom space, be sure to remember all the essentials.


Shower curtains

Both functional and decorative, shower curtains will add an interesting visual element to your bathroom while also protecting your walls from excess moisture. They come in a variety of materials, including plastic, vinyl or fabric, and range in style from quirky and punchy to classic and traditional. Vinyl curtains are usually cheaper than fabric shower curtains, but likely will not last as long. If you choose to go with a fabric shower curtain, don't forget to also purchase a shower liner to protect your curtain's material over time.


Bath mats and rugs

Bath mats and rugs will provide extra protection for the floors, and provide a soft, warm spot for your feet while you're brushing your teeth or just stepping out of the shower. You will generally want to place your rug in close proximity to both the shower, bath and vanity. If you have a small bathroom, it's possible only one rug will reach, otherwise you may consider purchasing multiple bath mats. Choose a color scheme or theme for your bathroom, and consider matching the color of your mats to match. Purchase a bath mat with a liner beneath it for the shower area to prevent slipping.


Towels

Besides being above all functional, towels also add color and texture to your bathroom's design. Choose your towels carefully, paying attention to color and design, so that they are cohesive with your bathroom's theme. Instead of hiding them in a linen closet, display them in the open on shelving or hung from racks. In terms of material, cotton is generally the best choice: durable and absorbent, it's soft against skin while also allowing it to breathe.


Bathroom hardware

Whether you're starting from scratch or remodeling a bathroom, pay attention to the hardware. A simple change in cabinet pulls and curtain rods can make all the difference in your space. There are limitless styles to choose from depending on the look you want to create in your bathroom. Choose Lucite pulls for a chic and timeless look, or bronze curtain rods for traditional, dramatic appeal. Consider choosing all of your hardware with the same finish to create cohesion throughout your bathroom design.


Bathroom decor

Pull the look together with soap dishes, dispensers, baskets and furnishings that complement each other and fit within the theme. Consider artwork for the walls or sculptures for open counter space. Add candles or incense to create a relaxing and inviting aroma, or plants for a touch of nature. You can even find a decorative shower caddy or beautiful mirror for added interest.
1 - 36 of 70,234 products
Sponsored Products
Featured Reviews of Bathroom Accessories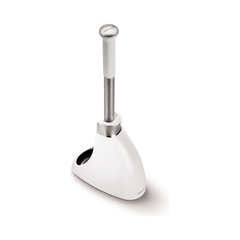 Bathroom Accessories
Never thought I'd rave about a toilet brush, but I'd never seen or used one with this unique design.: Never thought I'd rave about a toilet brush, but I'd never seen or used one with this unique design. Not only the most effective brush I've ever used, but the magnetic holder is attractive and a great idea. I'm totally sold on Simplehuman products.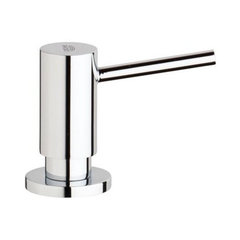 Grohe 40 535 Cosmopolitan Soap Dispenser Top Fill
Bathroom Accessories
wobbles: Nice brushed nickel finish. First impression was that the weight was very substantial, seems well made. Second impression was that it was easy to install. Third impression was poor.. the pump is very wobbly... way to much lateral motion.. seems very strange. Have decided to keep it for now, will just have to see how it goes.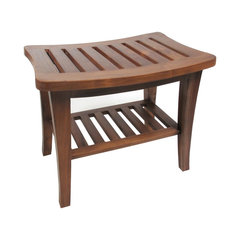 Bathroom Accessories
What a deal!!: Very sturdy and comfortable. I like that it is a beautiful piece of furniture even though no one else sees it. It does not take up too much room in the shower, just right. I would highly recommend it. Great deal for the price too!!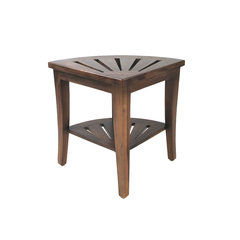 Osaka Teak Corner Shower Bench
Bathroom Accessories
Spectacular Bench: I couldn't believe how beautiful this bench is! So happy with it that I took a picture and sent it to my son, who said if it looks this good in a picture, I can't wait to see it in real life!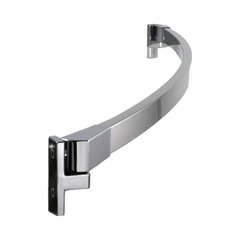 60" Curved Fixed Shower Curtain Rod, Brushed Nickel, Polished Chrome Finish
Bathroom Accessories
Shower rod: This was my first order from Houzz and I was very pleased. The delivery was fast and the shower rod was great quality and easy to install. I will definitely order from houzz again.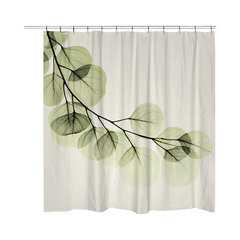 Eucalyptus Shower Curtain
Bathroom Accessories
Peaceful and vibrant!: Colors were just as pictured, the quality was excellent! Length is perfect and I was especially pleased with the clarity of the pattern in the print. Beautiful!!! I would recommend this to anyone looking for a gentle color that is not overwhelming.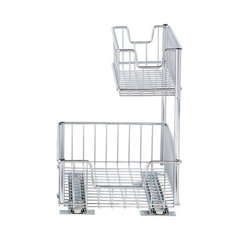 Trinity Sliding Undersink Organizer
Bathroom Accessories
Good... but: The measuring was slightly off. My fiancé had to file it a bit to get it to fit under the sink. Not a problem, as he had the tools, but fair warning, ours was about an 1/8 inch too high to fit in.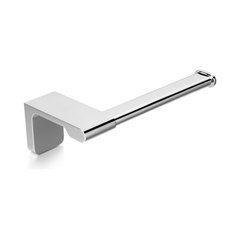 Dash Bathroom Toilet Roll Holder, Polished Chrome
Bathroom Accessories
Classy and great looking: This is a great holder. If you've ever had to deal with the cheap ones, you really will appreciate this. We also bought the double robe hook and 2 towel rings. All are gorgeous and look great in our new bathroom. Easy to install. The only negative would be the anchors they send with it. Just plan on buying and having on had on some "screw in" type with the large flange type head.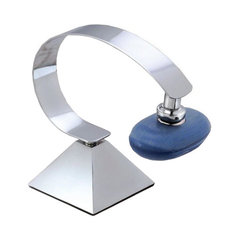 Deluxe Magnetic Soap Holder-Chrome
Bathroom Accessories
Magnetic Soap Holder: Love this piece. Looks great and has some weight to it, looks to be made very well. It was a little hard pressing the metal piece into the soap, but, I think this was due to the soap not being a regular bar of soap. Nevertheless, I attached the metal piece into the soap and it holds GREAT!!!. I have it on the ledge of my new soaker bathtub. Really compliments it. Very nice. If you are looking for something a little different, THIS IS IT!!!! Very Happy. Thanks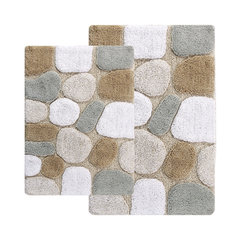 Ciottolo 2-Piece Bathroom Rug Set, Blue and Brown
Bathroom Accessories
Beautiful!: These bath mats are perfect for my bathroom! They married the brown in the tile to the white of the tub/moldings to the cream in the cabinet to the sea salt of my walls all together! They are thick and of good quality.