Undercabinet Lights
Even the most casual chef understands the importance of task lighting in the kitchen. From chopping up veggies to slicing steaks and mincing herbs, cooking requires attention to detail, which in turn requires ample lighting. Undercabinet lighting options, like LED strip lights, fluorescent lights and puck lights, can shine a light on your slicing, dicing and mixing while also providing additional mood lighting and ambience. Because undercabinet lighting is typically hidden from view, you may not be aware of the various types available to you. These include puck lights, strip lights and LED tape lights.
How does LED tape work?
This type of undercabinet lighting is typically found on a roll and features light-emitting diodes, or LEDs. You can purchase it in various lengths, and installation is fairly quick and easy, making it a great choice for a DIY project. Once you cut the strip of lights to fit the width of your cabinets, you simply stick it to the underside. If you do plan to cut your LED tape to fit, keep in mind that, once cut, the remaining portion of tape will no longer light up. Therefore it's extremely important to measure — and measure again! — the length you need before grabbing for the scissors or a knife.
What about LED strip lights?
These are thin strips of plastic with tiny bulbs built in. You might associate them with rope lights, which make a great temporary lighting fix, but LED light strips are more permanent. They also provide a wider range of light, which makes them more effective at brightening your cooking workspace. Just as with LED tape, once your LED strips are cut, the remaining portion won't light up, so measure the width of your cabinets carefully to avoid mistakes.
What are puck lights?
Once you see a puck light, you'll know exactly how it got its name. These circular lights come in a wide price range, depending on how they're constructed and what materials are used. Some are also sold in sets, which can reduce the overall price. It's recommended that puck lights be installed at least every 8 to 12 inches to provide maximum light coverage.
More:
Guide to Undercabinet Lighting — Find the Best Kind
Sponsored Products
Featured Reviews of Undercabinet Lights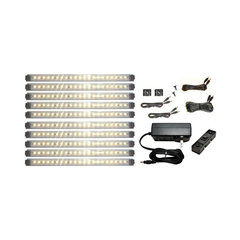 LED Under Cabinet Lighting Kit Pro Series 21 LED Super Deluxe Kit, Warm White
Undercabinet Lights
Loft bed lighting: I installed these under my daughters loft bed to light up her desk area. It's a great light-filled solution! No bulky lamp and the light is a nice white. She's super excited to have light under there and I look forward to lots of As as she completes her homework.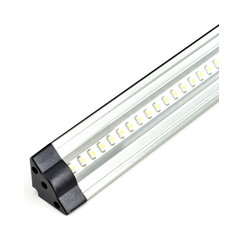 Lightkiwi Y2629 Triangle 12 Inch Warm White LED Under Cabinet Lighting Panel
Undercabinet Lights
compact and bright: This little light is just what I needed for under my kitchen cabinet by my sink. Make sure you read the description, I didn't and had to order the power supply separately. Customer support was very helpful.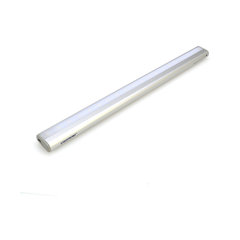 Lightkiwi Heron Warm White Wireless Rechargeable Stick-On LED Light
Undercabinet Lights
Almost Exactly Right: We put this at the bottom of the bathroom cabinet for an automatic light in the middle of the night. It works great and exactly what we were looking for. Our only quibble - - and it's really minor - - is the light goes off after 15 seconds with no motion.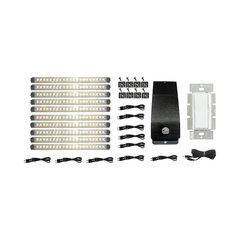 Hardwire LED Under Cabinet Lighting Pro Series 21 LED Kit, Warm White
Undercabinet Lights
perfect task lighting: Was having trouble convincing my husband to order this light kit on line. He wanted to be able to evaluate it in person. After looking around town and not finding any thing that met our needs, we decided to go ahead and order it. We are building our own office cabinets. Floor to ceiling wall to wall and need accent and task lighting throughout the system. The order came within days and we are extremely happy with the product. Should do very well for us and looks to be easy to install.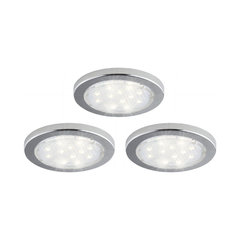 Under-Cabinet LED Pucks, 3-Pack
Undercabinet Lights
Very pleased: Replaced some hot halogen lights with these. The light is slightly brighter with more of a white tone than a yellow tone. Ordered 2 more sets after the original order came in to put in another area. Highly recommend!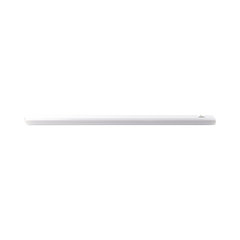 Bazz 22" White and Chrome Linear LED Under Cabinet Lighting
Undercabinet Lights
Great Lights: These light are wonderful, they provide a nice amount of light under the counter, they are slim and light weight. At first sight you wonder whether or not they will perform stated, however once installed which is very easy then lights are a definite recommend. A great price for a great product.