Wall Sconces
Wall sconces are a very versatile type of light that can provide ambient, task or accent lighting to any space. Once used to hold candles and torches against the wall to light the way, sconces remain a very popular choice in lighting, although are available in a much wider range of practical styles and designs. Whether you want to use a wall sconce to illuminate a hallway or shine the spotlight on a piece of art, make sure you read the following advice about wall sconce lighting prior to making a purchase.
Why should I choose wall sconce lighting over other types?
Wall sconces are a great way to add lighting without taking up precious floor space, making them ideal for spots that are tight on space, like hallways. Sconce lights can used as ambient lighting, providing the main light source where you don't need to go overkill on the illumination or perhaps don't have the ability to install ceiling lights. They are also ideal for task lighting when you have limited tabletop space, like a reading nook or as a bedside lamp alternative. Try incorporating decorative wall sconces instead of simple overhead lighting to add style to an otherwise plain space. Check out our
guide to the different types of lighting
to see where to use wall sconce lighting in your home.
What styles of wall sconces are available?
Options are endless when it comes to wall sconces, making it easy to find a style to match the look you're going for. If you're in the market for
rustic sconces
, for example, an oversized cast iron fixture will provide ample, ambient lighting while lending the right look to your space. For a streamlined look, try adding
modern wall sconces
with clean, straight lines. Determine what's right for you by first evaluating the size of the room you're working in. Thinking about how you want the sconce lights to function will also help narrow down style selection. If they will act as a primary source of lighting, you'll likely need more fixtures which might mean you want to go with something understated that doesn't complete with existing decor. If the aim is to add complementary or accent light to the space, you may need less fixtures and can go with something a bit more bold or unique.
Where can I use a wall sconce?
A wall sconce can be used in any room in the home, but determine exactly what you want from your lighting to decide where one will work best for you. Sconce lights are great for accenting artwork and flanking headboards, as well as serving as great vanity lighting near a bathroom mirror. They're also helpful in small entryways and narrow hallways or staircases where floor space is minimal but lighting is necessary.
Where exactly your sconce lights should be installed on the wall depends on the size of the room and their purpose. For general lighting purposes, they should be mounted 60 to 66 inches above the ground. Spread them anywhere from 6 to 10 feet apart: closer to 6 feet if you want more fixtures and thus more light, or closer to 10 feet if you prefer less light. If you're installing bedroom sconces for nightly reading, place them within arms reach so turning them on an off is easy once you're already in bed. For vanity wall sconces, place them right about eye level so you're face is properly illuminated for any sort of bathroom tasks, like applying makeup.
What do I need to know about installing wall sconces?
Take into account whether your wall has been pre-wired to accept a wall sconce. If it hasn't, you may need to
hire a professional
to help you install it since it will likely involve some rewiring. If you don't want to deal with the extra expense and effort, seek out a
plug-in wall sconce
but make sure the cord will reach the closest outlet where you intend to use it. You should decide if you want a wall sconce with a switch before you invest in a hardwired or plug-in piece — if you're using it as a bedroom wall lamp, a switch will be a lifesaver so you don't have to get out of bed to turn off the lights or pull a plug.
1 - 36 of 47,574 products
Sponsored Products
Featured Reviews of Wall Sconces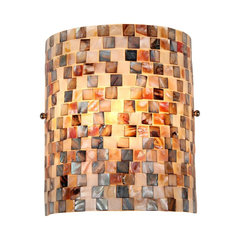 Cheyenne Mosaic 1-Light Wall Sconce
Wall Sconces
Wall sconces in Art Deco cottage: I purchased 2 of these glass sconces for my lake home. I decorate with lots of natural textures, wood, clay, leather, found natural objects and love the way these scones fit in. They would fit in with contemporary decor too. I recommend them highly.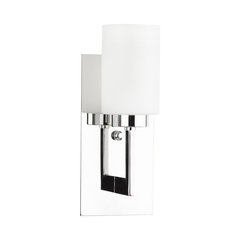 Brio Wall Sconce WithFrosted Glass Shade, Polished Chrome
Wall Sconces
Sconce: I have never purchased anything on line like this before. For the price, this sconce is solid and very well made! So, so happy with our purchase. Thanks Houzz! Your reputation has made my future purchase an easier decision.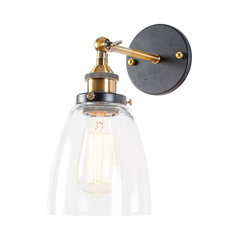 Wall Sconces
Super Interesting: I've not yet installed them so I can't speak to the ease of installation, but the overall quality seems great. They feel sturdy and will blend in well, with my black, white and gold bathroom. They arrived on time, all in perfect condition.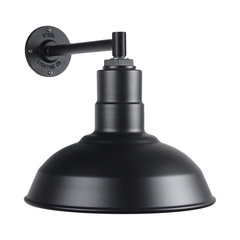 The Westchester Industrial Barn Light - Short and Compact, Matte Black
Wall Sconces
Very very happy: After looking around high n low, this is the one. It has the simple look go with the style of the building. It got color sure added design element. All steel construction with the flexibility using all types light blubs. Now it has a led light. Looking beautiful at day, the lamp shape covered wide range of the parking lot at night. I am planning to buy more and will visiting HOUZZ from now on.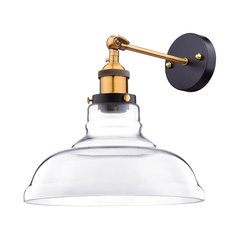 Vintage-Style Industrial 11" Flashlight Glass Wall Sconce, Amber, Clear
Wall Sconces
unique: We just installed the light and really like it. It was not as dark of glass as we expected but we are getting used to it. It hung too low facing down so we turned it facing up and it's perfect. Is mounted on an interior brick wall and fits perfectly.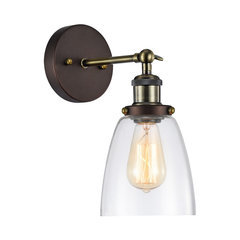 IRONCLAD, Industrial-style 1 Light Rubbed Bronze Wall Sconce, 6" Wide
Wall Sconces
Perfection for my newly remodeled bath: Everything arrived quickly and was in perfect condition. Took a chance and boy was I pleasantly surprise by the quality for the price. I love these lights. Can't wait to add a finished photo once the room is complete.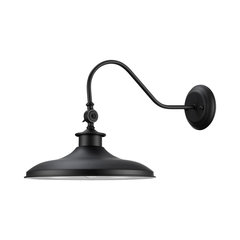 Gallagher 1-Light Wall Sconce
Wall Sconces
Very nice sconces especially for the price: These are fantastic sconces for the price. A lot of lighting on houzz is excessively expensive with not always matching quality to the price. These are not expensive lights and the quality is pretty high for the price. I'd highly recommend them for that reason and that they look really nice in my condo.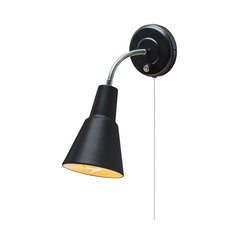 Ramezay 1-Light Matte Black Plug-In or Hardwire Task Wall Sconce Light
Wall Sconces
Great fixture for the price.: For a fixture this inexpensive, I'm impressed. Came with all hardware you may need for hard-wired or plug-in applications. Love that the switch is on the fixture and not on the cord like so many others. Quality is fine, nothing special, but durable enough for repeated used and adjustment. This is perfectly acceptable for task lighting applications. Would recommend.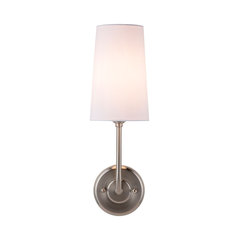 Forma Wall Sconce with Fabric Shade, Brushed Nickel
Wall Sconces
Simple and very pretty: These sconces are beautiful and for the price... don't hesitate for a second. Unfortunately I have to return them because I forgot I needed switch operating fixtures (not socket). Shucks!! -P. New Jersey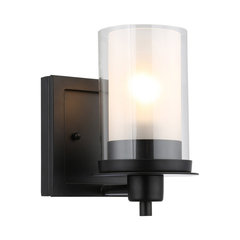 Designers Impressions Juno Collection Wall Sconce, 1-Light, Matte Black
Wall Sconces
Houzz products are THE BEST!!!: Everything we get from Houzz either meets or exceeds our expectations. These lamps are much nicer in person than they are in the picture. Would highly recommend them to anyone!