Grill Tools and Accessories
Let's face it, when it comes to firing up the grill, you'd be lost without a great set of BBQ accessories. From specialty tongs to spatulas and even a grill brush, these are the tools needed to get the job done. If you've just bought a brand new barbecue, chances are you'll need an accompanying set of grill accessories to go with. Make sure you consider what kinds of foods you plan to cook in case you need any specific items like BBQ skewers. Otherwise, your tools of the trade should include heavy-duty tongs that are at least 12 inches long, a durable spatula, long oven mitts to protect your hands and arms, basting brushes and a grill thermometer. If you plan on grilling late at night for parties or late dinners, a grill light is another must-have accessory.

When it's time to clean up, you'll definitely want a grill brush to clean off all the residue your juicy meal left behind on the grill grates. Another option for keeping your grates clean is a grill mat, which still leaves those sought after grill marks on your food without the mess. After you've done all that work keeping your barbecue clean, it would be a shame for it to get dirty again, so it's a great idea to also invest in a grill cover to keep dirt, pests and water out. Grill covers can even add to your decor and come in sports team themes and different colors.

Once you've found your grill accessories on Houzz, go on and put some steaks and veggies on that barby!
Sponsored Products
Featured Reviews of Grill Tools and Accessories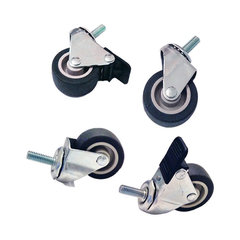 Wheel Kit for MasterBuilt 30" BBQ Electric Smokers
Grill Tools and Accessories
Wheel Kit for MasterBuilt 30" BBQ Electric Smokers: Rapid delivery as promised. These wheel are fantastic and I love the instructions that are included with them. They are an excellent quality and make the smoker easy to move. I am well pleased with the purchase.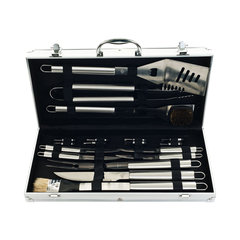 19 Piece Heavy Duty BBQ Set with Case by Chef Buddy
Grill Tools and Accessories
Great gift for the men in my life: My sons all love to grill and this was a nice gift to wrap up for each of them. They seem to love their cases, which they can take to the beach, the patio, their family outings, etc. Guys can be hard to buy for, so I was happy to find this.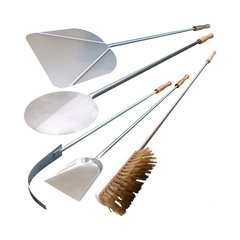 Amore 5-Piece Pizza Oven Accessory Set
Grill Tools and Accessories
Pizza Tool Set: My pizza tool set arrived within five days of ordering. Although is was not inexpensive the quality is exceptional. The handles are long enough to reach the back of my oven without burning myself. I highly recommend this product.