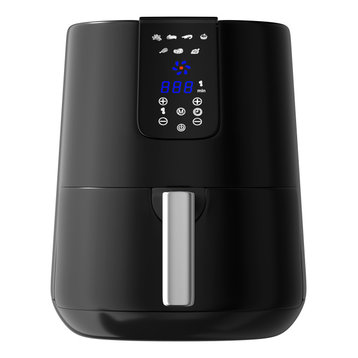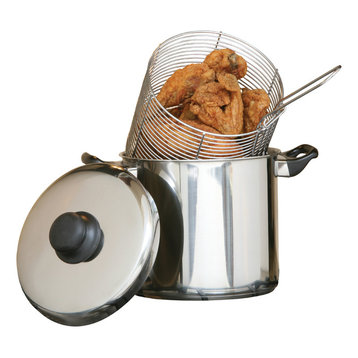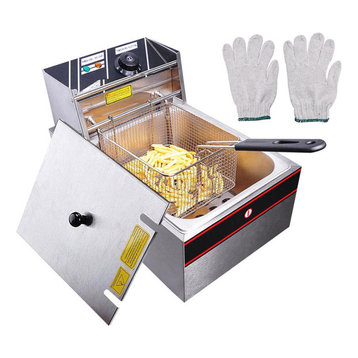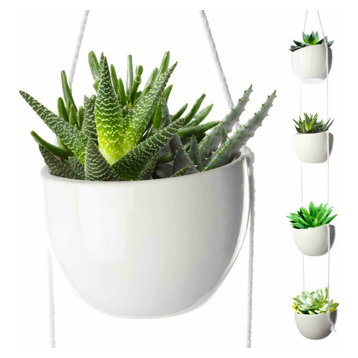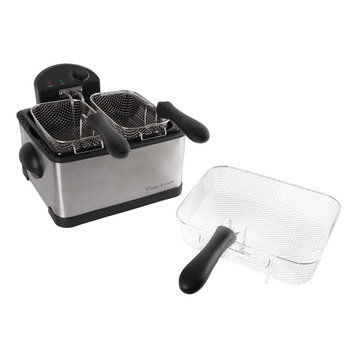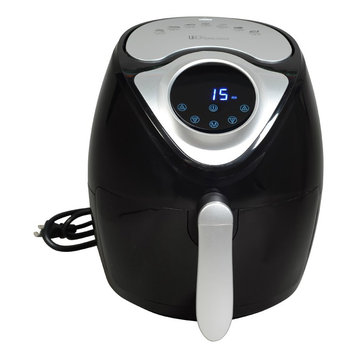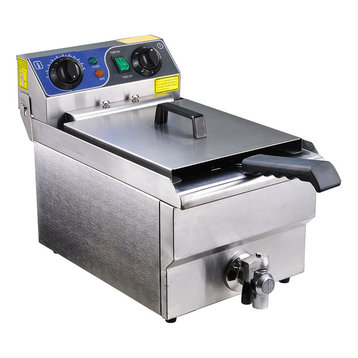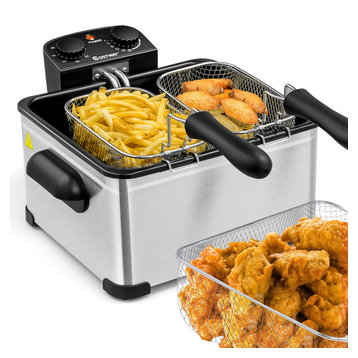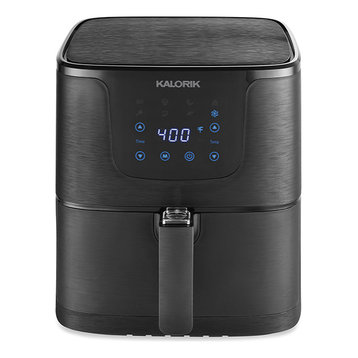 From French fries to chicken, nothing beats the rich flavor and deep golden color of fried food. You can easily make your own fried treats at home with a deep fryer and some oil. Outdoor options aside, most deep fryers come in compact sizes that will fit right on top of your counter. Before you bring one home and get frying, take a peek at these helpful tips to ensure you purchase the right model for your needs.
What sizes do deep fryers come in?
Deep fryers range in size from massive
outdoor units that can fry an entire turkey
to smaller 1- to 2-cup designs that are just perfect for the solo cook. Smaller models will most likely only have one basket, but they're still perfect for whipping up some fried chicken. You can also find mid-sized fryers that hold about 8 cups — these are big enough to fry a whole chicken if you so please.
Whatever you do, try to avoid purchasing a deep fryer that is just the right size and no more. A fryer that is too large will end up costing you extra money and extra time, as you'll need extra oil to fill the compartment which will also take longer to heat up.
Will my deep fryer come with safety features?
As with any kitchen appliance that uses high levels of heat, you'll want to be sure there are safety features in place to keep anyone from getting burned. A deep oil compartment will help minimize splashing, and even better is a model with a lid.
A breakaway power cord is another must have. If someone trips over or snags the cord, it will simply disengage from the fryer instead of sending the fryer and its hot oil sailing. Another key feature is an exterior that doesn't feel hot to the touch even while your deep fryer is working.
What other features can my deep fryer come with?
First things first, you'll want a temperature control. While some models come with simplified low, medium and high settings, you're better off with a model that has a dial you can set to specific temperatures. Even better are the models with an adjustable thermostat and digital display — this style gives you full control over the oil's temperature.
Another characteristic that you may not think of until it's time to clean up is a deep fryer that's easy to clean. This allows you to easily take pieces apart and scrub them. Some styles will even feature dishwasher-safe parts. The added benefit to an easy to clean model is your fried food will taste much better due to the lack of layers of leftover grease.
A timer can also be a helpful addition and allow you to track how long your food has been cooking. Some models even include an auto-shutoff timer. Also important is a filter for the oil, which can either be washable, replaceable or permanent.
Find where to buy Deep Fryers and get inspired with our curated ideas for Deep Fryers to find the perfect item for every room in your home. With such a wide selection of Deep Fryers for sale, from brands like Kalorik, National Presto Industries, and Lodge Cast Iron Cookware, you're sure to find something that you'll love. Shop from Deep Fryers, like the Uber Appliance Air fryer XL Deluxe or the Stainless Steel Deep Fryer 6-Quart Stovetop, while discovering new home products and designs. Whether you're looking to buy Deep Fryers online or get inspiration for your home, you'll find just what you're looking for on Houzz.