Kitchen Fixtures
Your kitchen fixtures are probably the most utilized products in your house. Because you use the sink and faucets for everything from washing dishes to making morning coffee, the quality can impact your day-to-day tasks in a big way. If you're looking for that just-right addition to your remodel, there are plenty of kitchen fixture styles to consider. Before you make any final purchases, do your research and follow these tips to get started:


What kind of kitchen sink should I get?

As you consider what sink to buy, think about the size you need (and can fit) in your kitchen. Double or triple bowl sinks are great if you tend to procrastinate on washing dishes, while trough sinks are ideal for multiple chefs since they often have two faucets. If you're looking to make your sink into a kitchen focal point, try a farmhouse sink, also called a farm, apron or apron front sink. Though still built-in, these deep sinks have exposed fronts that sometimes extend past the cabinet line, which adds some added dimension and texture to a space. In general, you can have an integrated, drop-in, undermount or tiled-in sink, so think about what works best for your kitchen's look and current layout.


What kitchen fixture material should I use?

Your sink material is often dictated by your style, but it's also important to consider the durability as well. Stainless steel sinks are by far the most popular option because of their price and slick appearance, though scratches are often more noticeable. For an all-white kitchen, try a white fireclay or cast iron sink, which are both extremely durable yet will still complement your clean-lined kitchen. If you're looking for some texture, as well as a little color, try natural stone, quartz, granite or copper instead. You can play around with different kitchen faucets to create a custom look as well.


What kitchen faucet do I need?

Believe it or not, there are many different kinds of kitchen faucets out there. Do you want a single-mount or double-handle faucet? Do you like the look of a standard or a high-arc spout? Would you use a pot filler or a hand spray? A lot of it is based on personal preference, so think about what you would use and have space for. When picking a finish, be sure to choose one that works with your cabinet hardware and light fixtures; after all, a bronze faucet finish might clash with silver cabinet pulls and stainless steel pendants.
1 - 36 of 18,822 products
Featured Reviews of Kitchen Fixtures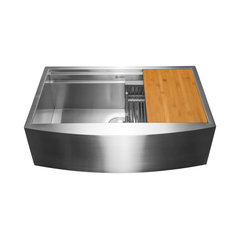 AKDY 33"x22"x9" Apron Farmhouse Handmade Stainless Steel Kitchen Sink
Kitchen Fixtures
We don't have counter tops in yet but they put the sink on our new cabinets and it looks so good!: We don't have counter tops in yet but they put the sink on our new cabinets and it looks so good! Take note that the front curves out a little so if it's near a corner that drawer may not open. But we and the contractor like the sink so much we are going to keep the sink and just make that drawer a fake drawer!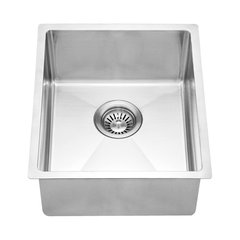 Dawn BS131507 15" Single Bowl Undermount 18 Gauge Stainless Steel Bar Sink
Kitchen Fixtures
Great quality: We are very pleased with the quality and look of the sink. Saved some money buying it on this site too, which is always a satisfying feeling when I'm happy with the purchase too.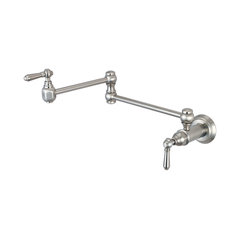 Wall Mount Pot Filler, PVD Brushed Nickel, Pvd Brushed Nickel
Kitchen Fixtures
Love this pot filler!: We just received this and have not yet installed. I was worried ordering this but very pleased when it arrived. It is just beautiful and very well made/sturdy. Color is just like the pictures.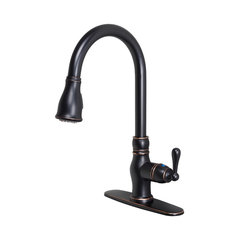 Ultra Faucets Oil Rubbed Bronze Single-Handle Kitchen Faucet, Pull-Down Spray
Kitchen Fixtures
Perefect: This was exactly as pictured and perfect with our hammered copper sink. We loved that the fact that it didn't have to be mounted with the long escutcheon since we were putting it on an antique wood top. The look is perfect in our rustic setting and the quality is outstanding!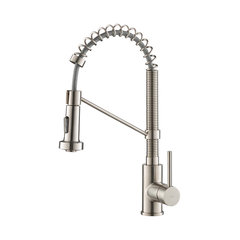 KRAUS Bolden 18" Pre-Rinse Kitchen Faucet, Pull Down Sprayer, Stainless Steel
Kitchen Fixtures
We have had this faucet for a few months.: We have had this faucet for a few months. It has a commercial look but makes you feel like a restaurant chef. It is very powerful! We like it so much better than our previous one for which we paid 3 times as much.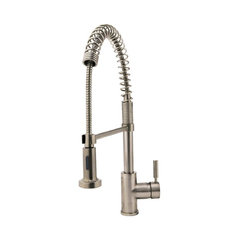 Spring Spout Kitchen Faucet, Brushed Nickel
Kitchen Fixtures
Wow Faucet: This looks amazing and has stepped up the look of my kitchen, love the sprays and flexibility. I was worried the handle may be a bit narrow to grip, but it's perfect. Sleek and professional looking.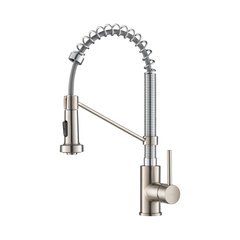 KRAUS Bolden Pre-Rinse Kitchen Faucet, Pull Down Sprayer in Stainless and Chrome
Kitchen Fixtures
The faucet arrived promptly and with no damage.: The faucet arrived promptly and with no damage. It looks great- well made. My kitchen reno starts in a week, so installation will tell it all. I look forward to add more to my comment!!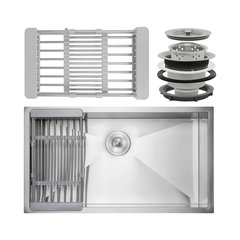 AKDY 32"x18"x9" Undermount Handmade Stainless Steel Single Bowl Kitchen Sink
Kitchen Fixtures
Best thing since sliced bread!: My grandmother has a single sink and I thought it was kind of odd until I washed her dishes. I was amazed at how easy washing larger items was, no more contortionist moves to clean a cookie sheet. I was sold! She ordered a new one and I bought one as well. This sink is gorgeous and well made and looks like it will outlast me. The shipping and check out were straight forward and efficient.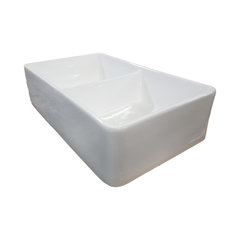 32" White Fireclay Farmhouse Kitchen Sink
Kitchen Fixtures
Very durable!: I was concerned about this sink when we first got it. But we clean cast iron skillets and pots in it all the time and it takes a beating here and there, but still looks great.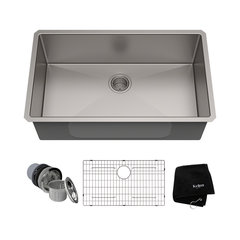 KRAUS Standart PRO 32" 16 Gauge Undermount Single Bowl Stainless Steel Sink
Kitchen Fixtures
Work of Art: Love, love, love this sink. It's deep and a perfect size. It's so beautiful, I don't want to use it. Sometimes, it's the little things in life that make a difference. It even comes with its own monogrammed towel, with a hook, for drying the sink, as recommended, after use. It's all in the details, folks, and Kraus hasn't forgotten any.