Kitchen Measuring Tools
Cups, ounces, teaspoons, grams — with so many different measurements to be made in the kitchen, it pays to have the right tools for the job. Whether you're measuring liquids, solids, weights or capacities makes a difference in how you go about portioning out the correct amount, and you don't want to be caught mid-recipe without a way to measure out your salt. Make sure you have adequate measuring cups, spoons and scales to cover your bases.


Sponsored Products
Featured Reviews of Kitchen Measuring Tools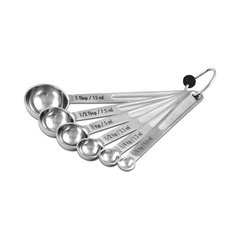 CIA Masters Collection, 6 Pc Measuring Spoon Set
Kitchen Measuring Tools
Ergonomic Stainless With Large Labels: Nesting, rounded spoons are easy to read with long, ergonomic handles. Heavy stainless run through the dishwasher and come out beautiful. Six measures down to 1/8 tsp make this a great set.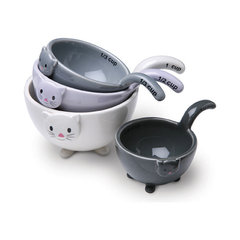 Kitchen Measuring Tools
These are adorable: I got these as part of a gift for my dear granddaughter who is getting married this year. She & her hubby to be love kitties. They are just so adorable, whether she uses them or just puts them on display they will add a sweetness to their home.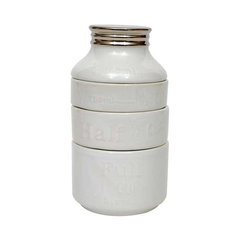 Stacked Milk Bottle Measuring Cups
Kitchen Measuring Tools
So pleased!: I had seen this in a picture on a blog sitting in someone's kitchen. I loved it, and within a week, saw it on the Houzz site! I was so excited but saw that there were only two left, and quickly ordered, aware that they might sell out before my order went through. I was so pleased to receive it, and it came in a few days, which was a miracle considering the whole east coast was socked in from a monster northeaster. (The UPS had to leave it at the end of my drive, a quarter mile from the house, and I marched through the snow to get the package, I couldn't wait to see it.) Just as cute as I thought it would be! I wish I could order a couple more for gifts.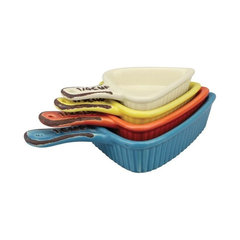 Ceramic Measuring Cups, Set of 4
Kitchen Measuring Tools
Even cuter in real life!: I was looking for a cute coffee scooper that would look good sitting on my kitchen counter. I came across these measuring cups and they are perfect! Not only are they really cute but because they are measuring scoops I'm no longer eyeballing how much coffee I'm using. No more weak or too strong coffee. Bonus! BTW, I'm throwing out all my ugly plastic scoopers.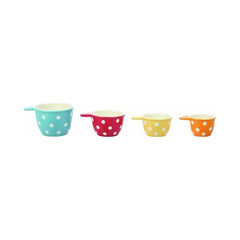 Polka Dots Ceramic Measuring Cups, 4-Piece Set
Kitchen Measuring Tools
Adorable!!: I bought these for my sister in law for her bridal shower. She loves polka dot print and she enjoys baking. I can imagine she will use these a lot. They arrived very well packaged and way ahead of the estimated delivery date and they were in perfect condition. I was very happy with this purchase!