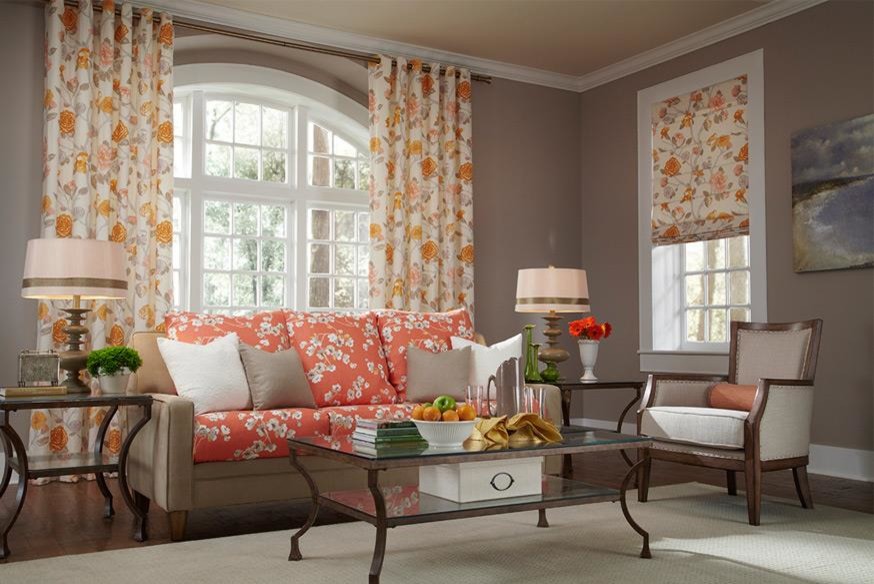 Floral Orange and Yellow Curtains & Draperies of Indianapolis- Custom Styles at
Eclectic Living Room, Indianapolis
We Love this space because of the use of color! This picture is of a transitional living room. We love the gray-brownish walls with the pop of color throughout the room. Don't be afraid of adding the visual interest in the draperies and roman shades! We also like layering the valances with the roman shades. This provides a gorgeous look while giving you privacy and sun protection. **UPDATE** We also work with clients all over the country! Our virtual designers have experience as local and long distance design consultants. Our designers offer professional fabric and design recommendations, free estimates and have a great ability to communicate via email or phone to help conceptualize the project and see it through to the final stages. Fabric samples are mailed directly to you and we also provide easy installation guides. We're very excited to announce that we were featured on HOUZZ! Click the link below to check out the article!
http://www.houzz.com/ideabooks/30722151/list/design-workshop-shutters-all-grown-up
Abda Window fashions of Indianapolis has custom curtains, drapes, valances, cornices, pillows and hardware in a variety of fabrics and finishes. Curtains and drapes are great alone or paired with a hard window treatment for the ultimate fashion statement. All of our curtains, drapes, valances, cornices and pillows are custom-made from our own workroom. We also make custom bedding and upholstery. We have a huge selection of fabrics that will match any style. Our custom, affordable draperies, curtains and sheers are now available to anyone in the US. We make them in our own workroom and ship them anywhere in the US! Talk with our professional design specialists and let them help you transform your home! It's simple and easy. This is a great solution for persons who live out of state or are too busy for a traditional home consultation. With our great reviews, solid company and company values- you know that you're home is in great hands! We also have ready-made curtains and bedding available too! And don't forget our custom hardware! You can also check out our houzz.com store for great window fashion products, including our exclusive bendable rods! To see our new line, contact Talitha at 317-273-8343 or email: talitha@abdawindowfashions.com or check out our houzz.com store! For our local customers we offer, FREE In-home consultation or showroom appointment to meet your lifestyle and design needs. At Abda, we have the perfect blend of high-end and affordable solutions for every style and budget. Affordable doesn't mean cheap! We pride ourselves on quality products with excellent service. We're so confident of our products that we give our customers more than the manufacturers guarantee! We give our customers an additional 2 year warranty on top of the manufacturers guarantee! At Abda, you will find knowledgeable staff that will turn your visions into a reality. Stop in our showroom or schedule a Free In-home consultation today! We know you will be happy with the results but don't take our word for it, check out what some of our customers say about us on Houzz and Angie's List!
http://www.angieslist.com/companylist/us/in/indianapolis/abda-inc-custom-window-fashions-reviews-60394.htm?cid=ssabadge
Why Choose Us? We have been in business since November 1998 and started in the window covering business by cleaning & repairing blinds. This gave us a unique perspective from most window covering dealers. We have always considered how well products hold up and which manufacturers stand behind their products the best. We let our clients know the benefits of more expensive products and give honest feedback. We take pride in showing alternative products to fit all budgets. Our great testamonials on Angie's List, Houzz.com and referrals have helped our company grow without the need for "conventional" advertising. Abda means 'servant'. At Abda, we approach every customer with a servant's attitude. This philosophy has helped our customers feel confident in their purchases and well-taken care of. Our number one focus is customer service and we believe in putting the customer's needs first. We offer our clients an additional 2 year warranty on top of the manufacturer's warranty and want each and every client to be completely happy with their purchase. We've been awarded the prestigious 2013 Angie's List Super Service Award, an honor bestowed annually on approximately 5 percent of all the businesses rated on the nation's leading provider of consumer reviews. We've grown over the years and have added more team members to our company and we're very excited at the direction our company is going. Check out our website for more information: www.abdawindowfashions.com Below is a list of styles and types of curtains and draperies that we can help you with. No worries if you do not find what you're looking for below! Since we have our own workroom, the sky is the limit. There's no project too small or large! Our design specialists are great at helping you with window treatment ideas. Stop in our showroom or call today for a FREE in-home consultation. If you're out of state, no problem! We're now making our custom treatments and shipping them to you! Call today (317-273-8343) for more information or email: talitha@abdawindowfashions.com Some of the styles and types: Modern curtains & draperies, Contemporary curtains & draperies, Traditional curtains & draperies, Transitional curtains & draperies, Beach Style curtains & draperies, Asian Style curtains & draperies, Eclectic curtains & draperies, Midcentury curtains & draperies, Mediterranean curtains & draperies, Farmhouse Style curtains & draperies Kitchen curtains, Living room curtains, Dining room curtians, Master Bedroom curtains, Nursery curtains, Children's room curtains, Guest bedroom curtains, Areas that we serve for installation for curtains & draperies are listed below. (But we ship to anywhere in the US!) If you don't see your city on the list, just give us a call and we will see what we can do. Indianapolis curtains and draperies & surrounding areas, Carmel curtains and draperies & surrounding areas, Zionsville curtains and draperies & surrounding areas Westfield curtains and draperies & surrounding areas, Avon curtains and draperies & surrounding areas, Greenwood curtains and draperies & surrounding areas,