Lamps
All lighting is designed to illuminate the darkness, but lamps have a special trait — they also serve as decorative accents. As a non-permanent fixture in your home, lamps are a great way to enhance your decor style without making a big commitment. As a bonus, most lamps have a shade that can be swapped out to create a whole new look. Read on for more tips about lighting up your home with a new lamp.
What types of lamps are available?
If you have a space that needs to be well-lit, chances are there is a lamp out there to suit your exact needs. Want to accentuate that new side table? Need some extra light to read in your cozy nook? Find out which type of lamp will do the trick from the most common styles below:
Table Lamps: Place one of these mid-sized lamps on a side table or nightstand to light up the immediate area and add a bit of style your space.


Floor Lamps: Use one of these freestanding lamps to light up a larger area. They're perfect to tuck into a corner or behind a chair where tabletop or overhead lighting doesn't quite fit.


Desk Lamps: Grab one of these small but efficient lamps to put the spotlight on any desktop task you may be doing, such as writing or computer work.


Lamp Sets: When you're in need of multiple lamps to balance out a space, go for a coordinating set to keep the style flowing throughout.
Don't forget to consider the proportions of your space and furniture before purchasing a lamp, as a common mistake is choosing one that is too big or too small, which can look silly and out of place. Check out our
Guide to Lamp Shades
to learn more about choosing the perfect one.
1 - 36 of 52,166 products
Sponsored Products
Featured Reviews of Lamps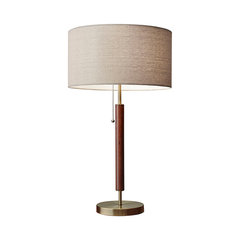 Hamilton Table Lamp, Antique Brass With Walnut Eucalyptus Wood
Lamps
tasteful: I bought 2 as bedside lamps. They look great, good materials, beautifully crafted, and they make the whole room feel stylish. I can't believe they are this beautiful as this price.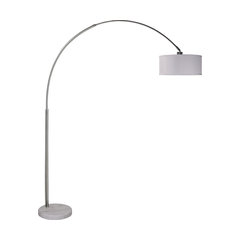 Sophia Adjustable 81'' Arc Floor Lamp With Marble Base, Marbled Gray
Lamps
Beautiful!!: I have been looking at similar lamps at CB2 and crate n barrel but could never justify spending $200 - $300 on a lamp. This one was much cheaper and looks just as high end. The marble base is sturdy and heavy. This lamp has changed the look of the room we put it in. We used a low voltage bulb at the lamp puts out a lot of light. It is perfect. And although cheaper than what I have been looking at the quality is just as good if not better! Highly recommend this lamp. Also, you can adjust how far the lamp hangs over, which was a great feature for us!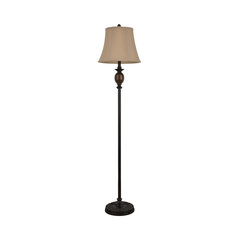 Bronze and Marble Floor Lamp
Lamps
Love it: My online buying experience was simple and delivery was quick and timely. I love the lamp. It s perfect for a corner behind a sectional sofa in my living room . It s beautiful and so reasonably priced with free shipping! Love HOUZZ.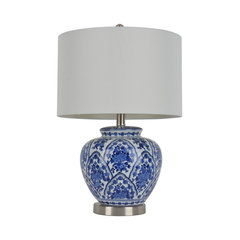 Blue and White Ceramic Table Lamp
Lamps
Lamp Love...: This beautiful lamp is perfect... exactly as described. I love it so much I'm going to order another one. Great quality and arrived earlier than expected. Highly Recommend !!!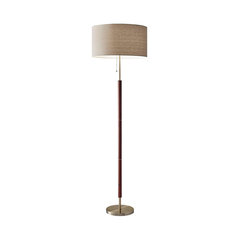 Hamilton 1 Light Floor Lamp in Walnut And Antique Brass
Lamps
Good bang for your buck: This lamp looks much more expensive than it is. It was easy to assemble and looks very handsome. It is modern, but not so much that it can't match with other interior design styles. The lampshade in particular is really gorgeous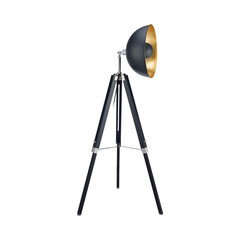 Versanora Fascino Tripod Floor Lamp, Gold
Lamps
Bargain price - Funky Style - I'd buy again: I saw a similar lamp at Potter Barn that was larger and almost $1,800.00 more. Boxed well and secure, came fast when I ordered, and was exactly what I saw in the photo. It was only $ 119.00 and when you look at it you wouldn't think it was that inexpensive at all. The only thing I think it should improve is that the telescopic leg mechanism for tightening could be a bit easier to tighten and keep in position. I fussed with that part for about 5 minutes as I thought one leg was secure and moved to another and the first leg slid down from the weight of the shade section... but with some elbow grease I got it in position and haven't had to adjust it. Oh, and I would add that putting a 40W LED bulb in this lamp is like having a spot light to your retina as it reflects off the gold finish of the inside of the shade. I have to get a 20W incandescent or Edison bulb to have the right ambient light off it to really show it off. But long story short I would buy it again; definite great buy.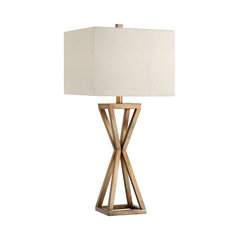 Catalina Ezra 31" 3-Way Gold Open Caged Metal Table Lamp, Bulb Included
Lamps
Modern geometric lamp: On-trend metallic geometric lamp - the color is a little more shaded than appears in photos (looks more of a nuanced gold in person) which adds to the appeal. Ordered two total and both lampshades don't sit exactly right unless you fuss with the harp and bend them into place. Also, I should have measured better, but these are actually pretty large! Packaging was frustrating - separate pieces of styrofoam and cardboard all taped together, which meant tiny polystyrene bubbles everywhere.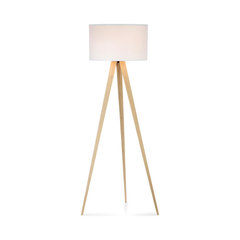 Maya Tripod Floor Lamp, White and Light Oak
Lamps
Spotted shades: The lamps are exactly as pictured. However, the lamp shades had a few colored spots on them. I thought that I stained it as I was putting it together, but when I took the second lamp shade straight out from the box upon examination, it had a few stains as well.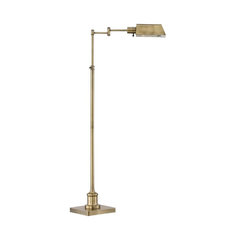 Traditional Aged Brass Pharmacy Floor Lamp With Adjustable Swing Arm
Lamps
Great floor lamp: This floor lamp is exactly what I was looking for - adjustable height and swivel head. The lamp's "footprint" is 9" and it fits perfectly in the small corner behind my husband's reading chair. The construction and materials are sturdy and the lamp has an upscale appearance.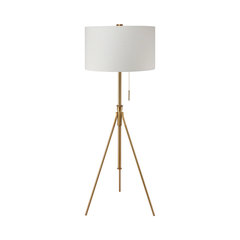 58" To 72" Tall Adjustable Tripod Floor Lamp With Gold Finish,Mid-Century Design
Lamps
Tripod Floor Lamp: This is a terrific reading lamp for a family room, to be placed in corner by fireplace or behind a chair. Love the way it looks behind my white arm chair, and gives the space a clean modern feel. Gave it only 4 stars because at times the stand slips down when you pull the chain too hard, but it's not really a big deal. Price is terrific for this product.