Dining Room Tables
Finding the perfect dining table to accommodate family and friends is important. A high-quality table can last decades and, like secret family recipes, dining room tables can be passed down from generation to generation. Besides being above all practical, a dining room table also sets the mood of the space for family events and gatherings with friends. A
rustic dining table
for four evokes casual vibes while a formal table for 10 exudes sophistication. As you peruse dining tables for sale, reflect on your family's lifestyle.
How big should my dining room table be?
The standard dining table height is 28 to 30 inches tall. Dining room table dimensions depend on the table's shape, but most family-sized tables are 36 to 44 inches wide on average. Mark dining table dimensions with tape on the floor to visualize how much space you'll have left on each side to pull chairs in and out. You should have 36 to 48 inches of clearance around the table.
To narrow your selection of kitchen and dining room tables, consider how often you host dinner parties and how many people usually attend. A large dining room table is a logical investment if most of your family and friends live nearby, but a small dining table should suffice for daily meals. If you're on the fence between sizes, purchase an
extendable dining table
or a
drop-leaf dining table
to accommodate more guests on occasion.
What shape should I choose?
A table's shape can determine how many people can comfortably gather 'round. A round or
square dining table
often seats four to six people. They're great for small spaces and promoting conversation. A rectangular or an
oval dining table
can seat 10 to 12. Additionally, an oval or
round dining table
with smooth edges is better for squeezing in an extra chair or two while a square or
rectangular table
allows bench-seating.
What's the right material or style for a long-lasting dining table?
Material and style go hand-in-hand when shopping for dining room tables. This is likely a piece you'll keep forever, so choose a design you truly love that can withstand a few phases of redecorating. Those with traditional tastes are sure to love a
farmhouse dining table
or a
wood dining table
. Trendsetters who want a
modern dining table
should look for a
white dining table
or a
glass dining table
. A
marble dining table
or a
glass-top dining table
would complement a contemporary decor scheme.
1 - 36 of 11,154 products
Sponsored Products
Featured Reviews of Dining Room Tables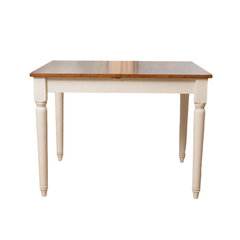 Bronwen Wood Dining Table With Leaf Extension
Dining Room Tables
Easy to put together, missing a part: One of the table legs was missing a screw insert, which was annoying when all I wanted to do was put this table together when I got it. I ended up just putting it together with the one missing screw insert, and I'll fix that once I find the part at my hardware store. Remarkable to me how it's still possible to get defective or missing pieces when all it takes is good quality control. In any case, the table is nice, exactly what I expected, and the middle leaf actually adds enough space that this table would seat 4 comfortably.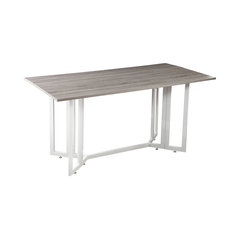 Pandora Drop-Leaf Table, Worn Gray and White
Dining Room Tables
Exactly as expected: The picture, and perceived functionality is exactly as expected and the site photos match what the product looks like in real life. The packaging was pretty good, and it didn't take all day to build. My only complaint would be that the instructions while mostly clear had me put the hinges on the wrong side. After realizing my mistake, I reexamined the instructions, but could not tell from the instructions that I made a mistake even though I knew I had. This was a tad painful because I more or less rebuilt the entire thing. I still want to give a five star review however because the product itself is very sturdy, looks great, and is very functional. If I had put the hinges on the correct way the first time I would have saved 30 minutes. Learn from my mistake :-)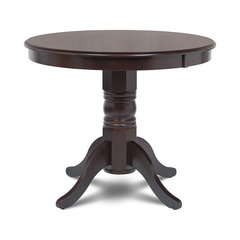 Carolina Round Dining Table, Cappuccino
Dining Room Tables
Table review: This is a very sturdy table. The only thing I was a little disappointed about was the color. It said it was oak but I think it looks like a maple color. Very easy to put together.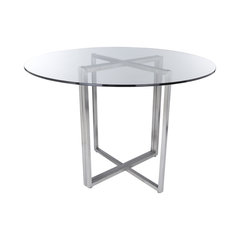 Legend Dining Table Base, Brushed Stainless Steel
Dining Room Tables
The perfect piece!: This table base is perfect for my staging business! It can hold a 42" round top, or a 42"X 60" rectangular top for bigger dining rooms...even as a base for a desk...super versatile!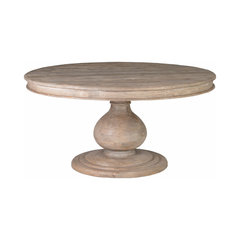 Dining Room Tables
Love this rustic table: I love this very rustic table. It's big enough to fit 6 large windors arm chairs aroung it. The finish is natural with a slight grayness to it. There is no sheen or varnish but I was told by customer service there is a water based sealant. I'm giving it 4 stars instead o 5 because the top has areas that are a tiny bit raised and uneven and there is a wobble to it. We use a shim and that seems to have taken care of it.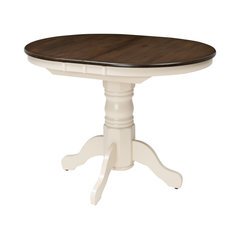 Corliving Dillon Extendable Pedestal Dining Table, Dark Brown
Dining Room Tables
Apartment Size Dining: With the butterfly leaf out, it is the perfect size for my space. I wish it was that size without the leaf, in truth, since it looks very small without it (almost like a side table). It was as pictured, easy to put together by myself and sturdy. Beautiful finish on top.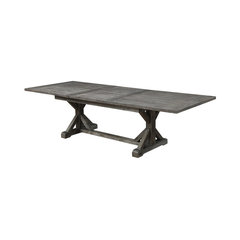 Wimborne Extendable Dining Table
Dining Room Tables
Quality table: Heavy and sturdy with quality workmanship.. After reading many reviews on other sites I returned here for best price and ease of delivery. Very simple to operate the large butterfly leaf to extend table. Highly recommend this table.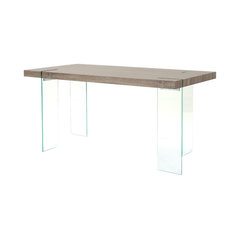 Migdon Modern Dark Sonoma Oak Faux Wood Dining Table With Tempered Glass Legs
Dining Room Tables
Sweet deal: If you're not a pretentious, "this is not real wood", family, this is a great table. Just look at this beauty. I cannot comment on the durability since I purchased it last week but both the appearance and price get 5 stars.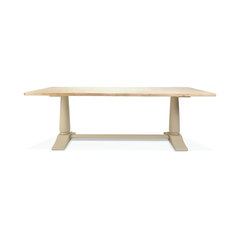 Warwick Traditional Reclaimed Pine Top Dining Table, 84"
Dining Room Tables
Review: I purchased the dining table and the reclaimed bench! They were exactly as described and arrived promptly. The packaging was phenomenal and the products came in great condition. They were easy to put together and they're performing as expected!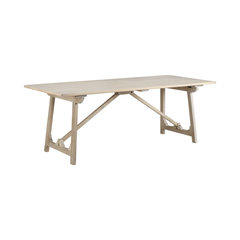 Cadogan Solid Oak Folding Dining Table
Dining Room Tables
Perfect for our Client: We purchased this table for a client building their own salon. The coloring is white washed, light, and balanced bright spaces well. Our client did mention worrying about placing drinks on the table, so if this is purchased we recommend using coasters.