Wine Racks
So much wine and nowhere to store it! If this is a common storage dilemma for you, then you desperately need to invest in a wine rack (or two, or three). Whether you use it to showcase your bottles or simply as a loading dock between the store and the refrigerator, wine bottle holders are an elegant and easy way to add more storage and organization to your kitchen.

The great thing about wine storage is that it is extremely versatile and easy to apply to any space in your home. Unlike many other storage options, wine racks are designed to occupy as little or as much space as you have to offer. Whether you have an extra countertop corner to spare or an entire wine cellar, there is an option out there for you.


Should I buy a wine rack or wine cabinet?

This decision comes down to what you are looking to store. Do you just need a place to store bottles? A wine rack is the best option, since it takes up less space but still does the job. Or are you looking for something more substantial, where you can store wine glasses, corkscrews and table linens? If this is what you need, then a wine cabinet is more practical. These furniture pieces are often large and well-stocked with plenty of counter space, which means they can also act as wet bars when needed. Budget is also a consideration; small racks are easy to find under $100, while quality wine cabinets can easily be more than $1,000.


What wine storage is best for a small space?

Apartment dwellers rejoice — there is wine storage out there for even the smallest of spaces! Wall-mounted wine racks are great because they avoid taking up floor or counter space, an invaluable commodity in a small apartment. They keep bottles off the floor and beautifully display your collection (they can even play double duty as a piece of artwork!). Tabletop wine racks are also ideal. They are completely self-contained and only require a little bit of counter space. Finally, there are many designs to choose from, which makes it easy to find one that works with the style of your home.


What about a modular wine rack?

Modular wine racks work best for a growing collection of bottles. If you have an ever expanding wine collection, consider a modular or stackable system. They are sold in every material, from plastic to chrome wire, and have the potential to store infinite bottles of wine. Modular alternatives are part of the growing modular furniture trend, so they can really add cutting edge design to your kitchen. In the end, it's a great option if your space is limited now but may become more available in the future, or if you simply prefer not to commit to a major furniture piece up front.
Sponsored Products
Featured Reviews of Wine Racks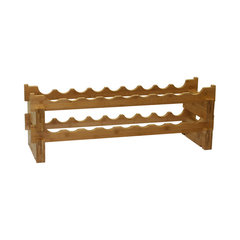 Oceanstar 18-Bottle Stackable Bamboo Wine Rack
Wine Racks
Perfect!: We just moved into a new (to us) house, and it does not have a bar, butler pantry, or other area to store wine and liquors. So I am converting an unused linen closet into a bar cabinet. The closet is 34.5" wide, trim to trim, so I was excited when I found this stackable rack was also 34.5" wide. I initially ordered two, and they are perfect. They fit as if they were made for the space. They are very sturdy, and easy to put together. As my husband said "These are adult Lincoln logs". They just stack. No tools required. Each piece fit perfectly into the other. They are finished nicely, with no rough edges. After installing the two, I realized I had room to stack one more, so I ordered another. The picture is of all three racks, standing 34 5/8" tall. These were the perfect purchase for our specific need.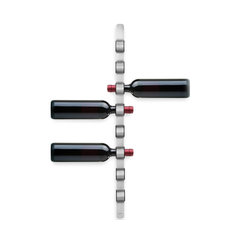 Cioso 8-Bottle Wall-Mount Wine Rack
Wine Racks
wine rack: this wine rack is perfect, great quality, easy to put up, love the modern look, would definitely recommend to others, planning to purchase another one for a gift, excellent overall service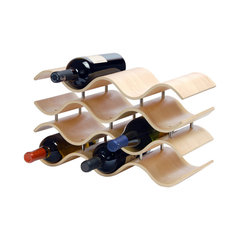 Ebony Bali 10-Wine Rack, Wood
Wine Racks
Great wine rack design, but made in Thailand out of simple inexpensive materials, this should cost 1/3rd what it does. Houzz made sure this was shipped super quick, and are good to deal with.: Great wine rack design, but made in Thailand out of simple inexpensive materials, this should cost 1/3rd what it does. But since Oenophilia is the only game in town for this design, it is what it is. It's a nice rack, the wife wanted one, and I didn't have the time to make one. Houzz made sure this was shipped super quick, and are good to deal with. Even though most, if not all, of what they do is affiliate selling and don't warehouse anything.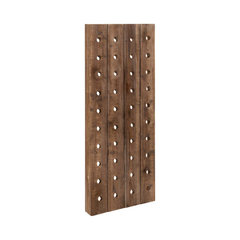 Panel Wine Rack Large Capacity Simple Elegant Design Unique Bar Decor
Wine Racks
Riddling Rack: Absolutely love my riddling rack! I have been eyeing this piece for awhile and made the purchase when it went on sale. Great value! Very sturdy and I love the color. Only concern is that hardware was thrown into the box without any packaging and it does have an odor to it, but quickly went away when aired outside.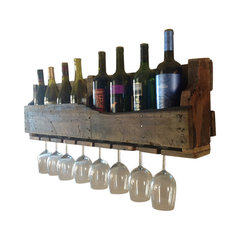 Reclaimed Wood Wine and Glass Rack, 13"x40"x5", Dark Walnut
Wine Racks
Good Rack: Good looking and useful, rustic and simple. Did not like or use mounting hardware, best to mount into studs to hold the weight. Be careful as there are some sharp cut-off nails sticking out.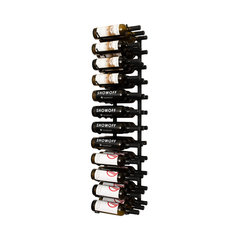 Wall Series 4 Foot Wall Mounted Metal Wine Rack, 36 Bottles, Satin Black
Wine Racks
brushed nickel wine rack: Received the item very quickly, the quality of this item was of high standard. They look perfect in my wine room. I would recommend this product very highly. Thanks for a great looking product.