Clocks
Clocks today go far beyond the standard cuckoo or grandfather styles — everything from a futuristic digital alarm clock to a simplistic wood grain piece can add a touch of personal style and functional flair to your home. Whether you're mounting your clock on your wall as a focal point, using it as a bedside reference, or adorning your desk, a clock is always a useful addition to any space.


What size clock should I buy?

When figuring out what size you should purchase, answer the following questions:

Where is this clock going to go?

Are you looking for an old-school wall clock or a transportable, battery-powered desk clock?

What will be the overall function of this clock?

Are you a fan of the Roman Numeral clock or do you prefer digital clocks?

Knowing exactly where you want your clock to go and why you need it will help you purchase something that works well in the space you have, both aesthetically and functionally.


What kinds of clocks are available?

Today, there are a wide range of features that clocks have, and a range of functions they can provide. Radio, alarms, satellite radio, MP3 hook ups, and more are all part of a potential package. Like any home appliance, it's simply a matter of thinking about what you want to get out of this clock, and how much you want to spend. If you're just looking for a simple timer in the kitchen, it's probably not worth it to splurge on a clock with Sirius XM radio built in.


What style clock should I look for?

You will look at your clock constantly (especially if you're a highly punctual person!), so make sure you absolutely love it! In terms of general functionality, don't choose a piece with Roman Numerals if you have a hard time reading them; conversely, if you can't stand the neon glare of digital numbers, consider an analog clock. Aesthetically, you'll also want to ensure that your new clock purchase also works well with the accessories and home decor you currently have. Even if your new clock is just going on your nightstand, picking something in a fun design can make a huge difference in terms of your room's vibe; your alarm clock is going to be one of the first things you see in the morning, so make it something you'll be happy to wake up to! In terms of wall clocks, or larger floor or grandfather clocks, these statement pieces can really complement your living room and uplevel your decor — just make sure to choose a style and material that you won't mind looking at for awhile!
1 - 36 of 15,149 products
Sponsored Products
Featured Reviews of Clocks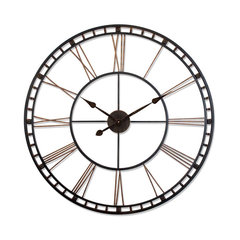 Clocks
A thumbs up for the Tower XXL Clock: The clock arrived on time, we unpacked it, figured out how to put it together, and it worked and has been keeping accurate time since then. It fit our space and we really love it.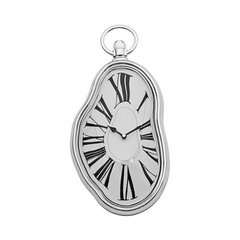 Modern Home Melting Wall Clock
Clocks
A very cute wall statement clock: The clock was smaller than I thought it would be, but I should have read the measurements more closely. It is made of plastic, but the clock works well and it is very good looking on my wall. Good price for what it is. The service & delivery were excellent! Thank you!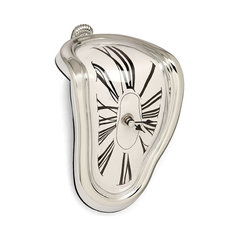 Modern Home Melting Table/Mantle Clock
Clocks
Very cool!: This clock is very cool! I bought it as a Christmas gift but before wrapping it, I took it out of the box to check it out and set it on the wall unit in my entry. Every person that came in commented on it and wanted to see it up close. It definitely made an impression, it was unexpected and quirky but eye catching and fun. It's just the right size, color and shape. Up close, it doesn't show so well since it's obviously made of plastic but it's very unique, fun and reasonably priced.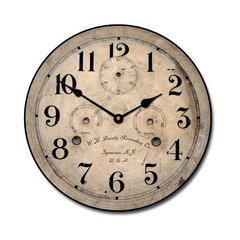 Bundy Vintage Wall Clock, 12"
Clocks
Vintage Wall Clock: This clock is exactly as it was described. It mounts flat against wall and looks great in the casual atmosphere of the family room. Wish I had gotten next size larger. Good value for cost.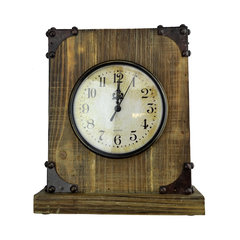 Rustic Wood Tabletop Clock with Iron Corners
Clocks
Great quality: Excellent quality, not cheaply made, beautiful piece. They include a Christmas themed clock face you can swap in for the holidays at no additional charge. Would absolutely buy again and highly recommend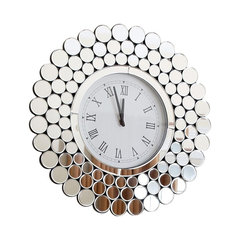 Radiance Round Wall Mirror Clock
Clocks
Radiance wall clock: The first mirror I received was all in the silver color. I thought I ordered the one that had some other tints of color. It was too big and very heavy. Looked better on the phone. .Extremely heavy.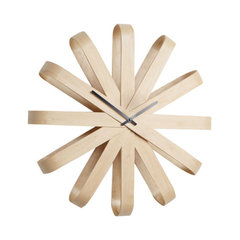 Ribbonwood Clock, Natural
Clocks
Perfect accessory: A great addition for a modern mid century look which is part of our eclectic design. The wooden 12 "ribbons" Represent the numbers making up the face of the clock. Very cool piece. I recommend this to others.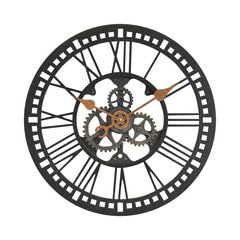 Clocks
Great looking clock......perfect size: First item I purchased from houzz. Showed up on time, packaged nicely and works perfect on the wall we hung it on. Love the contrasting hands. Being plastic it's light and easy to hang with sawtooth hanger attached. Doesn't look plastic.....again, works perfect for what we wanted and the price was the best I found too.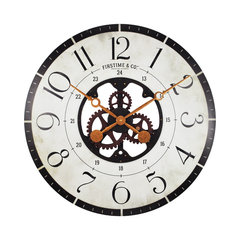 Oversized Carlisle Gears Wall Clock
Clocks
Tic tic tic: It does make a sound and might be annoying to some. I don't really notice it that much but my husband does I was a tad bit disappointed when I got an up close look at the clock. It looks a little cheap but from a distance, it is ok.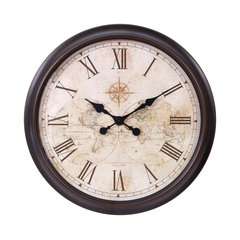 Bronze Antique World Map Clock, 30"
Clocks
Well Worth the Wait: I had ordered this clock months ago and it was out of stock. When it was back in stock I ordered and it is now hanging in our living room. Looks like a much more expensive clock.