Food Containers and Storage
Food storage can be a never-ending challenge in your kitchen, no matter how much pantry or cabinet space you have. Getting and keeping things organized can be frustrating as your food stocks grow, become depleted and change over time. Luckily there are a variety of food storage solutions available that are not only functional but visually appealing as well. Read on for tips to store your food in style:

Kitchen canisters are a great way to store and organize dry goods like pasta, peas and lentils, coffee beans and cereal. Purchasing canister sets ensures your food storage containers will all match in style and color — though of course you can also aim for an eclectic vibe with a mixture of styles and sizes. Some are also designed for specific purposes, such as a cereal dispenser or olive oil dispenser.

For perishables, airtight containers are necessary. These can store leftovers and unused parts of foods in your refrigerator or freezer. If you pack a lunch, you can use them to separate and store food you plan on eating at the office or school. Bread can pose a wholly different challenge: Leave it in the pantry and it may quickly mold; store it in the freezer and it becomes stale and dry. A bread box is designed to store your bread in an almost airtight space. Only a small amount of air is allowed inside to keep your bread fresh for as long as possible.

With such a huge variety to choose from, there's no reason to let those half finished food packages take up space in your pantry or freezer, or to toss out leftovers instead of saving them for later. Pick out a few food storage containers for your pantry and refrigerator, or go all out with a full set to keep everything in your kitchen organized and properly stored.
Sponsored Products
Featured Reviews of Food Containers and Storage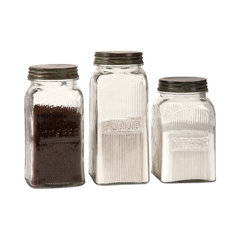 Dyer Glass Canisters, 3-Piece Set
Food Containers and Storage
Sturdy glass: These containers are nice. I almost wish they didn't have the labels, as the coffee container is bigger than the sugar one, and I don't store coffee this way. Pleased with product overall.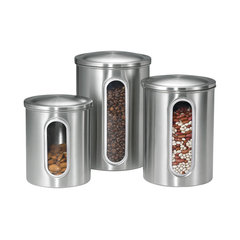 3-Piece Vertical Window Canister Set
Food Containers and Storage
Just what I wanted: Cannisters are light in weight (which I was looking as my old ones were heavy pottery), the seals are good and its really nice having the window to keep track of the contents amount. I am pleased with the cannisters, delivery was timely. I would certainly recommend this product.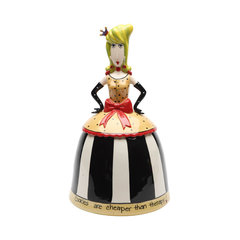 "Cookies Are Cheaper Than Therapy" Cookie Jar
Food Containers and Storage
SASSY COOKIE JAR!!: WHAT AN ADORABLE COOKIE JAR! THE SAYING IS IDEAL. YES, I BELIEVE, COOKIES ARE CHEAPER THAN THERAPY! I WILL BE GIVING THIS AS A BIRTHDAY GIFT & I PLAN ON FILLING IT WITH THEIR FAVORITE COOKIE! GREAT COLORS. VERY HAPPY WITH THIS PURCHASE.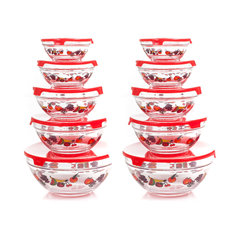 Glass Food Storage Containers and Lids with Multiple Bowl Sizes by Chef Buddy
Food Containers and Storage
Glass Bowl Set: These storage bowls have a very pretty design and I love the fact that they are heavy-duty glass; therefore, I can put leftovers in them and not have to switch them when I want to microwave in them...and not have to worry about 'those bad toxins or chemicals' that we're warned about with microwaving food in certain plastic containers. I love all the different sizes, also.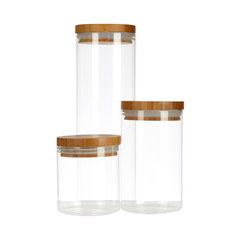 Glassery Airtight Glass Canisters With Wood Lid, Set of 3
Food Containers and Storage
Modern Cannisters - Form and Function a Winner: These canisters are beautifully designed with bamboo tops that fit snugly and securely seals in contents and keeps them fresh. The clear glass is dedicate but sturdy, and work nicely either as display on your countertop or within a cabinet. I love the three sizes - works for certain bulk ingredients. I highly recommend.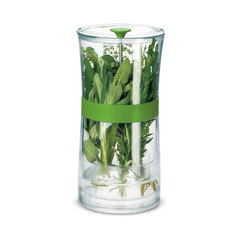 Food Containers and Storage
unsure but appears good: I bought this for a present so I actually didn't use it. BUT, looking at the product, it looks like it would work perfect. The water is only at the bottom so the herbs bottom half is submerged. The handle to lift the herbs is perfect in raising all the herbs to cut any amount of herbs needed. It's small enough to fit on a door of a fridge. It's made of acrylic and it's light, easy to clean, and with the herbs inside it would like nice and fresh.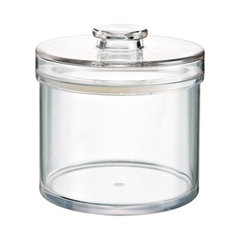 Metro Canister, 42 oz., 6"x6"x5.75"
Food Containers and Storage
Really Pretty!: I originally bought just two of these. The day I got them I was so impressed, they look a whole lot better in person. I immediately ordered 10 more for an even dozen. I will be using them to display my hand-made soaps at shows. The rubber around the lid makes it perfect for keeping in the soap scents. They look like glass!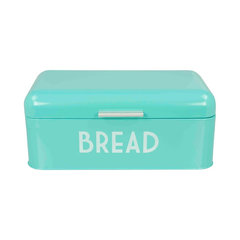 Home Basics Metal Bread Box with Lid, Blue
Food Containers and Storage
Retro break bin: I love this - it looks great on the counter in my super modern sleek new kitchen. Not too big but room for two or three loaves or equivalent. Not high though so be aware of the dimensions when you order.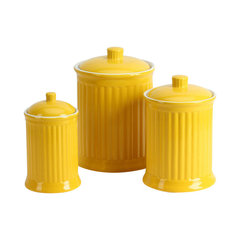 Simsbury Canisters, Yellow, Set of 3
Food Containers and Storage
Canisters are great but...: The canisters were lovely, but after two deliveries when each of the middle sized canisters arrived broken, Houzz and I decided it wasn't worth the effort of sending another. They gave me a full refund. Houzz's service was fabulous, but the product seemed to have a basic packing/shipping flaw. Hopefully the manufacturer will figure out better packaging, since the product's color looks like the picture, and overall the canisters seem to be of high quality.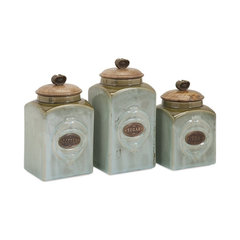 Addison Ceramic Canisters, 3-Piece Set
Food Containers and Storage
Great color, very small: Love the color. Exactly what I was looking for, but was much smaller than I expected. Coffe and tea are functional. Sugar is too small to hold normal size bag of sugar. Still using them though because I was happy with the way they look in my counter.