Sofas and Sectionals
Not just for sitting, your sofa can enhance your home's style through a sense of coziness, comfort, elegance or even sleek, modern vibes. Choosing the perfect sectional or couch for your home can be quite a task: there are dozens of styles, configurations, features, not to mention fabric options, to choose from! Here's a quick rundown of some of the basic sofa and sectional options to get you started on your search for the perfect one:


What's the difference between a sofa and a couch?

While you may think the difference between these two is simply based on regional dialect, you might be surprised to find out there are some more obvious differences between sofas and couches. Sofas generally feature armrests, a uniform back and are typically larger to provide even more seating space for all those guests. They're also perceived to be slightly more formal than their couch counterparts — for example, pieces like a Chesterfield sofa are perfect for adding a classy vibe to your living room.

Couches were popular in the Victorian era and usually only have one armrest or no armrests at all. Along with a tapered back, they generally seat two to three people comfortably. Thanks to their casual style, they're perfect for movie marathons and video game sessions.


Sofa Beds

If you're expecting guests over, a perfect solution for you is the super versatile sofa bed. The cozy sleeper sofa can transform from a two- to three-seater into extra sleeping space for visiting family or friends.


Sectional Sofas

A sectional sofa can be one of the most practical pieces of furniture in your home. They come in a variety of shapes and sizes, and some even include a sleeper sofa, chaise or loveseat. While you may envision a gigantic corner sofa that takes up a majority of the living room, sectional sofas have evolved into a highly versatile piece of furniture that can accommodate large and even small spaces.


Loveseat

This aptly named piece of furniture gained popularity in the Victorian era and is the perfect mini sofa to cuddle up with a loved one on. If you choose to add a loveseat to your furniture collection, be sure to have additional seating for guests!
1 - 36 of 19,793 products
Sponsored Products
Featured Reviews of Sofas and Sectionals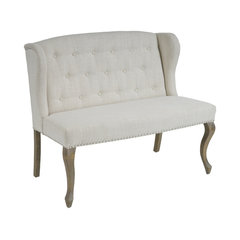 Eva Tufted Fabric Wingback Loveseat, Natural Beige
Sofas and Sectionals
Very nice loveseat for the money: I am happy with my loveseat however when putting it together, one of the holes needed to bolt it together did not line up. I had to drill a new one. Other than that, it is a very nice addition to the end of my bed.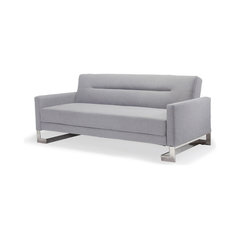 Serena Fabric Sofa Bed, Light Blue
Sofas and Sectionals
Great fabric sofa to sleep on!!: Product arrived on time ,great overall shopping experience, , very comfortable sofa - family member has been sleeping on this sofa for the past month, excellent quality, would make future purchases from this company.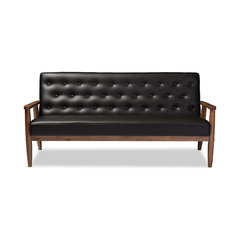 Sorrento Retro Upholstered Wooden 3-Seater Sofa, Black Faux Leather
Sofas and Sectionals
Beautiful design hard comfort: I really enjoy the overall look of this couch. The instructions to put the couch together were a little confusing but ultimately not difficult. The couch itself feels sturdy. The cushioning for this couch is very hard so you may need to purchase extra comfy throw pillows for it. The couch looks just as it does in the picture, a great value but hard comfort.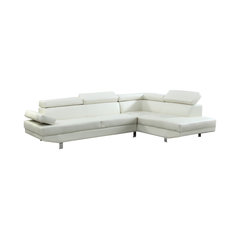 2-Piece Modern Faux Leather Sectional Sofa With Functional Armrest, White
Sofas and Sectionals
Good couch, great price: For the price, this couch was just what we were looking for. It looks beautiful and seems well made. It's a little stiff to sit on, but it is a modern style (and I suspect will "break in" over time)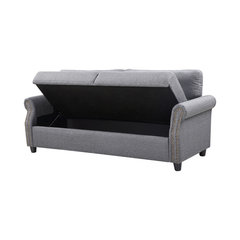 Classic Living Room Linen Sofa, Nailhead Trim Furniture Set, Storage, Gray
Sofas and Sectionals
Great Sofa for the Price!: Came quicker than expected, very easy to put together, pretty comfortable, great for an apartment and small spaces! The color is a bit darker than shown in the picture, but I still am very happy with the sofa!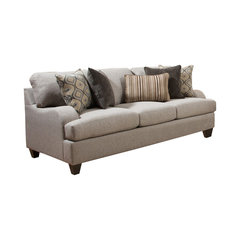 Sofas and Sectionals
I'm pleased with this sofa!: I'm very pleased with this sofa! The sofa arrived in about 2 weeks after ordering and in excellent condition. The seats are firm but comfortable for us. You will not sink into the cushions but they are comfortable. It's possible they may soften up a little over time, but when I sit down at this time it feels like we purchased a quality product. The fabric is a silvery grey with a secondary color with a hint of black undertone. More on the warmer tone than cooler even with this being silvery grey. I painted a cooler deep grey on the wall I planned to put this sofa on and I feel now I should have maybe went a tad warmer on my paint choice. I wanted a deep seated sofa, this is exactly that and long in length. We are tallish folks, 5'8'' and 6'3'' the cushions and height of sofa fit us comfortably in sitting position and we're able to stretch out with room to spare. This sofa fit through out 35'' wide doorway without any issue. I do not care for the pillows, they had no bearing on my purchase decision though, it was about the color, fabric, style, size of sofa and not the pillows. I will use the pillows as insert bases because they seem to be firm and of decent quality. However if the pillows are important to you be aware that the two pillows in photo at either end of sofa had frayed fabric at sewn seams. They are shoddy in appearance, quality control was lacking on those. I would have made a complaint to get them replaced if the pillows were important for me and I would have lowered my rating, but otherwise I still stand by my rating because overall I'm happy with my purchase.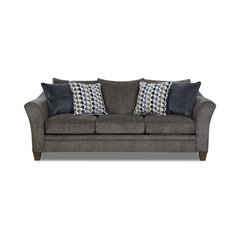 Simmons Upholstery Albany Slate Queen Sleeper
Sofas and Sectionals
Beautiful grey-blue: This pull-out couch is fantastic. It's a little larger then I expected, but I ended up loving how deep and cozy it is. The size of the mattress was equivalent to a queen. My parents slept comfortably on it for a few nights while they were in town. They were surprised at how comfortable it was to sleep in. Will probably get a mattress pad to put on top of the bed before our next visitors. Comes with 4 extra throw pillows.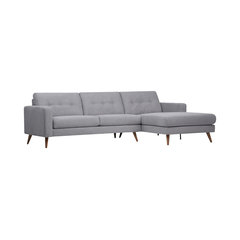 Felicity Sectional Sofa Chaise, Ash Gray, Right Facing
Sofas and Sectionals
Felicity Sectional Sofa Chaise, Ash Gray, Left Facing: It's so hard to find a sectional sofa that doesn't end up looking clunky or oversized. This one has a chic midcentury style, smooth tufted back cushions and tapered wooden legs to make it both stylish and functional for seating larger groups. I love it!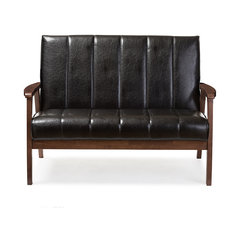 Nikko Faux Leather Wooden 2-Seater Loveseat, Black
Sofas and Sectionals
Perfect!!: Sleek and modern. Seems to be a really sturdy chair. Fits in my living room nicely. I read reviews on it before I ordered it and people were commenting on how firm it was and not comfortable. I disagree. It's firm but I like it! Easy to put together also.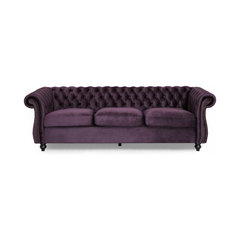 Vita Chesterfield Tufted Jewel Toned Velvet Sofa With Scroll Arms, Blackberry
Sofas and Sectionals
Gorgeous dark purple Chesterfield couch: I love this couch. It is even more beautiful in person. It is very comfortable also. I have dogs and their fur comes off the velvet fabric easily. The purple is more of a deep eggplant. I could not be more pleased with my first purchase!