Window Treatments
With so many options to choose from, finding the perfect window treatments can be tricky. To help you decide, first look at the style of your current space and establish a budget. When you narrow down which window coverings fit your criteria, consider the size and shape of the windows, as well as factors out of your control, such as sunlight. Read more about these decisions below to be well equipped to pick out new window treatments.
Let sunlight determine the right window coverings.
Depending on which direction a wall faces, each room gets different levels of sunlight throughout the day. Because of this, it's best to purchase your window treatment based on the amount of natural light you actually want. If the room tends to be darker, try sheer curtains that offer a decorative touch but still let through plenty of sunshine. If a space gets blasted with brightness, go for thicker drapes or blackout blinds that will block light, reduce noise and help regulate temperatures. Don't be afraid of layering various curtains and window treatments for more control and flexibility over natural lighting. Mixing textures and colors and adding a valance or cornice will create a custom, pulled-together look.
Embrace custom window treatments.
If you have windows that are not a typical size or shape, like arched or bay styles, your best bet is to go for custom window treatments. Professionals can create curtains, blinds or any other window treatment you desire that properly fit your exact dimensions. Going this route might cost a little extra, but it will save you the headache of hunting around for something that kinda-sorta fits. You'll thank yourself when you see how well the final results turn out.
More:
Learn how to measure curtains like a pro
1 - 36 of 15,070 products
Sponsored Products
Featured Reviews of Window Treatments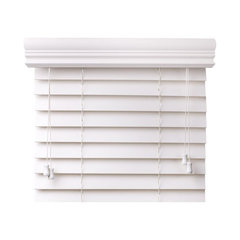 2" Faux Wood Blinds, Snow White, 30"x36"
Window Treatments
Good Buy!: These are better than expected. They are very hardy and easily installed by anyone with a screwdriver. The value is better than others that I've purchased. Well recommended.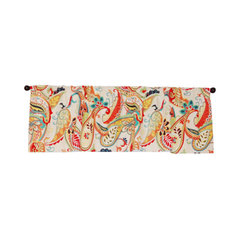 Covington Whimsy Paisley Curtain Valance
Window Treatments
Brightens up the Place: The valances are well made (not lined), but they are still very nice. I was looking for valances that were cheerful, and these certainly are. They've added a great deal of character to my kitchen. Colors are as they appear in photo. (There is navy but no black for those looking for something with black.) My family will enjoy these.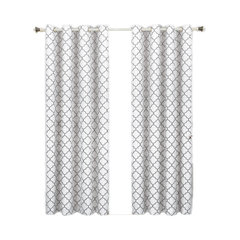 Meridian Room Darkening Thermal Grommet Panels, Set of 2, White, 104"x84"
Window Treatments
Nice Curtains, not 104 length: These are two curtains of 52 inches each totalling 104 inches which is a little misleading. They are not blackout, but do block a good amount of light for how thin they are. The pattern is nice and they look great in our guest room.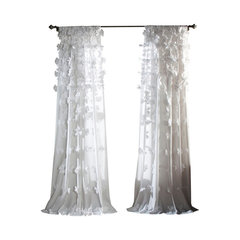 Riley Window Curtain Single, White
Window Treatments
love love love theese curtains!!!!!: I was looking for some curtains that would be room darkening but also feminine and pretty. theese were right on the money. they arrived in a timely fashion and were exactly like the picture. they were perfect for what I was looking for.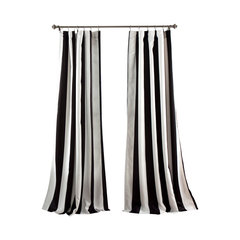 Wilbur Window Curtain Set, Black
Window Treatments
Wilbur Window Curtain Set: Saw similar curtains at Pottery Barn for $89 per panel. Didn't want to down that much on four Windows so these at $42 per pair were perfectly priced and decent enough quality. They do have a satin finish.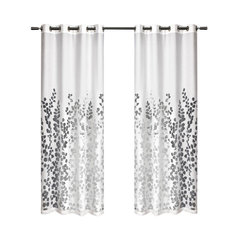 Exclusive Home Wilshire Sheer Window Curtain Panel Pair, White, 52x108
Window Treatments
Throwing perfect shade: We have these beautiful 100+ year old crosshatch windows that I wanted to have some privacy but still be able to see them. These sheers are perfect and the gradation is just what I wanted! One window takes four panels so I'm now ordering 2 more pairs. ❤️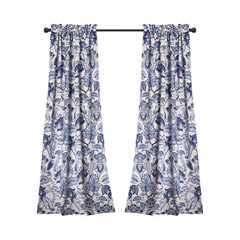 Cynthia Jacobean Room Darkening Window Curtain Set, Blue
Window Treatments
Perfect!: I don't know if you follow Twitter. For 4 months, I've bought, returned, bought, returned. I saw these and went for it!! Awww they're BEAUTIFUL! No words to describe them! Material, style, n price. Thank you! You've made my Christmas.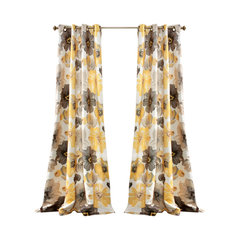 Leah Room Darkening Yellow/Gray Window Curtain Set, 95"
Window Treatments
Beautiful curtains!: Love these curtains! The quality is so much better than the price would suggest. They are thick and block out enough light to keep our kitchen cool without making it a cave. I highly suggest these curtains.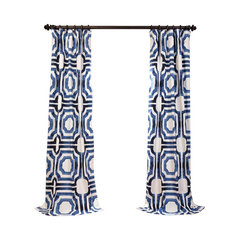 Trudy Geometric Printed Cotton Panel, 50"x96"
Window Treatments
Love my Mecca Curtains: They are exactly depicted as pictured online. But what we don't see online is the close up quality! The cotton is so soft and mid-heavy weight-not a cheaper see-thru cotton panel. Excellent quality.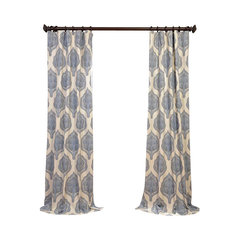 Arabesque Blue Printed Cotton Twill Curtain Single Panel, 50"x96"
Window Treatments
Good Quality Heavy Duty Fabric: Lovely design, only reason I have to return and took off a star is because the picture is misleading for the background of the curtain. It is pale yellow in the background not white. It doesn't go well with grey blue theme I have going on.