Outdoor Decor
Even though it's an outdoor space, the garden is much like any living room or bedroom — decorative accessories can help spruce it up. While the flowers and plants more than liven it up, adding extras like a fountain, bird feeder or garden sculpture can bring an additional focal point or much-needed variety and texture to an already beautiful space. When you look for your outdoor accessories, be sure to consider all your options.


How do I pick my garden decor?

As you decide what to purchase, one of the biggest things to avoid is an overcrowded space. Much like with any indoor room, adding too many accessories can make a space feel small and cluttered, even when you're outdoors, so be sure to decorate accordingly. If you have a larger garden, an oversize fountain or statue makes a great statement piece, because it is dramatic and elegant in appearance. On the other hand, in a smaller space, an extra-large accessory can detract from the garden itself by distracting the viewer with too much clutter. It is important to consider proportion and flow; in a smaller garden, stick with a few smaller accessories, like a birdbath, birdhouse and wind chime, while a larger garden can have one oversize statement piece and several smaller items, like a fountain, bird feeder and several decorative planters.


What style of decor works best for my outdoor space?

When you're looking at accessories, keep in mind the overall theme and style of the garden and ensure that your decorating reflects them. A formal stone fountain or old-world statue would look great in a traditional rose garden, but a modern stainless steel fountain or quirky bird feeder would look better in a contemporary succulent garden. Although the type of plant you grow shouldn't limit your decorating choices, keeping a consistent feel can lead to a higher-quality space.
1 - 36 of 108,033 products
Featured Reviews of Outdoor Decor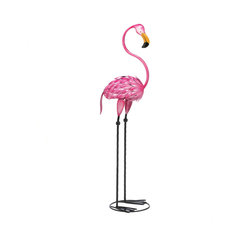 Tropical Tango Flamingo Garden Statue
Outdoor Decor
Adorable flamingo!: Adorable flamingo! Very little, easy assembly. Would definitely recommend this purchase to anyone with a sense of humor...adds a bit of whimsy to our pool area...makes me smile!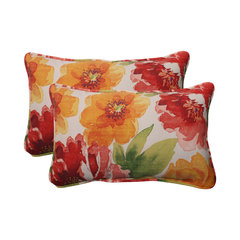 Primro Orange Rectangle Throw Pillow, Set of 2
Outdoor Decor
Gorgeous Pillows!: These pillows are just what I needed to brighten up our outdoor seating area. The colors are vibrant and the pillows are well-made. They are exactly what I had hoped they would be!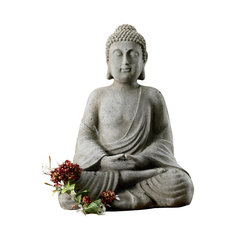 20" Tall Serene Meditating Buddha Statue
Outdoor Decor
Buddha Statue: It was great! It came in one piece thankfully. Good solid piece of stone with no cracks, dents, or chipped parts. Love it a lot and it will do great for my mediating bedroom. Namaste!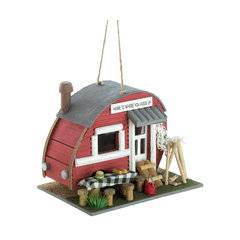 Vintage Trailer Birdhouse
Outdoor Decor
Very Happy: This little birdhouse is a wonderful little depiction of a camp trailer and a camp site. It fits right in here at our park. Now my only problem is where to hang it to get the most compliments about it!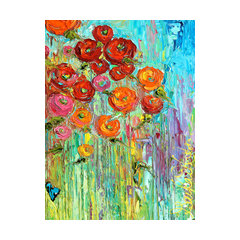 West of the Wind Outdoor Canvas Wall Art, Poppies
Outdoor Decor
Hangs on my outdoor patio over summers.: Beautiful picture, just as vivid colors as on the image here. Very light weight frame and easy to hang. This has been hanging outside in the sun for two summers and has not faded at all. Brilliant. My only warning is that the canvas is rather fragile to being dented (not puctured) by anything sitting or leaning against it at an angle. It will dent and can be seen at certain angles. Be careful when storing.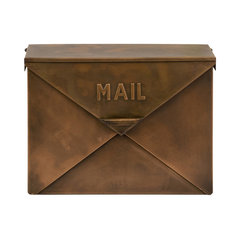 Exclusive Copper Finish Mail Box
Outdoor Decor
NICE PRODUCT: This is a VERY nice product & we are looking forward to getting it put in our tack room & having our boarders who keep their horses with us, put their payment in their & it will get used for other things. LOVE the color & it will look fantastic next to one of our western art work.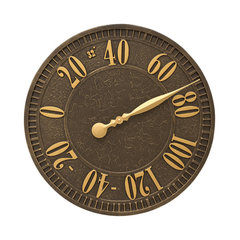 Geneva 16" Indoor Outdoor Wall Thermometer
Outdoor Decor
Large and Accurate: This 16 inch size makes this thermometer easy to read. Temperature calibration is straightforward - just calibrate with an accurate outdoor thermometer as per the instructions. The thermometer is very accurate when mounted in a shaded location of course. It looks classy and is high quality, worth its cost. It comes well packaged, so no worries about damage in shipping.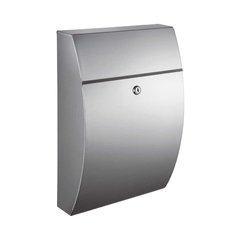 Outdoor Decor
Great design and size: I didn't really get to use the product as it was the wrong size for me. I did however un-box it and did fall in love with the design and the build quality. I would recommend this mailbox just double check if this is the right size for you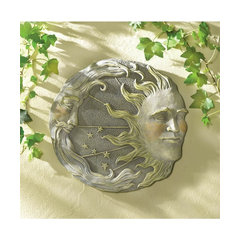 Outdoor Decor
Celestial Plaque: This is a beautiful, detailed plaque I will certainly enjoy gazing upon on my garden fence. I was a little disappointed in the size of the plaque, would have liked it to have been larger.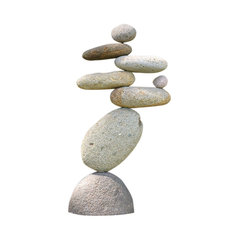 Eight-Stone Balancing Cairn, Indoor/Outdoor Garden Decoration
Outdoor Decor
Looks nice to integrate with river stone landscape: These are for a patio table to tie into river stone asian style stone/rock walkway. Very nice, particularly for price. Would give it 5 stars, but a lot of residual glue gun residue I had to pull off, and no buffer/pad on the base stone, so added that prior to putting on nice patio table.