Sponsored Products
Featured Reviews of Bedroom Furniture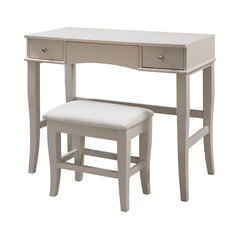 Linon Jackson Vanity Set, Cream Finish
Bedroom Furniture
Perfect vanity for a small space: Very pleased with this vanity set! Color is a bit lighter than how it appears online, however, it is a nice cream finish. My husband was more than pleased with how smoothly the assembly went, everything lined up perfectly! This is a very sturdy and functional piece of furniture and exactly what I was looking for in my price range.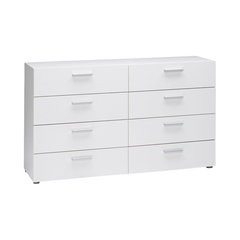 Tvilum Austin 8-Drawer Double Dresser, White
Bedroom Furniture
Great purchase :): love this dresser! Its HEAVY - and takes a bit of time to put together. But very high quality for the price, looks really clean and I think will stand the test of time well. Would buy again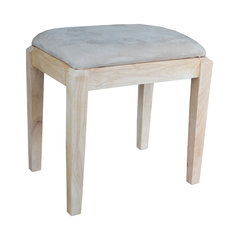 Bedroom Furniture
Great size, great quality ... better than expected!: I love this bench! I thought it would be a good purchase, but it's much better quality than I expected and it's put together very well. The instructions are almost touching, it's so obvious that these people love what they do and respect the trees used to make their products. The seat upholstery is great quality/good-looking/very well done. All the wood is pre-sanded, but they recommend additional sanding to make it perfectly smooth, and it DOES look perfect. Wood can be stained or painted or just clear coated - very pretty/sturdy. The bench is a GREAT size if you're short on space, too, but plenty large enough to sit or rest your foot while you apply moisturizer or whatever. (Wow - who's life is This?! I should be more grateful.) It would be a great bench for kids, too, especially since the upholstery is microsuede - LOVE microsuede! NOT NOT NOT the same as microfiber so it cleans easily and beautifully. Arrived right on time --early in my opinion. If I needed more, I'd definitely buy this item again.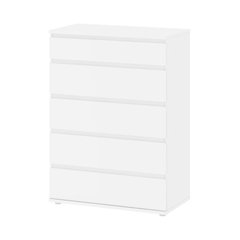 Aurora 5-Drawer Wide Chest, White
Bedroom Furniture
Good Product for price: First off, you have to really pay attention to the directions. It takes critical thinking at sometimes. Most parts aren't labeled so if the picture has a part that has 3 holes in it but you picked up a part that looks exactly the same except it has two holes then you have the wrong part. In other words, to make up for not labeling most parts they make sure to draw the picture the exact way the parts are. Separate all screws before you even begin. Some screws, or what not, look the same but are a diff size. As far as the finished product goes, it's great looking! All my drawers close all the way. (The bottom slightly doesn't) Only thing is that it does not glide whatsoever. Somewhat hard to get a grip on to open as well. Other than that it gets the job done. Took me about 3 to 4 hours to put together. That's with me taking my time. I really wish the drawers weren't so stiff. Might try spraying wd40 on the slides to see what happens. Hope this review gives enough insight, considering it took me two months to decide to buy it or not.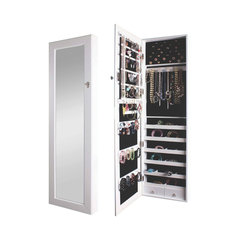 Wall Mount Over The Door Wooden Jewelry Armoire, White
Bedroom Furniture
so far so good.: easy to install the hooks for over the door, delivery was pretty quick, the black back ground interior allows each piece of jewelry to stand out for visibility and selection. can see full length of body in the mirror, lock is a bit stiff but works well. the key is pretty, has velcro sticky strips for the bottom so armoire does not shift. i will buy another strip to add to it though. the holes for earrings are more trouble than they are worth. although. but the bar for hook dangle type earrings works great. quality is good for the price.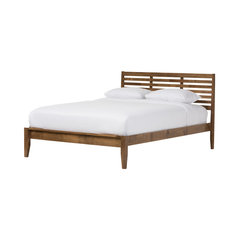 Daylan Mid-Century Modern Solid Walnut Wood Slatted Bed, Queen
Bedroom Furniture
solid bed: We ordered this bed for our guest room and are so happy with the purchase! We've been looking at beds with a similar style and design that are 4-5 times more expensive. The wood doesn't feel cheap and looks decent. Assembly definitely required two people and took some time, but came together fairly easily once we figured out what we were doing. The only thing I can think of regarding the other negative review is they didn't follow the instructions exactly. They don't give you extra screws/or anything so don't lose anything. In my opinion, the only negative is the support beam under the middle of the bed is a bit flimsy, but honestly don't care that much. We've had guests sleep here a few times now and they've all complimented our bed!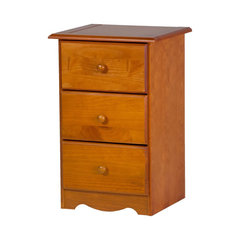 Glenbrook 3-Drawer Night Stand, Canary Pine
Bedroom Furniture
Excellent quality product: The night stand is 100 % wood. Thus it will stand the test of time. It was relatively easy to assemble with excellent instructions. I also ordered a 5 drawer dresser at the same time that is a clone of the nightstand but much larger. I got both on sale delivered BY federal express in a timely manner . I couldn't be more pleased.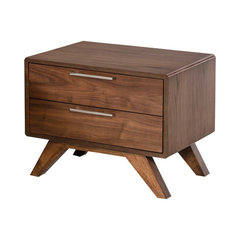 Taika Mid Century Nightstand
Bedroom Furniture
Well Made, Appears a Bit Cheap: While this nightstand is, indeed, well made, it appears a bit "cheap" up close. It is covered in a laminate that, if it is real wood, does a very good job of looking like ... laminate. Now, I realize that may be correct for the period but it is worth noting that this does not have the appearance of a quality wood product. The drawers glide smoothly, however, and have a detent that "locks" them in place when closed.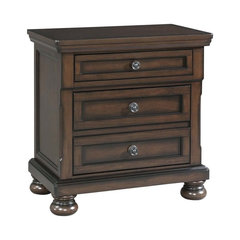 Picket House Furnishings Kingsley Nightstand with USB, Walnut
Bedroom Furniture
Beautiful nightstand: This nightstand is beautiful and so sturdy! I purchased this to match my Porter Ashley nightstand and it is almost an exact match- with a way better price tag and the convenient USB charging ports. The picture shows a deep brown color, but in person the wood is more cherry. This furniture is not only beautiful, but also practical. LOVE my new nightstand!! Definitely recommend.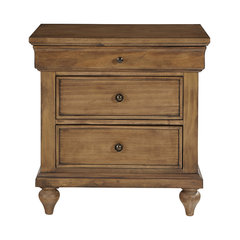 Brussels Brown 2-Drawer Bedroom Nightstand
Bedroom Furniture
Nice look for our bedrooms: Works well with our Tibetan teakwood carved headboard. Holding their own in the room. Better than we thought for the price. The backside is not veneer, but just raw particle board. Needs to stand against a wall!