Sponsored Products
Featured Reviews of Bedroom Furniture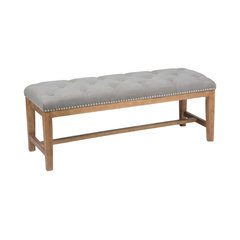 Aureli Tufted 46" Bench by Kosas Home
Bedroom Furniture
Pretty Bench: This is a really nice bench. Well made, and looks nice - as described. The grey is a little darker than I expected, but perfect for my room. Plenty of cushion with deep tufts. Great price on Houzz.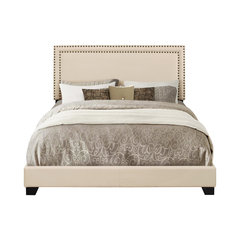 Bell Upholstered Bed, Queen
Bedroom Furniture
Beautiful Bed: I love my new king size nail head bed frame. Great quality and pulls the entire room together giving it a very mature look. Can mix with any color area rugs, bedding and accessories.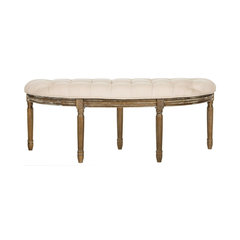 Abilene Tufted Rustic Semi Circle Bench, Beige
Bedroom Furniture
Tufted Semicircle Bench: Very satisfied with the seller and also the product. It was as described and packed very well and delivered even a little earlier than stated. The price was more reasonable than some other products that looked about the same as the one I purchased.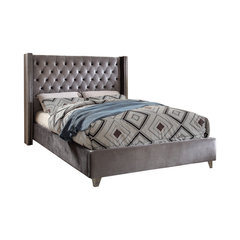 Ames Velvet Bed, Gray, King
Bedroom Furniture
Beautiful Bed!: My order arrived on time and the delivery people brought the 2 very large and heavy boxes into the house while I was undergoing major renovations. I had my contractors put the bed together for me and it's absolutely stunning! The pictures don't do it justice and it's well made, sturdy and exactly what I wanted.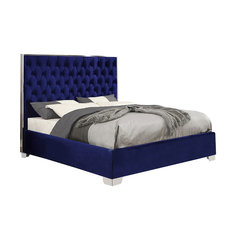 Lottie Velvet Bed, Navy, King
Bedroom Furniture
Great Quality Easy Setup: Delivery was with no issues at all. The Lexi velvet queen is very luxurious, great quality in velvet material and sturdy brass, steel, chrome, wood and plastic hardware. Better than what expected. The simple instructional manual seems too basic at first, but it's simply that easy of a setup. All the hardware pieces came in two separate boxes. Now let me end this review and enjoy tonight's slumber on my Lexi.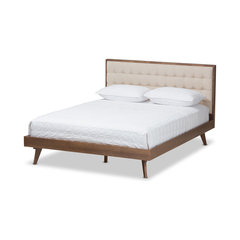 Georgian Dove Platform Bed, Queen
Bedroom Furniture
Stylish choice: I love the MCM stylishness of this bed--totally happy with the look and quality. I didn't assemble it myself, hired a skilled handyman, who needed about three hours to put it together (I don't have the skills or patience). He grumbled about the process, but the result is a sturdy piece of furniture. I got the full size (it's just for me) and separately purchased a gel mattress, which fits the platform perfectly. I can't wait to go to sleep.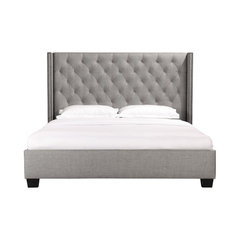 Combe Upholstered Bed With Nailhead Trim, King
Bedroom Furniture
Combe Upholstered Bed With Nailhead Trim, Queen: This bed has such a luxe look, like something you would see at a 5-star hotel. I love the button tufting and nailhead trim. The color fabric is easy to match to existing decor as well. Assembly instructions are pretty simple, you just connect the side rails to the headboard and footboard, install the central support and then place the slats on the side rail support.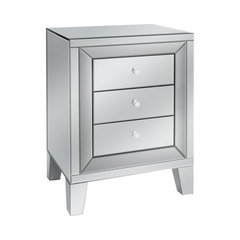 Eltham 3-Drawer Mirrored Side Table
Bedroom Furniture
COMPLETELLY HAPPY: I RECEIVED MY MIRROW TABLE, AMAZING THE SIZE, WONDERFUL DESIGN, IT IS REALLY ESPECTACULAR, IS MORE THAN THE PHOTO. THE DELIVERY WAS ON TIME, I JUST HAD A PROBLEM BUT HOUZZ HELP ME A LOT. I RECOMMEND THE PRODUCT, IT IS SIMPLY INCREDIBLE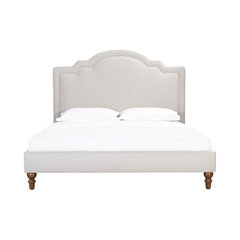 Cassis Upholstered Bed, King
Bedroom Furniture
This bed is great!: This bed is great! Very sturdy, doesn't squeak or move with getting in and out of bed. Looks great! It is a tremendous value for the money. The box came quite badly damaged when I received it, but the bed inside was in perfect condition (it's why I gave the shipping three stars).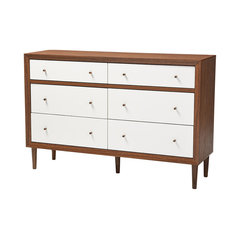 Harlow Modern Scandinavian Style Storage Dresser, Walnut Brown/White
Bedroom Furniture
Harlow Dresser: Great dresser for the cost. Arrived sooner than expected. It does take two people to put it together with no problems though. If center drawer supports were more sturdy I would give it 5 stars.