Sponsored Products
Featured Reviews of Bedroom Furniture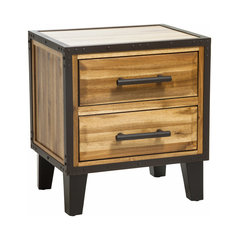 Glendora Natural Stain Acacia Wood 2 Drawer Nightstand
Bedroom Furniture
solid addition: This is a solid piece. Nice attention. To detail. Sturdy and true to description. This is a great accent nightstand in our master bedroom. Extremely happy with item, shopping and overall purchase.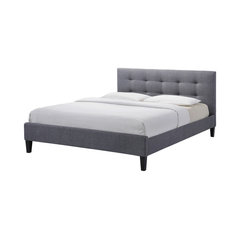 Alicia Tufted Platform Bed, Gray, Queen
Bedroom Furniture
Excited about this bed!: Really happy I bought this bed. It was easy to put together (took my boyfriend and I less than 1 hour) and looks great. It's a little shorter/closer to the floor than I thought, but oh well.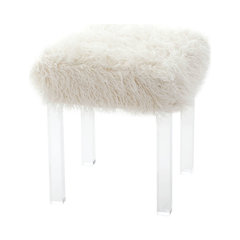 Bedroom Furniture
Best Quality Acrylic, but Non-White Cushion: The acrylic is clear and has no tint whatsoever or that colored blue/greenish glare which many cheaply made plastic items have. The acrylic is clear, thick, sturdy, heavy, and won't bend. It truly looks more like high-end lucite. The stool can be used without the cushion. The cushion features a significant pad under the shaggy fur. Elastic allows the furry cushion to hug and seal itself around the stool. It does not just rest on top. The shag fur is much more cream colored than white. It will not blend in with an all-white room. It is too cream. You can see some air bubbles inside the acrylic where the legs are attached to the stool's table top, only when looking down at the stool from above. The stool (sans the cushion) features a super flat table-top and is safe to rest cool beverages on. The legs are even and smooth, but have no rubber, felt, or metal at the bottom. The shag fur was in good condition, and the texture matches the photos. No matting or knots.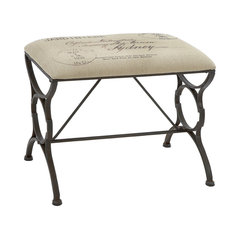 Bench Black Base White Fabric Covered Cushion Decor
Bedroom Furniture
Very Sturdy: I purchased this Benzara bench to use in my bathroom as a vanity bench. It is the perfect height and width for my purposes and is extremely sturdy. The French postcard theme is pretty and nicely complements my decor. Shipping was fast and items were very well packaged. Note: The protective plastic wrap is still on the bench in my attached photo.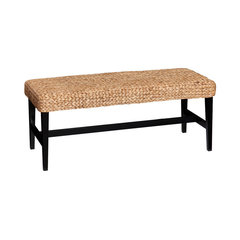 Hector Water Hyacinth Bench
Bedroom Furniture
As expected: We were looking for something a little different for our entry foyer. It was the right size. Sturdy. The surface of the bench could snag certain, loose knit clothing because of the hyacinth weave, but we knew this.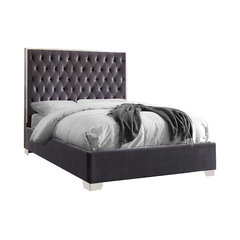 Lexi Velvet Bed, Gray, Queen
Bedroom Furniture
Great Quality Easy Setup: Delivery was with no issues at all. The Lexi velvet queen is very luxurious, great quality in velvet material and sturdy brass, steel, chrome, wood and plastic hardware. Better than what expected. The simple instructional manual seems too basic at first, but it's simply that easy of a setup. All the hardware pieces came in two separate boxes. Now let me end this review and enjoy tonight's slumber on my Lexi.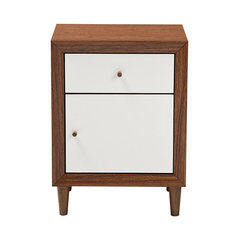 Harlow Wood 1-Drawer and 1-Door Nightstand, Walnut Brown and White
Bedroom Furniture
so many parts: The nightstands are a great value if you don't mind putting together a puzzle. I am not very handy, thank god my husband is. Nothing is preassembled. Nothing. Once together, you will likely be happy as they are very cute.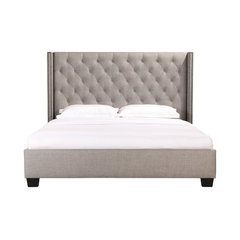 Combe Upholstered Bed With Nailhead Trim, King
Bedroom Furniture
Combe Upholstered Bed With Nailhead Trim, Queen: This bed has such a luxe look, like something you would see at a 5-star hotel. I love the button tufting and nailhead trim. The color fabric is easy to match to existing decor as well. Assembly instructions are pretty simple, you just connect the side rails to the headboard and footboard, install the central support and then place the slats on the side rail support.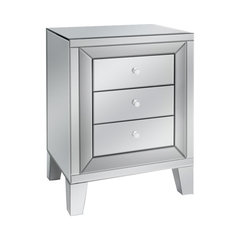 Eltham 3-Drawer Mirrored Side Table
Bedroom Furniture
COMPLETELLY HAPPY: I RECEIVED MY MIRROW TABLE, AMAZING THE SIZE, WONDERFUL DESIGN, IT IS REALLY ESPECTACULAR, IS MORE THAN THE PHOTO. THE DELIVERY WAS ON TIME, I JUST HAD A PROBLEM BUT HOUZZ HELP ME A LOT. I RECOMMEND THE PRODUCT, IT IS SIMPLY INCREDIBLE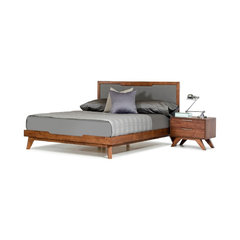 Nova Domus Soria Gray and Walnut Bed, Eastern King
Bedroom Furniture
Solid, contemporary: I was looking for a new bed for my husband and myself for a long time. I wanted a natural wood frame and he was looking for upholstered headboard. This is an excellent combination of the two and works for both of us. I've added white and silver bedding and it the bed seems less masculine and dark. It's solid and there hasn't been any creaking of the joints and we did put it together ourselves. Instructions did not come with the bed but are available on the manufacturers website. All parts were included and in perfect shape. Just one thing: The wood laminate seems prone to scrapes if something is dropped on it. I know we'll be using a wood marker here and there on the wood rails edges to darken the scrapes here and there. Otherwise, it is very nice and a good value.