Tile
Tile is a near essential element of any home design. It can be found from floor to ceiling — and everywhere in between. Most commonly in the form of wall or backsplash tile in kitchens and bathrooms, they can be made from all sorts of materials, such as ceramic, travertine, glass, porcelain, mirror, slate and marble. It can be both exciting and overwhelming to pick out the ideal tile, but these tips should help you in your quest.


What do I look for in kitchen tiles?

Backsplash tiles will always be a focal point of the kitchen. Whether you're doing a complete remodel or just updating your kitchen tile backsplash, think about how they will play with other elements, such as cabinets and countertops. If you want something bold, pick a colorful subway tile or mosaic tiles that contrasts with your current materials and colors. Travertine or more subtle colored ceramic tiles will give a softer look. Subtle does not have to be boring though; visual interest can also be created with an interesting pattern, such as a herringbone or diagonal design.

Kitchen wall tiles are bound to be splattered with sauces and oils. Clean up and maintenance can be a major factor in your decision, so keep placement and material in mind. Backsplash near the stove or sink will require the most attention. Light colors with no pattern will tend to show more food and water spots than a darker or patterned option. Marble and granite tiles with lots of swirling and color variation will hide small spots well. Consider the size of the tiles you will be using; smaller size means more grout, which means more maintenance.


What do I look for in bathroom tiles?

There's no doubt that bathroom tile is going to get wet. Water and tile can be a slippery combination, but luckily design has come a long way. Look for shower tile with high slip-resistance ratings, since this will help reduce the risk of falling. Oftentimes homeowners who prefer wood over stone or ceramic will use tile that looks like wood in the bathroom to help create a cohesive look throughout their home. Glass tiles are also popular in the bathroom because of their light, slick look. If you have curves in your bathroom, small tiles are a better alternative for you, since they are easy to manipulate around tricky slopes and angles.

Because of the moisture, bathroom tile will require even more maintenance than other rooms. Hate cleaning all of the grout in your bathroom? Use larger slabs to minimize the amount of grout. Smaller pieces do provide better traction, but they can be a pain to keep clean. If you plan on aging in your home, bigger slabs will lend themselves well to universal design. In the end, don't be afraid to mix and match coordinating materials and sizes to achieve a safe and beautiful design.
1 - 36 of 73,064 products
Sponsored Products
Featured Reviews of Tile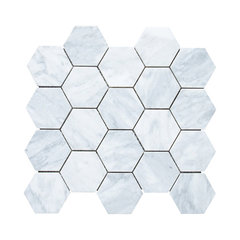 12.25"x10.75" Carrara White Hexagon Mosaic Tile Honed, Chip Size 3"
Tile
Stunning and quality!: We are in the mist of a total home renovation. I have ordered nearly a dozen tile samples and I am completely impressed with this one, I can't wait to install it in my master bathroom! The quality and color are superb!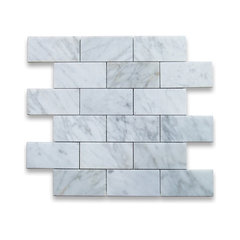 12"x12" Carrara White Grand Brick Subway Mosaic Tile Polished, Chip Size: 2"x4"
Tile
Nice tiles: beautiful tiles. Delivered quickly and extremely well packed, no damage what so ever. We ordered just a few samples and are very happy with the quality and look. Likely will place a larger order to complete the job.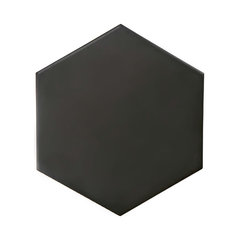 7"x8" Alec Wall/Floor Tiles, Set of 7, Matte Black
Tile
Super!: After ordering several samples, so glad to find this quality tile: high rating and the glossy white is lovely. One of my samples from a different vendor was a matte white in a similar looking tile, this porcelain tile and the glossy finish is exceptional in comparison.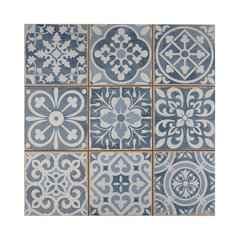 13"x13" Isla Floor/Wall Tiles, Set of 10, Blue
Tile
Beautiful blue tiles: I am really happy with these tiles, the quality was excellent and there was no problem with chippage or breakage of the tiles. I used antique white grout to tie it all together. I had painted my cupboards with chalk paint, and the slightly weathered tiles fit in well.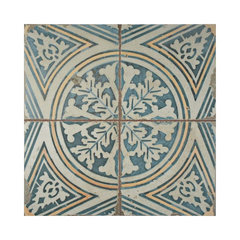 17.75"x17.75" Cadence Floor/Wall Tiles, Set of 5
Tile
My new kitchen floor: This was the perfect addition to a small, white, galley kitchen that needed some pizzazz. The pattern is great and the product itself was easy enough to work with. It is easy to clean but will hide the dirt from the dogs easily enough. I like the inconsistency in the color because it looks antique almost. But don't expect a pure black and white tile or you will be disappointed.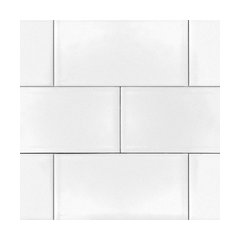 Subway Backsplash Tile, Shiny Gloss, 3"x6"
Tile
Great find!: I oredered a sample of subway tile before committing to a project. I was skeptical that it may not be that great because of the price. I thought there had to be a catch. I was blown away that it was so beautiful and the price is so cheap! I will now be ordering more!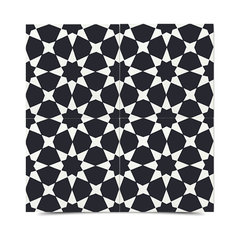 Nomi Mosaic Cement Tiles, Set of 12, Black and White, 8"x8"
Tile
As advertised...: These tiles arrived and I am very happy- they are what they look like online! (you never know sometimes!) The black isn't as dark/crisp as I expected, I guess. But I'm thinking it may darken up once we seal it. Even if it doesn't, I'm happy with the product. It's a beautiful pattern!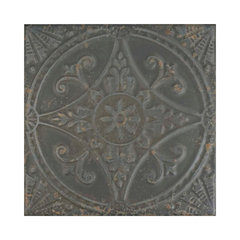 13"x13" Santander Ceramic Floor/Wall Tiles, Set of 10, Charcoal
Tile
Amazing!: So beautiful!! Perfect subtle pattern to warm the space up. Tile held up well when cutting; we installed ourselves and we were able to cut small holes for the outlets without the tile shattering or cracking. It is breathtaking!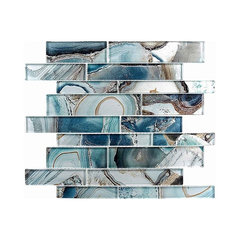 11.75"x11.75" Picasso Mosaic Tile, Crystal Lagoon
Tile
Nice cabinet: This is a nice cabinet, looks good, good space, but it does settle a bit over time, so the doors are not as straight anymore, but that might be a common problem with doors of this type.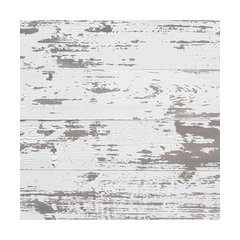 Lenora Distressed Wood Wall Panels, Set of 6, White
Tile
Red is awesome!: I was afraid they would turn out to be more orange since red is very difficult to get a true color when looking online. Pleasantly surprised when they came & they are red! Not a dark red, just a medium red with the grey weathered areas & each one is different. I will be using in a newly remodeled kitchen behind floating shelves about 24 inches wide. I purchased two boxes so I could also put in another area of the kitchen & may consider some in my newly remodeled bathroom. I think it's gonna look awesome!