Bathroom Vanities
Bathroom vanities are an essential piece to any functional bathroom, and more often than not become the focal point of said space. Whether you have a large or small space, you're bound to need a sink and storage, so why not have fun with it and make your bathroom sink cabinet the star of the show? Although it seems like a big decision, shopping for a bath vanity doesn't have to be overwhelming if you're armed with the right information. Check out these tips to help you decide which option will be the best for you.
What size bathroom sink vanity will work for my space?
Bathroom vanity cabinets should be proportional to the overall size of your space, as well as other fixtures present. If you have a large bathroom, don't skimp on the width of your vanity — you don't want it to look wimpy and out of place. If you have at least 60 inches to dedicate to the cause, you can definitely fit in a
double sink vanity
. If space is limited, like in a powder room, stick to a
single sink vanity
. When deciding on when deciding on a double sink or single sink vanity, be aware of surrounding bathroom fixtures, like toilets, showers, tubs and doors. Make sure doors have a clear path for opening and closing, and that you have enough room between things to access plumbing or clean. Also consider what size sink you want; a bigger sink could mean less counter space, so you may want to rethink your plans. Check out our
Bathroom Sink Size Guide
to get on the right track. If you're worried about a larger bathroom vanity looking too bulky, go for a wall-mounted floating vanity that is elevated off the ground. This will give the illusion of more space and allow you to get even closer to your sink and mirror. If you've got a very limited area to work with, try a corner bathroom vanity that makes the most of often wasted space.
What's the best material for bathroom vanities?
Wood bathroom vanities
provide a natural feel and are long-lasting, but can be a bit pricey if you choose to go with solid wood. Make sure any wood vanity you purchase has some sort of protective layer on it; this will help avoid warping issues that can occur in wet and humid spaces. Medium Density Fiberboard, or MDF, is a less expensive, but durable, option since it's often covered with laminate which makes it water-resistant and easy to clean. If you have a tiny room, shop for small bathroom vanities or a
glass sink stand
for a timeless feel that will help your space look larger. Particleboard or plywood are good options for lower budget modern bathroom vanities, just be sure to check reviews and look out for signs of good quality in other aspects of the vanity, like soft-close drawers and solid countertops, or you may find you're replacing it sooner than you prefer.
What if my bath vanity doesn't come with a top?
You may have fallen in love with a particular
white bathroom vanity
, only to find it's lacking a countertop. Oftentimes they are sold as
bathroom vanity base cabinets
, leaving you to decide what to top it with, but fear not, there are a few options to help complete your desired look. One option is to find a
vanity top
with the right dimensions to fit the vanity cabinet. If you go this route, make sure any pre-drilled holes fit the fixtures you have picked out (sink, faucets etc), if any. Another option is to go to a
local stone dealer
with the dimensions of your bathroom vanity base and have them custom cut a top from their selection of stone. With either option, you'll want to ensure that your new countertop is properly mounted and sealed to the base cabinet. If this all seems like a hassle, opt for a bathroom vanity set that includes the base and top so your install is that much easier — just make sure it accommodates the vessel sink you've had your eye on!
Find more popular products on Houzz
1 - 36 of 39,336 products
Sponsored Products
Featured Reviews of Bathroom Vanities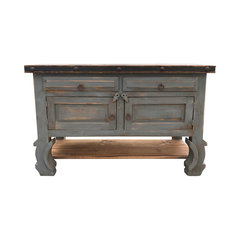 San Nicolas 48" Rustic Vanity, Vintage Gray
Bathroom Vanities
Love it!: Absolutely love the design of this vanity - paired it with a beautiful white vessel sink. The only thing I would say is to check the nails inside the back of the vanity that attaches the back panel onto the vanity. Ours had the nails not meeting the shelf so they were dangerously sitting above the back of the shelf. Easily corrected.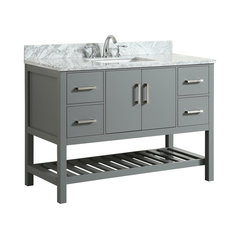 Flora Gray Bathroom Vanity With Marble Top, 49''
Bathroom Vanities
Slatted shelf a nice touch: This simple, on-trend vanity is a great choice if you're going for a modern look in the bathroom. The variety of size options means it's easy to find the right one for any bathroom. The storage options are fantastic and the slatted open bottom shelf is especially useful for storing towels.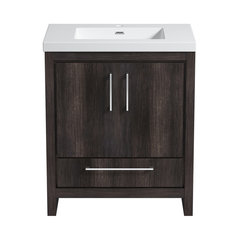 Maddox Freestanding Bathroom Vanity, 30"
Bathroom Vanities
Solid and well-made: I'm impressed with how solid and well-made this vanity feels. The dark wood of the cabinet contrasts well with the ceramic counter. It's definitely a stunning piece. There's ample room to store the whole family's toiletries in the drawers, too. And an added bonus is that because it's wall-mounted, it makes it easy to clean. Assembly is super easy, you just place the top on the body and voila!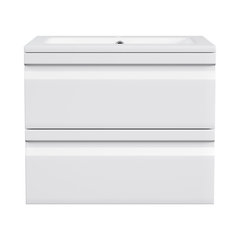 Wallace White Floating Bathroom Vanity, 24"
Bathroom Vanities
Versatile vanity: This wall-mounted vanity is great if you need to maximize on space in a small bathroom. It's easy to squeeze in extra storage under the unit and helps to keep your space clutter-free. The simple lines and white glossy hue create a chic, minimal look.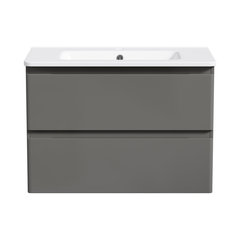 Lexis Wall-Mounted Bathroom Vanity, Gray, 31"
Bathroom Vanities
Clean and simple design: I really enjoy the clean lines of this floating design – right down to the handle-less drawers. It's a fantastic addition to an apartment bathroom, as the wall mounting really saves on space. The matte gray finish contrasts perfectly with the white basin. It also comes with various types of screws that adapt to different walls that ensure it's stable and secure.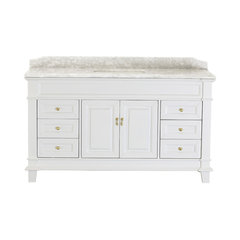 Bretton White Bathroom Vanity With Marble Top, 60"
Bathroom Vanities
Unique marble backsplash: I think my favorite thing about this vanity is the scoop-edge detail along the marble backsplash. The brushed brass hardware really complements the pure white paint color and gives it a more refined look. And even more exciting – the smooth marble countertop is imported straight from Italy!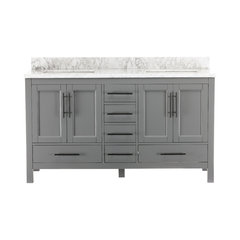 Kendall Gray Bathroom Vanity, 60"
Bathroom Vanities
Modern colors: The gray cabinet contrasts perfectly with the marble top, and the matte black handles and straight legs feel very modern. The drawers have so much room for storage that there's no excuse for an untidy bathroom anymore!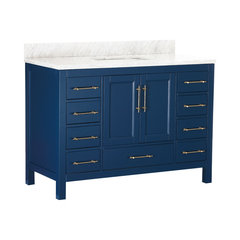 Kendall Blue Bathroom Vanity, 48"
Bathroom Vanities
Love it: So happy with our vanity. The hardware is more of a brushed gold and I purchased a brushed champagne faucet to go with it and it is stunning. The blue is perfect for my kids bath. Keeps things fun and elegant at the same time.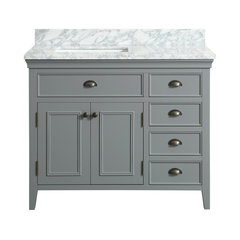 Broden Marble Top Gray Bathroom Vanity, 42"
Bathroom Vanities
Marble-Top Bathroom Vanity: The gray paint color, cool clamshell handles and polished marble top will totally update the style of anyone's bathroom. I love the slightly tapered legs in the front, and they're adjustable! And this vanity comes in five different size options so you can choose between a single or double sink.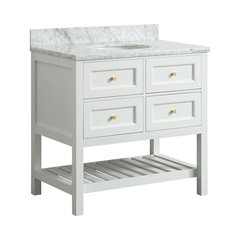 Elma White Bathroom Vanity With Carrara Marble Top, 36"
Bathroom Vanities
Fantastic design details: The neutral color palette really lets the little details shine. The brass hardware is a stunning finishing touch and the slatted shelf underneath is ideal for keeping folded towels just within reach. Love it.