Home Office Furniture
Your home office furniture should work just as hard as you do. Desks and computer furniture need to be sturdy and spacious enough to hold your desktop, laptop and other desk accessories. When it comes to office chairs, do not skimp on quality or comfort. It's the piece of home office furniture you come in contact with most often, and your body will thank you when it doesn't feel out of whack after a few hours of sitting.

If you have the space, use a filing cabinet, bookcase or other storage cabinet to organize any documents and resources. If not, find a desk with built-in storage or a hutch to do double duty. You'll be much happier if things have a dedicated home rather than living in mile-high stacks on your table. The more efficient your office furniture, the more efficient you will be at doing your work!

Browse our home office furniture section to find the products you love.
1 - 36 of 30,130 products
Sponsored Products
Featured Reviews of Home Office Furniture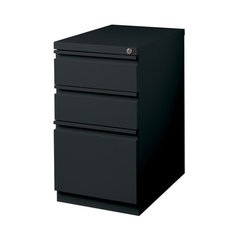 Hirsh Industries 3 Drawer Mobile File Cabinet File in Black
Home Office Furniture
Clean lines, durable, well priced: I thought this product was attractively priced relative to what else was out there for minimal yet functional filing cabinets. The product provides quite a bit of storage and compliments the look of our office.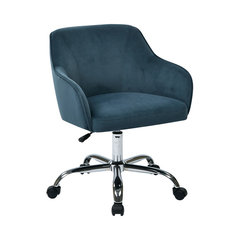 Barnet Comfy Office Chair, Petrol Blue Velvet
Home Office Furniture
Excellent Chair: I just renovated my media room and was looking for a quality desk chair that would blend with the retro vibe of the room's decor. This chair arrived extremely well packaged and I had it put together in less than 10 minutes. The seat is a bit hard, but the back is incredibly supportive and comfortable for long photo editing sessions. The upholstery fabric is a rich suede - like texture, and the color is a beautiful teal blue. The seat of the chair is fully assembled and I gave it a coat of ScotchGuard spray before I put the seat on the base. The wheels glide smoothly and the chair is hefty and sturdy without being heavy and cumbersome to move. I am 5' 9" tall, and the back of the chair comes to just below my shoulder blades, and it is well padded and supportive; very similar to a tub chair. I was anxious about buying furniture without having tried it out first, but I could not be more thrilled with my purchase! I will certainly be a repeat houzz customer.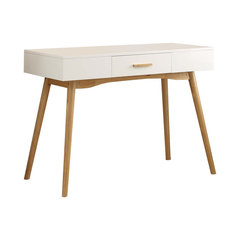 Helsinki Mid Century Writing Desk, White
Home Office Furniture
Great for a Makeup Vanity: I was looking for a writing desk to make into a makeup vanity. This desk arrived in perfect condition. However, the posted dimensions are slightly off and I had to rehang a mirror I had hung based on the given dimensions. Looks great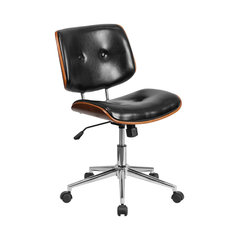 Flash Furniture Mid-Back Black Leather Wood Swivel Task Chair
Home Office Furniture
Looks Like Vintage: This chair was perfect for my mid-century modern vintage desk, because the opening for a chair on my desk is only 20 inches wide. This chair fits the space perfectly so I can push it all the way in and the walnut shade on the back matches the wood on the desk nice. The chair was a cinch to put together (the allen wrench is included; only 5 screws), the padding is comfortable, and it rolls nicely.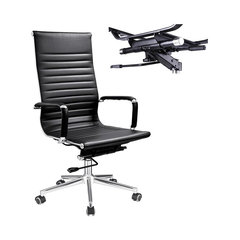 Executive High Back Ribbed PU Leather Swivel Desk Chair, Black, Chair
Home Office Furniture
Thrilled with the chair!: I bought this chair for my new home office and I couldn't be more thrilled with it! Excellent quality - it looks sleek and modern with leather wraps on the arms. It tilts back and very comfortable too!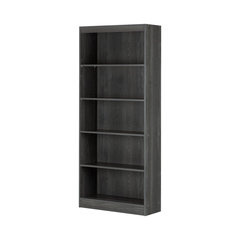 South Shore Axess 5 Shelf Bookcase, Gray Oak
Home Office Furniture
Gray oak bookcase from south shore: South shore customer service reps had great patience and empathy for me. The company is remarkably professional, and the wait time to speak to someone to assist with assembling was around 30 seconds, so glad I bought this book case from South Shore/ Houzz.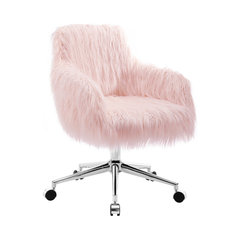 Linon Fiona Faux Fur Swivel Office Chair, Pink
Home Office Furniture
Fun Fuzzy Chair: I ordered this product for my 9 year old daughter. Package came quick and was more than I expected for the price! It is a beautiful pale pink and the chair height adjusts and it swivels. Loads of fun for a little girl's room. Also very easy to put together:)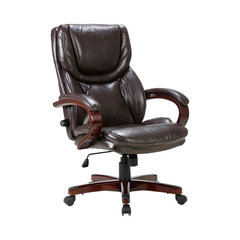 Executive Office Chair, Adjustable Lumbar Support, Swivel, Wood Armrest, Brown
Home Office Furniture
Got the item and put it together: The chair is beautiful. The directions are just pictures and as you go through and connect the parts, leave the screws loose until the arms are on. I love my chair. The seller and Houz were exceptional. I am so happy with the chair.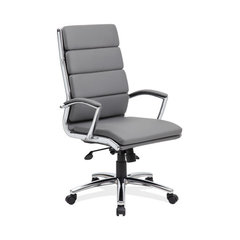 Executive High Back with Chrome Frame, Gray, 29x27
Home Office Furniture
Love it!: CaressoftPlus material is a faux leather that feels great. Chair was very easy to assembly, is very stable/solid, and is quite comfortable. Oh - it looks great in my home office, too!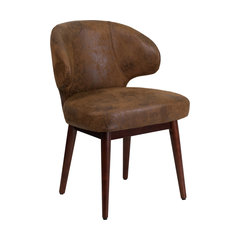 Leather Chair With Walnut Legs, Bomber Jacket Brown
Home Office Furniture
Nice Occasional Chair: I bought this for a small space in a vacation rental and it is the right porportion for the space. The seat height is a little high for me, although I am 5'4" so taller people will appreciate it. It can be moved easily which is what I wanted. The low (ish) back lets you see past the chair, out the window, to the crashing waves in front of the beach house. My only complaint is that the leather was a little wrinkled right at the very back center of the chair. Otherwise it seems sturdy enough and I screwed the legs on easily.