Home Office Furniture
Your home office furniture should work just as hard as you do. Desks and computer furniture need to be sturdy and spacious enough to hold your desktop, laptop and other desk accessories. When it comes to office chairs, do not skimp on quality or comfort. It's the piece of home office furniture you come in contact with most often, and your body will thank you when it doesn't feel out of whack after a few hours of sitting.

If you have the space, use a filing cabinet, bookcase or other storage cabinet to organize any documents and resources. If not, find a desk with built-in storage or a hutch to do double duty. You'll be much happier if things have a dedicated home rather than living in mile-high stacks on your table. The more efficient your office furniture, the more efficient you will be at doing your work!

Browse our home office furniture section to find the products you love.
1 - 36 of 29,365 products
Sponsored Products
Featured Reviews of Home Office Furniture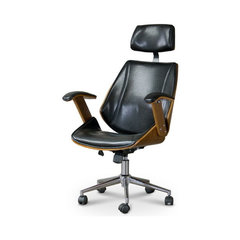 Baxton Studio Hamilton Office Chair
Home Office Furniture
I: I purchased this chair and was pleasantly surprised with how beautiful and well made it is. The wood is really nice and the chair itself is pretty comfortable (although firm).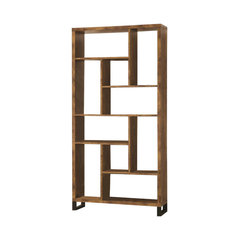 Home Office Furniture
prized tchotchkes shelf: They are nice quality for a put it together yourself item, sturdy, and look like they cost much more than they did. I am very happy with the free delivery, the quality and the easy instructions.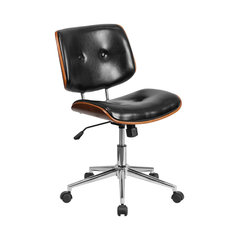 Flash Furniture Mid-Back Black Leather Wood Swivel Task Chair
Home Office Furniture
Looks Like Vintage: This chair was perfect for my mid-century modern vintage desk, because the opening for a chair on my desk is only 20 inches wide. This chair fits the space perfectly so I can push it all the way in and the walnut shade on the back matches the wood on the desk nice. The chair was a cinch to put together (the allen wrench is included; only 5 screws), the padding is comfortable, and it rolls nicely.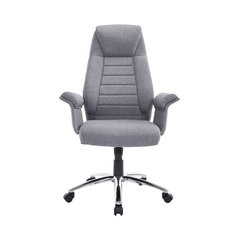 HomCom High Back Fabric Executive Office Chair, Light Gray
Home Office Furniture
Great quality and true to picture!: Really great quality, arms and back just the right size, everything is true to the photo. My only thing is that the back is pretty straight and stiff. Wish the parts when put together were at an angle to make the chair more comfortable but very cool, modern and comfortable otherwise!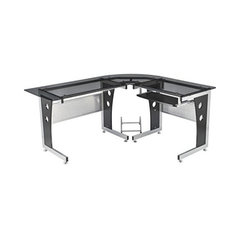 HomCom Modern L-Shaped Glasstop Office Workstation Computer Desk, Black
Home Office Furniture
Nice desk - crafting could use a little more precision: The table works really well as a work station but some of the holes were drilled off kilter for set up so we had drill new holes to get the keyboard station to work. You do need a drill for a few of the self tapping screws. I don't think you would ever get them screwed in otherwise.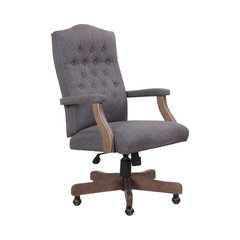 Boss Refined Rustic Executive Chair, Slate Gray Commercial Grade
Home Office Furniture
Love my new desk chair: Bought this for my home office. A little bit of assembly but not difficult at all. Very comfortable and height adjusts. I am pleased with the quality of the fabric and construction.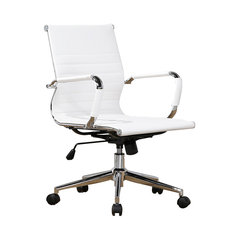 Mid-Back Ribbed Upholstered Leather Swivel Chair With Arm, White
Home Office Furniture
Looks good: I bought a few of these and will end up putting them in the study and built-in desk areas. These look really nice from a distance. I don't know if the leather is real. I'm not sure if they'll hold up to constant use. These are not very comfortable if you have to sit on them for a extended period of time.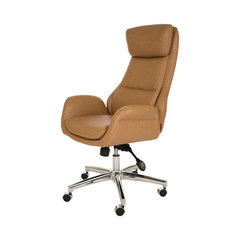 Camel Leatherette Gaslift Adjustable Swivel Office Chair
Home Office Furniture
Very Classy & Comfortable: Just as pictured! Very comfortable when in the reclined position. Lower back support is firm, but this will not support a full back upright position. However, your low back/tailbone will be supported and the seat cushion is beyond comfortable and when leaning back into the chair i feel supported. the armrests are lower than normal so if you are taller they may be virtually useless, but your hips and thighs will be cushioned well. I would definitely buy again!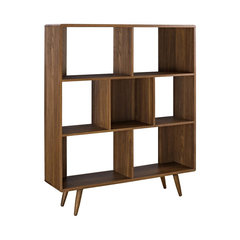 Transmit Bookcase, Walnut
Home Office Furniture
Just as pictured: This piece is wonderful and was not too complicated to set up. The only thing that I would suggest is to get different screws for the brackets that hold the feet as the ones provided kept stripping.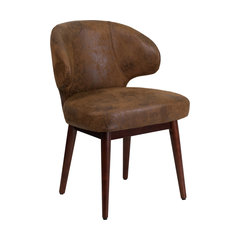 Leather Chair With Walnut Legs, Bomber Jacket Brown
Home Office Furniture
Nice Occasional Chair: I bought this for a small space in a vacation rental and it is the right porportion for the space. The seat height is a little high for me, although I am 5'4" so taller people will appreciate it. It can be moved easily which is what I wanted. The low (ish) back lets you see past the chair, out the window, to the crashing waves in front of the beach house. My only complaint is that the leather was a little wrinkled right at the very back center of the chair. Otherwise it seems sturdy enough and I screwed the legs on easily.