Small Kitchen Appliances
Growing your small kitchen appliance collection can take some time — these small but mighty items can add up quickly in terms of cost, unless you pace yourself. Although toasters, microwaves, blenders and coffee makers are often seen as necessities, other small appliances, such as a deep fryer, gelato machine and food processor, are specialized luxuries. Before you take the plunge and invest in more kitchen appliances, consider these tips.


What small kitchen appliances do I need?

If you're just starting out, be sure to stock up on the basics first. Although the necessities differ depending on the person, most can agree that everyone needs a toaster, microwave, blender and coffee maker. A food processor or mixer might be worth the splurge for bakers, while a tea pot is great if coffee isn't your thing (or if you like both!).


What specialty kitchen appliances should I buy?

As you move onto more specialized appliances, think about what you enjoy eating or drinking, and be sure to accommodate those preferences. For example, a diehard coffee drinker might like an espresso machine or coffee grinder, while an ice cream fanatic might get a lot of use out of a gelato or ice cream maker. Other fun appliances to consider include a popcorn maker, fondue pot, juicer, waffle maker, steamer and bread maker.


How do I organize all my small appliances?

Once you accumulate all these new toys, you'll of course need to store them. If you have space to spare, sort through your small appliances and determine which ones you use most often. Place those in a convenient location, like an appliance drawer or lower cabinet, and place infrequently used items in higher cabinets. For a super cramped kitchen, get those specialty accessories out of the kitchen and into the storage room, basement or garage.
Sponsored Products
Featured Reviews of Small Kitchen Appliances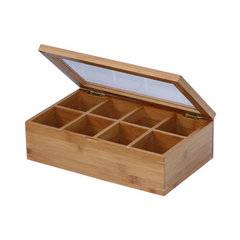 Small Kitchen Appliances
It was exactly what I wanted.: It was exactly what I wanted. I am very pleased. The rating would have been a 5 if it had been easier for the plastic coating which is protecting the acrylic top was easier to remove.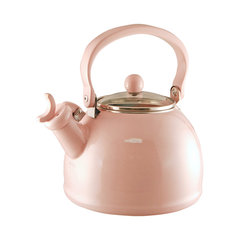 2.2-Quart Enamel Whistling Teakettle With Glass Lid, Pink
Small Kitchen Appliances
I love the color, looks great on my stove.: I love the color, looks great on my stove. Does not whistle as much as I had hoped it would, sounds more like a very low foghorn. Must say though the service with Houzz was great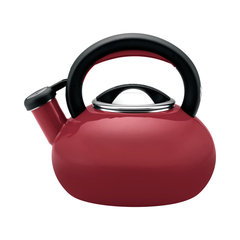 1-1 and 2-Quart Sunrise Teakettle, Rhubarb Red
Small Kitchen Appliances
Lovely little tea pot: This tea pot is the perfect size for the two of us. A pretty gold yellow color. Arrived in a timely fashion and I was pleased with my first purchase from" houzz"... also a very reasonable price.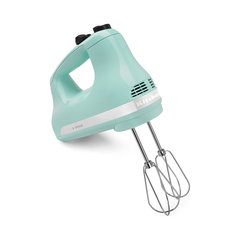 Ultra Power 5-Speed Hand Mixer, Ice Blue
Small Kitchen Appliances
Beautiful aqua hand mixer: This retro inspired aqua hand mixer replaced the "real deal" retro one that I purchased on a well known bidding site but always smelled like burning wires when I used it. This one has great power and is safe to use. It is new and looks and feels great!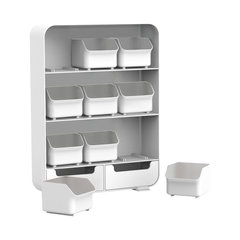 Mind Reader 'Baggy' 9 Drawer Tea Bag And Accessory Holder, White
Small Kitchen Appliances
Modern Organizer: This Tea Bag Organizer has helped me get rid of all those tea boxes that were accumulating in my cabinet. Now I am able to see all teas and how much I have left and when I need to replenish. I also filled the bottom side of the organizer with assorted sugar packets. This is a must for those of us that love and need to have things organized.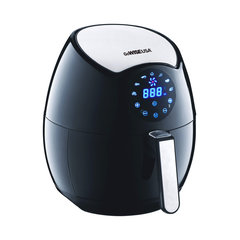 4th Generation Touch Screen Electric Air Fryer
Small Kitchen Appliances
Love It: This is really a good product. We cooked chicken pieces one evening--20 minutes, and they were perfect. Then the next day we heated up leftovers, and they didn't dry out. Other times we made French fries and grilled cheese sandwiches, and they were perfect. Yes, you can cook almost anything.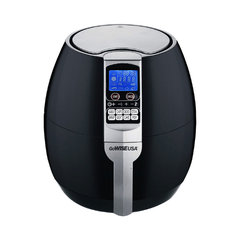 Wise 8-in-1 Electric Air Fryer, Black
Small Kitchen Appliances
No mess, clean: I like fried food very much. However, I don't like the mess I make after frying is done. So, I hesitate to cook fried food. With this air frier, no mess and no wasting oil. Fried food is crispy enough to enjoy.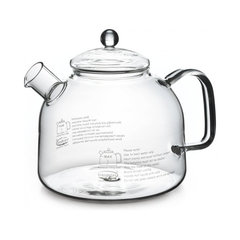 Water Kettle With Glass Lid
Small Kitchen Appliances
Wonderful, good quality, and safe: I had to search far and wide to find a teapot of this quality. Most glass teapots are made in China or are of questionable quality or safety. This one is made in Germany and is superb in every way. I did a lot research, and discovered that even glass can leach toxins (mainly lead) if its poor quality. Also, I love the fact that this teapot has a glass handle. Some other glass tea pots have plastic handle or lid which defeats the purpose of having non toxic materials. Heat anywhere near plastic is not good.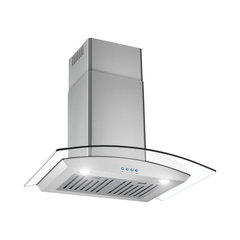 Stainless Steel and Glass Range Hood 30" With LED Buttons
Small Kitchen Appliances
Too bad it did not work for us: The package came super quick!!! Sadly the package was a little damaged but when we opened the box it was packaged beautifully, and everything was protected. The hood was beautiful too bad I picked the wrong type of hood for what we needed. I would recommend it because it is a great hood for the price. And the return process was super easy.. I will order the replacement from Houzz happily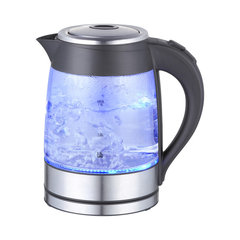 Megachef 1.8Lt. Glass Body and Stainless Steel Electric Tea Kettle
Small Kitchen Appliances
Kettle with Bling: Heats up the water fast. Very attractive especially when the lights off in the kitchen, the kettle lights up with a cool blue. Perfect and great for thwe price. Don't need anything more expensive this one is perfect.