Ottomans and Footstools
A true double-duty furniture piece, ottomans often wear double (or triple) hats: They can be utilized as a footstool, coffee table, storage container or even additional seating. Because they are available in a variety of styles, colors and patterns, an ottoman, or footstool can also add a touch of character to your bedroom, living room or playroom design. As you get ready to make a purchase, be sure to learn a little more about this handy piece of furniture.


Why is an ottoman useful?

Ottomans and footstools often serve multiple purposes, so you truly get more bang for your buck. Traditionally, they were used solely as footstools, though now they are also commonly used as upholstered coffee or side tables. An ottoman bench can function as additional seating, while hollowed-out units are great for hidden storage. On top of its practical purposes, they are also a great decorative accessory; they often come in bright colors, vibrant patterns or with nailhead or tufted details.


What ottoman shapes are available?

Ottomans are generally round, square or rectangular, with each shape available in a variety of sizes. Round ottomans are great for adding an unexpected shape to a living space with primarily rectangular furniture, while, adversely, square ottomans work well to complement such a layout. Designs in the shape of a cube are great for sneaking in extra seating space, or to create an extra long coffee table by pushing several together. Rectangular ottomans often double as coffee tables, and can be custom made to fit the length of your sofa.


What ottoman materials should I consider?

Footstools often come in the same materials as sofas and sectionals, so think about what your preference is for larger furniture pieces — though they don't have to match up. After all, adding a leather ottoman in a room with a fabric sofa can add some much-needed texture variation. They commonly come in leather or some sort of upholstery, though weaves and woods are gaining in popularity. As you pick out the material, think about its function as well as its design; a wood stump would be an uncomfortable footstool, while a cushy cube wouldn't suffice as a side table.
Sponsored Products
Featured Reviews of Ottomans and Footstools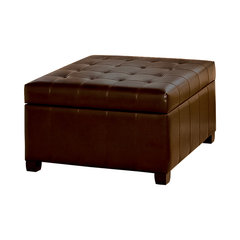 Lyncorn Leather Storage Ottoman Coffee Table
Ottomans and Footstools
This is a beautiful ottoman.: This is a beautiful ottoman. Bought it for our family room coffee table - works great. Great for the grandkids -easy to clean; baby can cruise around it easily and no heads get bumped to hard if there is a fall for the little ones learning to stand up and walk. Great storage. This looks much more expensive that it actually cost!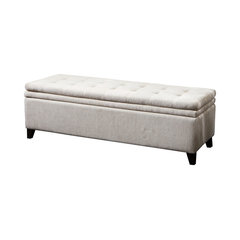 Sandford Linen Storage Ottoman
Ottomans and Footstools
Quality is there and so is value.: Quality is there and so is value. Wide enough to span the foot of my full bed, which is exactly what I wanted. Adequate storage and material appears to be substantial. Color depicted is accurate. Promt delivery. Very pleased with Houzz.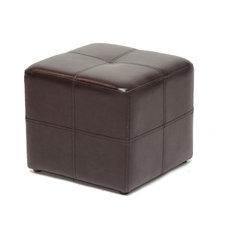 Baxton Studio Nox Dark Brown Ottoman
Ottomans and Footstools
Great Ottoman, But legs Wobbled!: The legs were not even. I had to add extra rubber after unscrewing one leg to make it even. Rather It's even now and I'm satisfied. When one orders a new product, this should NOT HAPPEN! The shipping box was not damaged.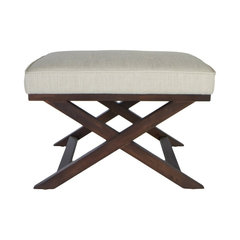 Cortesi Home ArixBench Ottoman, Beige
Ottomans and Footstools
Beautiful Ottoman!: Love, Love, Love this ottoman! Extremely well made, will go well with my contemporary décor. The picture shows the cushion more of a white, but it's not white -- beige as the title suggests, which I love. I didn't want white so it's perfect!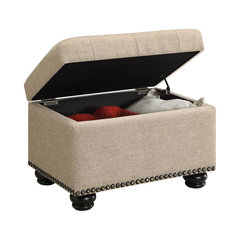 Eckert Storage Ottoman, Tan Fabric
Ottomans and Footstools
Exactly what I wanted: After much instore and online shopping, I found the perfect ottoman for my newly remodeled bedroom/bathroom en suite. Excellent quality and quite affordable. Glad I have the Houzz app.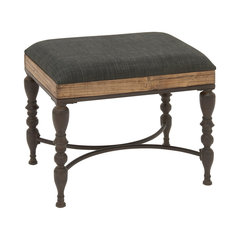 Ottomans and Footstools
Country French ottoman: Overall, the design and quality was as expected based on pictures and description. Getting the final fasteners to align and tighten down was hard. It took a lot of force to bring them into alignment.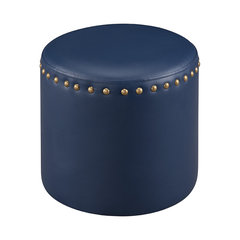 Andrea Upholstered Ottoman With Nailhead Trim, Blue
Ottomans and Footstools
Very sturdy: I bought 2 of these, mostly for color adds. They are not bright red, almost a shabby barn red but I actually like them more than if they were the red I thought they would be. The photos are right on the color. I am quite impressed with them. They are very sturdy to site on. I was surprised at the quality so am very pleased.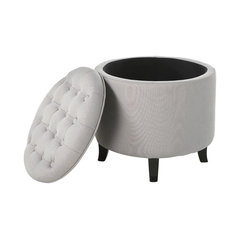 Storage Ottoman With Button Tufted Accents, Gray
Ottomans and Footstools
Great little ottoman: I really like this ottoman and I'm glad I found it. Great price! Arrived within a few days of order. Perfect size. Love the storage. The color was slightly darker than the picture and I like it better. The legs were a little bit long and made the ottoman too high for me to put my feet up on. I switched them out for a set of casters I had left over from a plastic file cabinet and now it is the perfect height! This may not be a problem for you because your furniture may sit higher than mine. The taller height made it work for a stool a bit better but I plan to use it as an ottoman most of the time. Highly recommend this!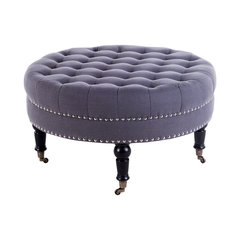 Round Tufted Linen Ottoman With Caster, 33", Gray
Ottomans and Footstools
Beautiful ottoman: I bought this ottoman to go with a pair of tufted chairs in my living room. It's the perfect size for our sitting area without taking up too much space. The wheels move easily, even on my carpeted floor. It took all of ten minutes to put the legs on and was super easy! I highly recommend this piece if you're looking for something cute to finish off the room.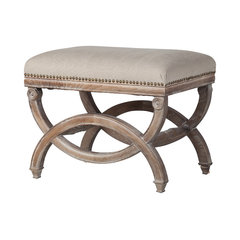 Elyse Ottoman, Natural Off-White
Ottomans and Footstools
Nice Little Bench: The woodwork of the bench is just what I was looking for, but the seat color isn't off-white, and it should not be described as such. It is not beige, not natural, but somewhere in between. I kept it because the color scheme for my home and most everything else is earth tone, off-white, sand, natural, light browns, and etc., so I have a place for the bench, but not for the room that it was intended, and that is the only reason that I did not give it 5 stars.