Sponsored Products
Featured Reviews of Pendant Lights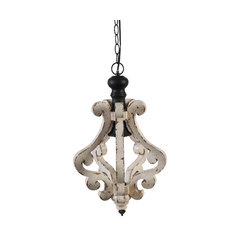 Pendant Lights
BEAUTIFUL STATEMENT PENDANT LIGHT: I purchased two of these lights for my peninsula to add a rustic touch to my farmhouse kitchen. I was happy to see that the big Edison bulbs that I wanted to use did fit inside the crevice. The description said they were off white, but in person look more cream/beige. My only concern is that the wood (which I understood to have a distressed look) has cracks along most of the grooves, making me question the durability and quality of the pendant for long time use. Overall, I am happy with this purchase and have gotten many compliments on how these pendant lights have added a unique touch to my kitchen.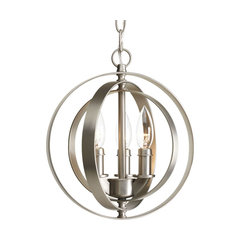 3-Light Sphere Pendant, Burnished Silver
Pendant Lights
Great purchase!: Enjoying this pendant over a round table in my kitchen! I was looking for a fixture that would work in a transitional setting quite a while, and I'm so glad to have found this.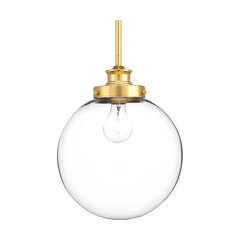 Progress Lighting 1-100W Medium Pendant, Natural Brass
Pendant Lights
Lovely pendants: I received these pendant lamp (in tact) and they are absolutely BEAUTIFUL! I haven't had them installed yet but they are just the right size. Looking forward to seeing them in place.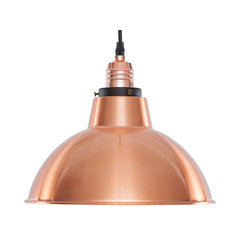 Pendant Lights
Great pendant, especially for the price: We bought this copper pendant when it was on sale, and we love it. It puts off great light, looks great in our white shaker kitchen, and we've overall very pleased, especially for the price.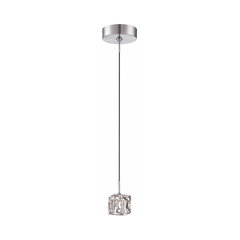 Lite Source Ice Cube II LED Modern / Contemporary Mini Pendant Light XSL-DEL1364
Pendant Lights
Adore my light: I️ love it! It's so cute and give off a huge amount of light. I wish instructions said no dimmer switch. I installed lights and had them blinking. Finally switched to a regular switch and it worked great. Would of saved a lot of time to have been informed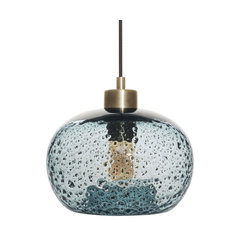 Mini Pendant Light Handblown Rustic Seeded Glass Hanging Light, Blue
Pendant Lights
Love these pendants: The pendants arrived very well packed and came on time. I purchased three of the 6" clear to go over my kitchen island. They are very beautiful and unique, I love the texture, and the black metal powder gives it a one of a kind look. I can't wait to have them installed in my newly built house. I highly recommend these pendants...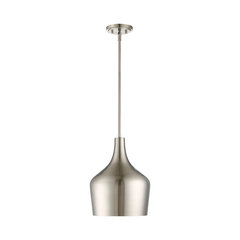 1-Light Pendant, Brushed Nickel
Pendant Lights
Almost as advertised: I really like the size and shape of this light. but the color and sheen isn't quite as shown in the picture. the reality shows a little more orange in the gold hue (not much but a little) and the product has a clear coat on it which results in more of a sheen on the product than what I see in the picture.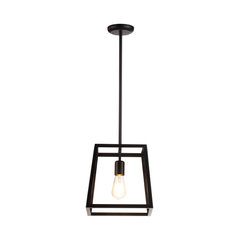 Forge Industrial Pendant Light, Small
Pendant Lights
Highly recommend!: These pendants are great! They provide an industrial component to our 'modern farmhouse' kitchen. Houzz delivered them on time, packed appropriately so none of the fragile glass was cracked or metal bent. They were easy to install with the included instructions. We would definitely purchase again!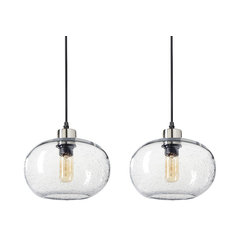 Effervescent Glass Pendant Lighting, Clear, Pack of 2
Pendant Lights
Great value and design: Beautiful! I will say that I am glad that I waited for to receive this before purchasing hardware for the bathroom because in the pics it appears to have a chrome finish but in reality it is definitely brushed nickel. Still a great look, just different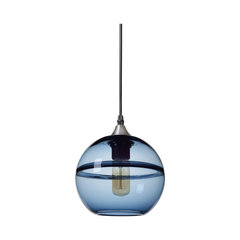 Unique Optic Contemporary Hand Blown Glass Pendant Light, Shade: Blue, 7"
Pendant Lights
Lights are better than we thought!: I've had trouble with lots of poor quality on pendants. These lights are great quality! They are well made and the glass is quite thick and heavy. They were very easy to install. The mounting plate screws are silver instead of black which is too bad, but not a big deal. The pendants are heavy so make sure you put the bulbs in when when mounting to save yourself the trouble later.