Fire Pits
Don't let chilly weather keep you cooped up indoors! With an outdoor fire pit, you can throw a backyard soiree and socialize with family and friends anytime of the year. With a variety of styles and designs to choose from, a fire bowl is an ideal addition to any patio or deck. Check out the backyard fire pits for sale below and find your new favorite entertaining piece!


What fuel source should my fire pit have?

There are a number of ways to keep your flames dancing, so it's important to consider the characteristics of each fuel type when perusing fire pits on sale. Here are some of the most common fuel sources you can choose from:

Gas. The gas fire pit is a popular choice thanks to its ease of use and low maintenance. These propane-powered models are simple to both ignite and extinguish, and propane gas tends to be environmentally friendly and affordable. The only downside is that you will need to replace the propane tank every so often.
Wood. A wood-burning fire pit is reminiscent of campfires and outdoor adventures. Wood is an ideal fuel source for portable fire pits and produces colorful flames and an earthy fragrance. It will require clean up after use, however, and can be difficult to ignite. Don't use pressure-treated wood as it might contain dangerous toxins; instead, consider woods like red oak, white oak, beech, birch, ash, hickory and maple.
Charcoal. If you purchase a wood-burning style, you can also try burning charcoal. This is perfect for a backyard barbecue and roasting marshmallows for s'mores. However, charcoal, like wood, will require clean up after use.
Gel fuel. This fuel type is both budget-friendly and long-lasting. Most cans last around two and a half to three hours; however, you can cut your usage short and reuse the can if you have not used all of the product!


What styles of fire pits are available?

Fire bowls and pits come in many forms, which makes it easy to select a piece that appeals to your personality and fits your needs. In terms of material and aesthetics, a metal fire pit is always a popular and chic choice; a concrete fire bowl is also considered a sleek addition to an outdoor area. A ceramic fire pit gives off an earthy vibe whereas a round fire pit comprised of stones gives you the feeling of camping outdoors.

While browsing fire pits for sale, you will run into the following designs:

A smaller design, braziers date back to ancient times when they were used to provide heat, brighten outdoor areas and cook food. Try placing several small braziers around your outdoor space for a unique effect.
Portable fire pits are typically made of metal or ceramic and usually feature legs and wheels. They make it easy to move your main source of heat and light to wherever the party goes.
A table fire pit is cleverly designed to (safely) allow your guests to place items on the tabletop surface surrounding the flames, making for a cozy and unique dining experience.
A fire ring is a circular device usually made of steel or concrete that surround and contain a fire that is built directly on the ground. These simple but effective designs have no bottom and are purely utilized for containment. More innovative fire rings may have metal bars so that the fire may be used for cooking as well.
The portable fire bowltakes on the form of a large bowl supported by a stand. Yours may even be able to use a gel fuel, which tends to be alcohol-based and burns clean.
The most common style, traditional fire pits, can technically either be holes dug into the ground or freestanding pieces. Traditionally for home usage, such as on a deck or a porch, a fire pit is a pre-made, portable piece comprised of stone, brick or metal.


Is there anything else I should consider before buying my new fire bowl?

As the old adage states, don't play with fire or you'll get burned! Since you'll be fueling live flames, it's important to check with your city to ensure that your outdoor fire pit is up to code. Additionally, you'll always want to clear the surrounding space of any loose branches, brush or flammable materials. Your city may also be able to provide more specific guidance on how large of an area must be cleared, but in general, a minimum of six feet is recommended. Last but certainly not least, follow these safety tips to ensure your fire pit experience is nothing less than exceptional:


Never leave your fire pit unattended.

Always have a fire extinguisher easily accessible (and make sure it hasn't expired!).

Be aware of children and pets.

Do not touch your fire pit while it is in use.
Sponsored Products
Featured Reviews of Fire Pits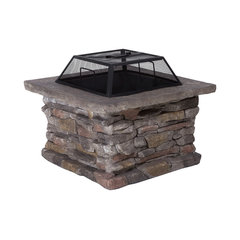 Fire Pits
I love it!!: I love it!! It's a good value for the money. I had waited a while till I found the right fire pit because I wasn't crazy about any of the ones I had seen at the stores. I found this one and its perfect!! It matches my hardscape perfectly.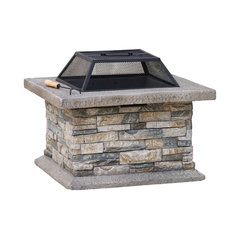 Kentwood Outdoor Fire Pit
Fire Pits
Great look for the price: Arrived well pack, VERY nice looking piece. Perfect size for patio. I had read that they crack do to heat but made purchase due to other reviews. Mine cracked in 4 spots after just 4 fires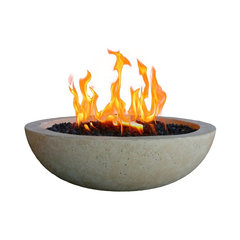 Eldon Tabletop Fire Bowl, Suffolk Tan
Fire Pits
Awesome: Was looking for some addition to my patio without adding another piece of furniture. Fire bowl was an excellent choice. The table is still useable for dining and the bowl looks as if it's part of the table. Easy install and looks great To conceal the propane tank. I used a round 15 gal. Barrel and sprayed it flat black to match the table. It fits directly under the bowl and looks like part of the table.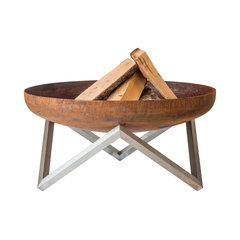 Memel Modern Outdoor Patio Rust and Stainless Steel Fire Pit, Large 31"
Fire Pits
It's art!: I just received this bowl today and it is absolutely gorgeous and of high quality manufacture. The stand is very well made, the bowl is sturdy but not too heavy. There are little divots on the outside of the bowl to stabilize it on the stand. This thing is going to last a very long time. I haven't built a fire in it yet, so it remains to be seen how that will work. I've already come back to purchase the steel lid. It will make a nice table when we aren't using it for fire. Bonus: I received it 2 days after ordering it, well packed. I can't wait until I finish furnishing my new patio so I can post a picture!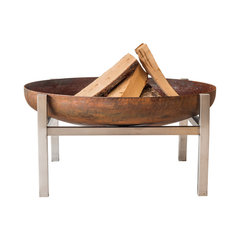 Parnidis Modern Outdoor Rust & Stainless Steel Fire Pit, Large, 31"
Fire Pits
Great fire pit! It is light enough for 2 people to move but be aware if you put it on the lawn, the heat of the fire will burn the lawn as it is only @ 12" from base of pan to the ground.: Great fire pit! Holds a good stack of wood and is modern looking and well built. My husband drilled a hole in the pan for water to drain after a rain as we don't have a cover yet. It is light enough for 2 people to move but be aware if you put it on the lawn, the heat of the fire will burn the lawn as it is only @ 12" from base of pan to the ground. We put a big ceramic tile under and that keeps the heat from the lawn.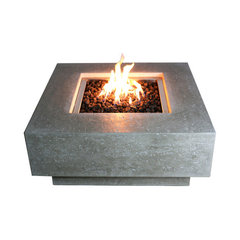 Manhattan Fire Pit Table, Chat Height, Natural Gas
Fire Pits
Love this fire pit!: This fire pit looks amazing in our deck. We also changed out the lava rocks for blue glass. My husband was even able to make a great cover for it because we have a lot of pine needles in our yard.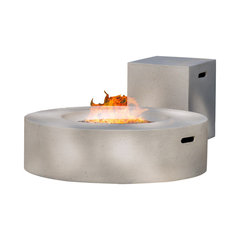 Hearth Circular 50K BTU Outdoor Gas Fire Pit Table With Tank Holder, White
Fire Pits
Easy Peezy.......: It arrived much sooner then I thought,,,, Had help unpacking which was very well packed. Had no trouble connecting and lighting the flame..... It is bigger than I imagined. The flame is adjustable too. It is so clean. I'm very happy for when the weather gets cooler and the friends come over..... I think everyone would like to have this.....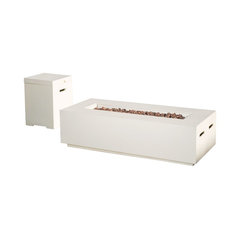 Jaxon 50K BTU Outdoor Fire Table With Tank Holder
Fire Pits
Mostly great: So far we like this a lot. It is not even close to white. It is definitely a gray, close to medium gray. We did not use the lava rock, but fireplace glass instead. Very disappointed that you have to leave the part that emits the flames fully exposed. it doesn't look as good that way, but works better for sure. Also unfortunate that it doesn't come with a cover for the 'table' that covers the tank. I haven't been able to find one that size yet, and the instructions make a big point of telling you to keep the firepit covered any time it is not in use. It also says to not do things like write on a paper placed on the material without putting padding under the paper, so since the tank cover is made of the same material as the firepit, I assume it is just as important for the tank to be covered. We are using black garden trash bags at the moment. There is also not information about the hose, and how much that can be exposed to the elements. I'm going to use a very large cover to go over the entire seating set, once we have the patio set up. But for now, we re working piece meal trying to keep it all protected.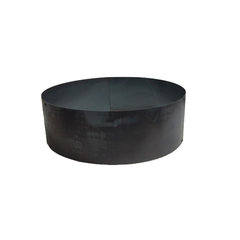 Fire Pits
Nice fire ring.: Fire ring is very nice. The metal is heavy duty and should last for years. I would have given 5 stars if holes lined up a little better. When bolted together the alignment of the holes causes the 4 segments of the ring to be off about 1/4 - 1/2" from segment to segment. I will probably lay out the ring on a flat surface and weld it together for a more permanent construction.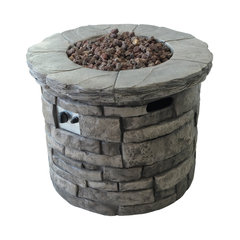 Altta Outdoor Gray Circular Fire Pit, 40,000 BTU
Fire Pits
S'more party: We used our new fire pit and It could not have gone better. A nice flame... and we didn't have it turned all the way up. We broke out the marshmallows, graham crackers and Hershey bars and had ourselves a s'more party. We did decide to replace the lava rocks with fire glass beads. It adds to the beauty of the fire pit experience. We are looking forward to more fire pit fun. Love not having to deal with the smoke, ash, burning eyes and cleanup of a traditional wood burning fire pit.