Armchairs and Accent Chairs
An accent chair is a great addition to almost any space; it can complete a living room or dining room set, or serve as the perfect bedroom chair for reading. Whatever its use, you'll find a wide variety of armchairs and accent chairs for sale on Houzz. While browsing, keep in mind the following advice on style, size and material to help you narrow down your search.
What type of armchair will work best for me?
Consider the room's current design scheme and what you'll want to use your furniture piece for when making this decision. Do you want something that can double as a focal point? If so, find something elegant and luxurious looking, like a
leather armchair
. Do you want to sink into your new seat with a glass of wine at the end of a long day? If relaxation is your main goal, you'll want a design where comfort is key — think thick cushions, wide armrests, or even an oversized chair. Consider the following types of chairs for your home:
Armchairs:
Just like the name says, these feature two arms, and are part of the classic comfy living room ensemble. They come in many styles, but the most common are the soft and inviting oversized chairs that sport substantial armrests. These are perfect for curling up in and getting lost in a good book. Smaller models, like a club or
barrel chair
, can be a great way to incorporate that same cozy feeling in a slightly more formal way.
Armless Accent Chairs:
If you've got a tighter space but still want to add a functional accent piece, an armless design should fit the bill. These typically upholstered chairs can provide a more formal look and can also be used in the dining room.
Wingback Chairs:
The high sides and back of this style were originally intended to protect the sitter from drafts or help trap in heat from a fireplace (which explains why they're often pictured near one). This stately design can make an elegant focal point in living rooms today.
Egg Chairs:
This iconic style was created by Arne Jacobsen in 1958, and is sure to bring a playful, modern look to your space. With rounded lines that curve inward, this design comfortably envelopes you.
What style, color and materials do I want for my accent chair?
Bedroom and living room chairs can make a big difference in the mood of a room, and it can be fun to create a look around a striking color or interesting pattern on your upholstery. For a traditional beachy look, try using a blue accent chair in your living room. For a more contemporary style, decorate with
modern accent chairs
in bold patterns and colors. When choosing among different upholstery materials, consider how much maintenance will be needed as well as your home's natural environment. If you live in a colder place and want a cozy, lasting piece of furniture, a brown leather chair might be the best option. But if you live in a sunnier climate or are worried about stains and damage, perhaps you should look for a piece with a fabric slipcover that can be removed.
Should I pair my living room chair with an ottoman?
Ottomans and footstools are great for kicking back and relaxing, and work well if your armchair falls in line with a more casual, lounging style. Still, even if your space is slightly more formal, a leather chair with an ottoman perched near a fireplace can have its own appeal. You'll always need to consider space: Will there still be sufficient room for pathways and access to the chair itself? If so, your next step will be to make sure to get the height and width right. To maximize comfort, both pieces should be of similar width, with the footstool being as high as or slightly lower than the seat height. Ideally, you should try to coordinate the pieces by matching color, material or pattern.
1 - 36 of 21,189 products
Sponsored Products
Featured Reviews of Armchairs and Accent Chairs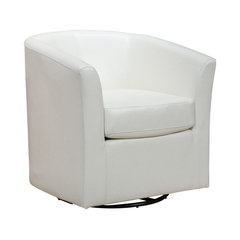 Corley Off-White Leather Swivel Club Chair
Armchairs and Accent Chairs
Great in small space!: This chair fits perfectly in my small living room! It gives just the right "modern" touch to my eclectic style. Doesn't seem as blue as the photos, a little more greenish, but works beautifully with my colors.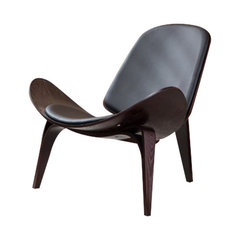 Renat Shell Wing Accent Chair
Armchairs and Accent Chairs
Nice accent chair: Works great with our mid century modern mix of furniture. Definitely cheaper than some of the other options out there. I'd recommend to take a few minutes to separate all the bolts and get a good idea where everything goes before starting to build. Overall great deal for the look and style!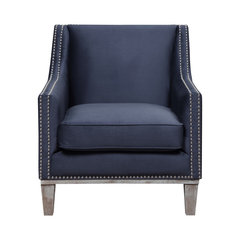 Holland Accent Chair, Navy
Armchairs and Accent Chairs
Fabulous chairs!: Love the chairs, sturdy, great seat cushion, they're an off-white and we purchased a grey sofa - they look great together. Legs came "zippered" underneath - very clever, great packing job and easy to assemble. Took a risk buying online - glad I did!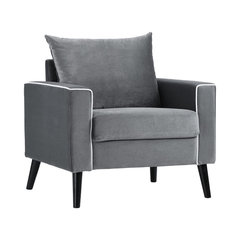 Mid-Century Modern Velvet Fabric Armchair Living Room Accent Chair, Dark Gray
Armchairs and Accent Chairs
Nice Chair: Love the look of my new chair and it was very easy to assemble. The only complaint (if any) would be the seat cusion is a bit stiff..... I'm hoping it will soften over time :)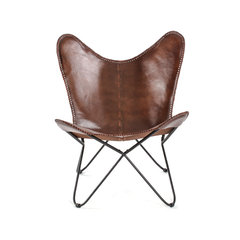 Montreux Iron Butterfly Chair With Leather Seat, Brown
Armchairs and Accent Chairs
Great looking chair: I bought this butterfly chair for my staging business - more for the aesthetics than for comfort. It's a great chair to look at, but not very comfortable. Easy to assemble & shipped quickly. I recommend it if you want to add something fun & visually appealing to your room!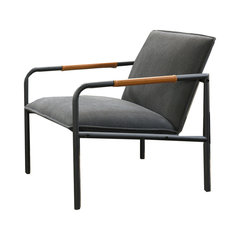 Boulevard Cafe Metal Lounge Chair, Black
Armchairs and Accent Chairs
Gorgeous chairs but overall height is too low: The chairs are gorgeous and easy to put together; however, I'm really disappointed that they sit as low as they do. I knew the measurements ahead of time and was just hoping that in person, they wouldn't actually seem so low. They look kinda awkward when placed near my couch, which isn't bulky or big but just a normal size, and so I had to move the chairs to the other side of my living room so they didn't appear so tiny. The price was great and its not worth the hassle of returning them, so I'll just keep them and maybe move them around to different rooms from time to time. If you are looking for a chair that sits lower to the ground with a clean, simple and modern design, this is perfect. Its just not 100% what I was hoping for, but they are still very pretty chairs.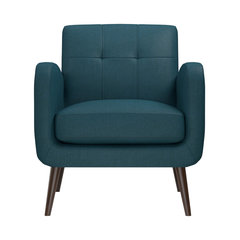 Observatory Armchair, Peacock
Armchairs and Accent Chairs
Beautiful color!: This chair is such a nice addition to my small living room. I have lots of dark and other shades of grey. This mustard yellow color brightens the space and gives my living room a fun and elegant look. The fabric is beautiful and the style is sleek and comfortable. All I had to do was screw the legs in. I love my mustard yellow chair and I didn't have to break the bank to acquire this beautiful piece of furniture.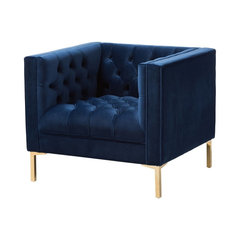 Zanetta Lounge Chair, Blue
Armchairs and Accent Chairs
Gamesroom Accent Chairs: Incredible value for money!! These chairs were the perfect style and pop of color for our clients large games room. They definitely look much more expensive than the price paid. We receive constant compliments about these gorgeous chairs.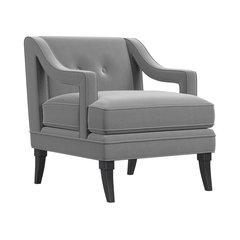 Ceres Velvet Accent Chair With Tufted Back, Moondust Gray
Armchairs and Accent Chairs
These chairs look much more expensive than they actually are!: These chairs look much more expensive than they actually are! I was worried they had to be too good to be true but when they arrived I was pleasantly surprised. I love them and have gotten so many compliments on them already.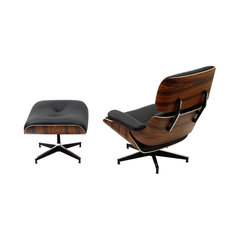 Mid-Century Lounge Chair/Ottoman, Genuine Premium Italian Leather, Palisander
Armchairs and Accent Chairs
Eames Lounge chair: The chair is beautiful and extremely comfortable. A little hard putting together but the store is extremely fast in responding and helping. It creeks a little, I hope that is just settling but overall so happy with the product and I researched several.