Bathroom Sinks
Generic bathroom sinks are a thing of the past. Now, everything from modern vessel sinks to classic pedestal sinks are popping up in bathrooms everywhere. As you remodel your bathroom, you'll find that updating an old washstand for a trendier bathroom sink is one of the easiest ways to give your space a fresh look. Here are some tips to consider as you browse all of the bathroom sinks for sale to find your perfect match:
Which type of bathroom sink is best in a small space?
If floor space is limited, a freestanding bathroom sink, also known as a
console sink
, is ideal as it provides style and function without being bulky. A
pedestal sink
also offers a slim fit while hiding all of the plumbing. Alternatively, a
wall-mount sink
can be a space-saving solution if you don't mind giving up a vanity. However, storage can be an issue in small bathrooms, so be sure to add wall cabinets or shelves if needed.
Learn more about bathroom sink dimensions on Houzz
Which bathroom sink works best for large or master bathrooms?
Your master suite should be the most luxurious washroom in the house and vanity-mounted bath sinks are your best chance at bringing the spa experience home. With that comes a few different mounting options. An
undermount bathroom sink
creates a clean, seamless look and allows you to place the emphasis on the countertop and vanity base. If you want the wash basin to be the star of the show, try a
vessel sink basin
that sits atop the counter. If you have the space, a
double bathroom sink
is always better than one! For the family bathroom, try a deep-basin sink. It can double as a spot to soak clothes or even bathe pets and babies.
How do I decide on a bathroom sink material?
Although a
porcelain sink
is often the go-to choice, there are many other materials available. Try bronze or
copper sinks
for something that ages well and warms up an often stark and sterile room. Opt for a stone, stainless steel or
concrete sink
in a modern en suite. Donning a vanity with a bright,
glass wash basin
is a strategic way to add a splash of color. If you're wary of a new material, try a new shape instead. Round, oval, rectangular and
square bathroom sinks
are common options or you can customize a design of your own.
1 - 36 of 17,925 products
Sponsored Products
Featured Reviews of Bathroom Sinks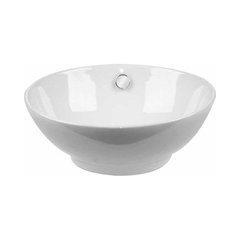 Above Counter Round Bathroom Vessel Sink White
Bathroom Sinks
Love this rug!!: The rug us beautiful. I love the fact that it is rubbery on the bottom so that I don't need a pad under it. It will not scratch my wood floors underneath. Colors are bright and bring a whole need look to my previously bland living room. My mother and another friend are going to order one based on seeing mine.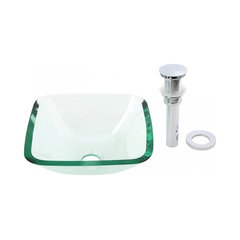 Mini Tempered Glass Vessel Sink with Drain
Bathroom Sinks
perfect fit vessel sink: This square vessel sink is perfect to turn our antique dresser into a bathroom vanity. Now the full re-model can begin! I couldn't be happier. The price was right and product was shipped promptly.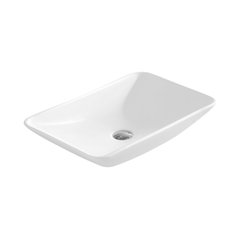 Vitreous Vessel Sink, White, 23"
Bathroom Sinks
Nice sink- great color white: We just purchased two of these sinks and they were the perfect size and color for our bathroom. They went well with the Black and white standalone tub sold by AMD bathroom designs.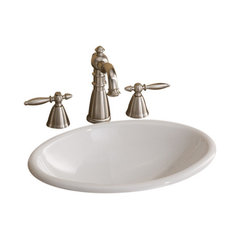 Bathroom Sinks
These sinks are just the right size for my bathroom.: These sinks are just the right size for my bathroom. They are very pretty, well-made, and have plenty of space inside. They arrived exactly on time, and look just like they do in the pictures.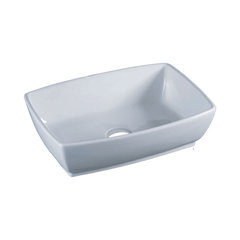 Vanity Fantasies "Tub" Porcelain Rectangular Vessel Sink, White
Bathroom Sinks
Beautiful vessel sink!: I ordered 3 of these sinks for our home. They arrived packaged perfectly and in the time I expected. They are beautiful! I love having the rectangular shape and the low profile then some vessel sinks I've seen. They are well made and classic sinks.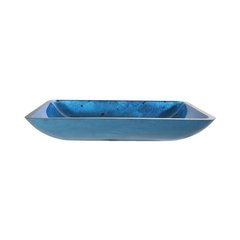 Irruption Rectangle Glass Vessel Bathroom Sink With Pop-Up, Blue, Satin Nickel
Bathroom Sinks
Gorgeous: This is definitely a statement piece! It is incredibly gorgeous, well made and AFFORDABLE!! I have already received so many compliments on it. It was exceptionally packaged and delivered in a timely manner. Highly recommend!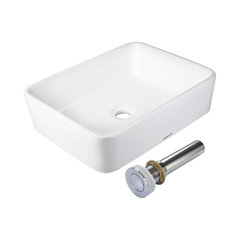 19"x15"x5" Rectangle Porcelain Ceramic Bathroom Vessel Sink With Drain, 2-Piece
Bathroom Sinks
Perfect size and price!: Exactly the size for our vanity, with only the drain pipe taking up room underneath. The inside corners are soft enough not to catch debris. The top edges are narrow enough not to catch dirt. A clean queen's dream! Also a good price for a porcelain sink including the pop up drain. Many others were over $100 for what seems like the same thing.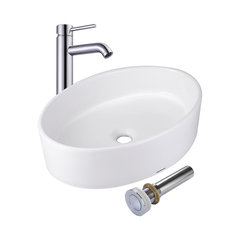 Oval Porcelain Ceramic Vessel Sink With Drain and Faucet
Bathroom Sinks
what a value!: love, love, love. This purchase is incredibly great looking for the money spent. Items arrive separately, faucet in one shipment and the sink in another. So don't schedule the plumber until you have 2 boxes. Pay attention to the size. It is large and lovely-- buy it. You will be happy you did.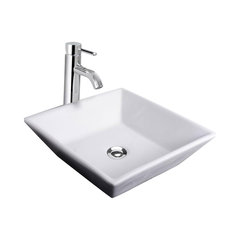 Square Porcelain Ceramic Vessel Sink With Drain and Faucet
Bathroom Sinks
what a deal!!!: When I say I am amazed, I am amazed. I thought for sure I would receive a low level product for the price, but that is not the case. I bought for the sinks for the price and I thought I would surely have to order faucets because they were sure to be, as my husband is fond of saying....mickey mouse..., I say rinky dink, but this was not the case. The faucets are strong, not filmsy chrome, heavy; they look rich. The sinks are great. nice size. We are remodeling my daughter's master bathroom and kids/guest bathroom and I am so pleased with the products. This was my first of many orders from Houzz. Great deal! Great product. Haven't installed yet. Received yesterday. Packaging was sturdy. No blemishes. Faucet was wrapped in soft mesh bag, like it was a precious jewel. I am impressed. I ordered two sets and I also ordered the aquaterior 18" porcelain sink with the overflow for the kids/guest bathroom. I am well pleased!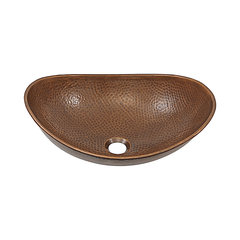 Sinkology Confucius 19"Copper Vessel Sink, Antique Copper
Bathroom Sinks
Impressed!: So far I love the copper sink! I have not installed it yet, but out of the package it looks great! It has some good weight to it and seems thick and durable. I can't wait to install it. I will post pics once it is. It was also packaged very well and came super quickly!