Bathroom Sinks
Generic bathroom sinks are a thing of the past. Now, everything from modern vessel sinks to classic pedestal sinks are popping up in bathrooms everywhere. As you remodel your bathroom, you'll find that updating an old washstand for a trendier bathroom sink is one of the easiest ways to give your space a fresh look. Here are some tips to consider as you browse all of the bathroom sinks for sale to find your perfect match:
Which type of bathroom sink is best in a small space?
If floor space is limited, a freestanding bathroom sink, also known as a
console sink
, is ideal as it provides style and function without being bulky. A
pedestal sink
also offers a slim fit while hiding all of the plumbing. Alternatively, a
wall-mount sink
can be a space-saving solution if you don't mind giving up a vanity. However, storage can be an issue in small bathrooms, so be sure to add wall cabinets or shelves if needed.
Learn more about bathroom sink dimensions on Houzz
Which bathroom sink works best for large or master bathrooms?
Your master suite should be the most luxurious washroom in the house and vanity-mounted bath sinks are your best chance at bringing the spa experience home. With that comes a few different mounting options. An
undermount bathroom sink
creates a clean, seamless look and allows you to place the emphasis on the countertop and vanity base. If you want the wash basin to be the star of the show, try a
vessel sink basin
that sits atop the counter. If you have the space, a
double bathroom sink
is always better than one! For the family bathroom, try a deep-basin sink. It can double as a spot to soak clothes or even bathe pets and babies.
How do I decide on a bathroom sink material?
Although a
porcelain sink
is often the go-to choice, there are many other materials available. Try bronze or
copper sinks
for something that ages well and warms up an often stark and sterile room. Opt for a stone, stainless steel or
concrete sink
in a modern en suite. Donning a vanity with a bright,
glass wash basin
is a strategic way to add a splash of color. If you're wary of a new material, try a new shape instead. Round, oval, rectangular and
square bathroom sinks
are common options or you can customize a design of your own.
1 - 36 of 17,977 products
Sponsored Products
Featured Reviews of Bathroom Sinks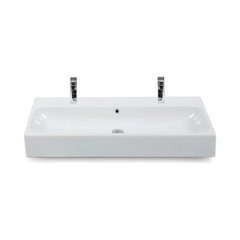 40" Wall Mounted or Vessel Sink
Bathroom Sinks
Very well built solid double wide basin delivered with excellence: Product was delivered by a 3rd party delivery company who kindly waited about ten minutes for my wife to arrive to deliver. came on lightweight wood pallet completely wrapped and protected from stacking. unwrapped and found no defects and looks great. All pre-fired ports (holes) are spec'd perfectly however I would have liked to get more specific specifications on parts of the basin that extended below the bottom surface so I knew how to plan the countertop installation I am performing. Other than that absolutely no complaints.
Hahn Ceramic Medium Rectangular Bathroom Bowl UM, White
Bathroom Sinks
Great price!!: I bought two of these for the bathroom remodel we did, and I couldn't be more pleased. The are the perfect size and shape, and the price couldn't be beat. You won't be disappointed.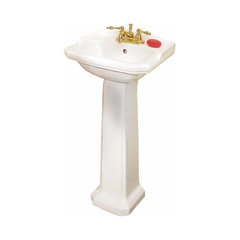 Small Bathroom Pedestal Sink Space Saver Grade A Vitreous China White
Bathroom Sinks
Pedestal Sink Highly Recommended: This pedestal sink is a perfect size for my guest bathroom. The quality is excellent and the design has a combination of both a traditional and modern look. The shipment arrived on time and was packaged well.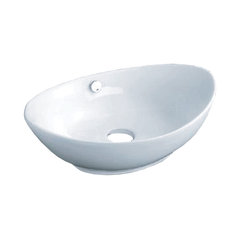 Vanity Fantasies "Canoe" Porcelain Oval Shaped Vessel Sink, White
Bathroom Sinks
Beautiful bowl: I love it! Wish I was able to keep it! I will have to return it because it is larger then I expected. The measurements are correct I just didn't read them before purchasing because the price was so good! If I had a larger space I would be so excited to keep it! It is gorgeous and you can't beat the price!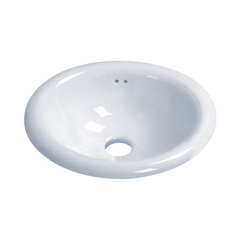 Vanity Fantasies "Derby" Porcelain Oval Drop-In Vanity Sink, White
Bathroom Sinks
Saved the Day: I looked everywhere for a sink to fit this odd-sized hole in a granite counter top. So grateful Houzz came to the rescue. Love this site. Find an excuse to look here almost everyday. Sink arrived on time and in perfect condition.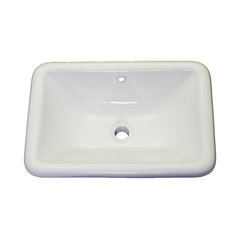 Vanity Fantasies "Cornet" Porcelain Rectangular Drop-In Vanity Sink, White
Bathroom Sinks
Chinashell 'Cornet' Porcelain Rectangular Drop-in Vanity Sink: Sink was shipped quick and packaged very well. On inspection of the sink once out of the box I noticed a scratch mark on the inside top of the front that you can notice when the light hits it. Other than that I am very happy with the sink and it's going into a redone dresser for a bathroom. Thank you Houzz, I will be ordering from you again!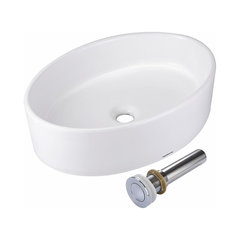 19"x15"x5" Oval Porcelain Ceramic Bathroom Vessel Sink w/ Pop Up Drain
Bathroom Sinks
Contemporary and Useful: This sink arrived well packaged and it a true white. Full sized do not for a small space. Cannot recess this sink so am returning. Very nice product good for a guest bath or even a bar sink with a modern casual vibe.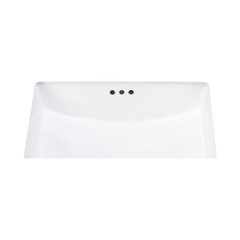 Bristol Bathroom Cearic Undermount Sink, White
Bathroom Sinks
Quality Sink: I bought two of these to go in my Bathroom Quartz Vanity Top, Double, White, 73" https://www.houzz.com/photos/65010015/lid=49119617/Bathroom-Quartz-Vanity-Top-Double-White-73-transitional-vanity-tops-and-side-splashes They haven't been installed yet but I took them out of the box to take a peak and they are well- made, quality sinks. I love the shape and hope they look just as beautiful installed with the vanity top.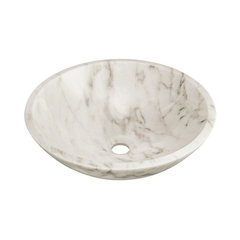 -White Granite Vessel Sink, Sink Only, No Additional Accessories
Bathroom Sinks
Perfect Sink: Looked everywhere for a vessel sink to put on a chest I had for our half bath. Looks expensive and I get complements all the time on it. Great product. Also, mine is a little more white than the picture which actually worked out, just keep in mind they are all different.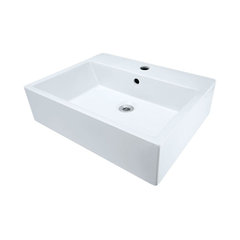 Porcelain Vessel Sink, White, Sink Only, No Additional Accessories
Bathroom Sinks
exactly as pictured: This sink did not surprise me. Sometimes when ordering things online, I'm concerned if the photo actually represents the product - not so, with this item. I am putting this sink in a bathroom with a bright white freestanding tub and bright white subway tile. WHITE is hard to match - the white on this sink is not dull and will match the other high end whites in the bathroom. aesthetics are also quite pleasing - all for less than $100 - great deal!