Lamp Shades
A new lamp shade is the perfect way to freshen up a room — and your lamp — on a budget. Often overlooked as a design element, lamp shades can transform a boring lamp into a beautiful piece, plus they add character and sophistication to a room. There are dozens of styles available, but you won't want to pick out just any old lamp shade. Here are some important tips to consider when shopping for your new light shades:
What size and shape should my lamp shade be?
A lamp shade that's too big or too small can make your table or floor lamp look awkward. Look for one that's just the right size and shape for your base and, if it's a table lamp, the table it will sit on. Don't forget to leave space inside of the shade, as a hot lightbulb that's too close to a fabric shade could present a fire hazard.
• Height:
For table lamps, look for light shades that are approximately two-thirds the height of your base. This will ensure that your finished lamp won't look unbalanced. For both table and floor lamps, keep in mind that the lamp shade should cover the bulb and the wire frame around the bulb.
• Width:
The widest part of your lamp shade needs to be at least a half inch wider than the widest point of the base — on both sides. Don't forget to consider the space around your lamp, though. If you choose a large lamp shade, will it fit on the table, or will it be in the way of foot traffic?
• Shape:
It's generally best for lamp shades to mimic their bases. So, a round base will look best paired with a round shade, and square or angular bases will look best with square or rectangular lamp shades. However, if your square lamp base will be sitting on a round table, you can mimic the shape of the tabletop with a round lamp shade.
What styles of lamp shades are there?
When choosing the perfect light shades for your space, it's important to know what's out there. If you have a gorgeous chandelier in your foyer, you'll need several chandelier shades — the number will depend on how many lights you need to cover. A drum shade is a wonderful option for a pendant light, and drum shades can have a traditional, contemporary or modern flair. Glass light shades can add interest to your lighting while allowing maximum illumination. Don't forget to consider translucency, colors, patterns and accents as well. A pleated lamp shade adds to a traditional look, while bold colors and patterns can complement an eclectic, a modern or even a contemporary room.
More:
Lamp Shade Guide — Get the Scoop on Mixing and Matching
Sponsored Products
Featured Reviews of Lamp Shades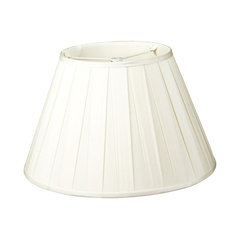 Wide Pleat Empire Designer Lampshade, White
Lamp Shades
I got more than I hoped for with this shade.: I got more than I hoped for with this shade. The picture isn't exactly the same color as what I received but it was close enough and I love it. Seems to be great quality. Would highly recommend to others.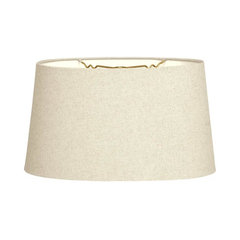 Shallow Oval Hardback Lampshade, Linen Beige
Lamp Shades
Quality product: More money than I would usually spend but I must admit sometimes it can be worth it. This is a well made shade, it has a neat finished look and appeal. It will be a fine piece for many years because of the quality construction.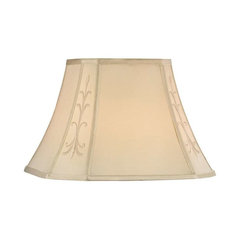 Dolan Large Square Cut Corner Softback Shade in White Powder Coated
Lamp Shades
Lovely off white lamp shade: Lovely shade,just as pictured. I would have given it 5 stars, but the material was so sheer that slight imperfections showed up around the embroidery when the lamp was lit. The shade was very well packed and arrived promptly, in perfect condition. I would recommend the seller and the product.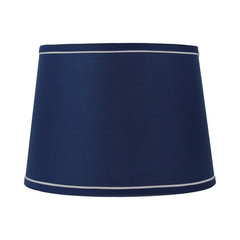 12" French Drum With White Trim Lampshade, Navy Blue
Lamp Shades
Just what I wanted, but...: It arrived with a slight crease 1 inch from the bottom, almost all the way around. It was packaged well, so perhaps it happened in the warehouse? I kept it as is but with a sigh. It is otherwise a sophisticated shade.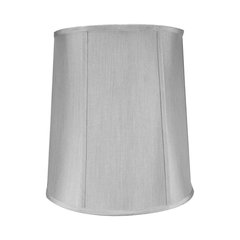 Softback Drum Shade, Bavarian Gray
Lamp Shades
A beautiful shade: If you are looking for a tall high end fabric shade this will not disappoint you for the price. The gold fabric liner is subtle and classy. Note that when the lamp is "on" the light will shine through and the shade takes on a dark grayish tint, not an opaque look as in some black shades.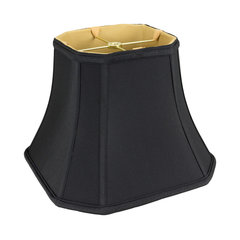 Square Cut Corner Bell Soft Back, Gold Lining And Spider Washer, Black
Lamp Shades
Satisfied Customer: I purchased two Square Cut Corner Bell lamp shades in soft black. They arrived very quickly, and well packaged in a strong box. The lamp shades are excellent quality and very well made. They look beautiful and give my bedroom a soft glow when the lamps are on. I was pleasantly pleased with the overall ambience created as I was unsure if using black would make the room to dark.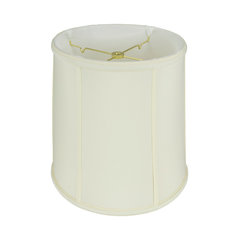 Shantung Cylinder Drum Soft Back Lining With Recessed 2" Spider, Eggshell
Lamp Shades
Lampshades: I purchased 2 of these lampshades and when they arrived they were nicely packed. They were perfect for my 2 Stiffel lamps, now the lamps look brand new too! Love them, even though I thought they were a bit expensive. I highly recommend.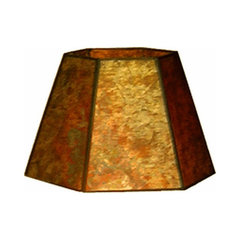 Mica Lamp Shade 8" Replacement Clip-on Lamp shade
Lamp Shades
First words in description, "Upgradelight" is to replace the tired cloth-clip shades on a couple three-clear-ball 18": tall candelabra electric lamps.: First words in description, "Upgradelight" is to replace the tired cloth-clip shades on a couple three-clear-ball 18": tall candelabra electric lamps. Shades are 6 sided and measure, point to point across the top: 5". Bottom measures, ,point to point: 7". Height of shade is 6". Seems a little scant. But bright light coming thru the mica, and it's real mica, adds a powerful glow to the setting, Lots of cherry amber wood tones illuminated by glowing 100w Philips incandescent upgrade LED bulbs. The A-19 size is our old screw in light bulb. The real mica shades are amazing. You can't get this warm elegant effect with any other shade or material. Real mica makes it the real thing. Just a beautiful effect. Worth it!.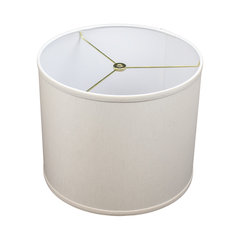 12"x12"x10" FenchelShades Drum Lampshade, Linen Ivory
Lamp Shades
Simple & Elegant: This is by far the most exceptional lamp shade I have ever purchased. The material is top grade and it adds such a beautiful touch to my LR and farmhouse decor. I will purchase from this vendor again!! Very pleased!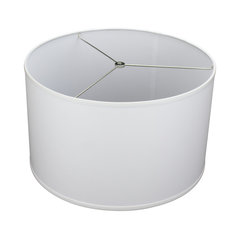 18"x18"x12" FenchelShades Drum Lampshade, Linen White
Lamp Shades
what can I say? off white. material. to find, and expensive, this one was reasonable and top quality.: what can I say? the shade is GREAT. A nice step away from white or off white. It's called "stone" a mild light grey and matches everything. Nice quality material. What an improvement from the old one. Shades are so hard to find, and expensive, this one was reasonable and top quality.