Outdoor Dining Furniture
When the weather is nice, enjoying an al fresco dinner on your patio is an opportunity you don't want to miss out on. You can make this dream a reality just by setting up some outdoor dining furniture and inviting over a few friends and neighbors. Whether it's a complete patio dining set with enough room to seat eight people comfortably, or a small bistro set for a more intimate setting, you'll be happy to have an outdoor dining option.

Patio dining sets and bistro sets are an easy way to start. You'll have a table and set of chairs that match not online in style and colors, but also in height. Of course, you can always mix and match, especially if you already own one or two pieces that you'd like to keep.

Selecting a bistro table and chairs isn't just a choice between design and colors. Make sure you also note the materials, plus their durability, weather resistance and weight, before you buy. Choices like aluminum and plastic are lightweight and easy to move, while cast iron and steel are heavier yet extremely durable. Wood, specifically teak and cedar, is a great choice, too.

Be sure that your outdoor bar stools and chairs are an appropriate height for your table, too. It's recommended that the seat of your dining chair is about 18 or 19 inches tall, and leave about 12 inches between the top of your seat and the top of the table. Bar stools can be a bit trickier, as they come in about 4 different sizes:
• 34 to 36 inches: 44- to 46-inch high counter
• 30 to 36 inches: 40- to 46-inch high counter
• 24 to 29 inches: 34- to 40-inch high counter
• 17 to 23 inches: 28- to 30-inch high counter

Take a peek at our wide selection of outdoor dining chairs, bar stools and tables and imagine yourself enjoying a savory, four-course meal outdoors with family and friends. Yum!
1 - 36 of 14,459 products
Sponsored Products
Featured Reviews of Outdoor Dining Furniture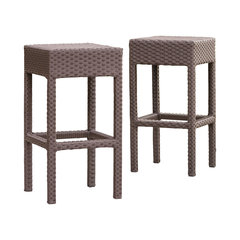 Rudolfo 2-Piece Outdoor Backless Bar Stools
Outdoor Dining Furniture
Great outdoor bar stools: I received the shipment timely and well packaged. The bar stools were just as described and pictured on the website. They feel sturdy and safe for sitting and relaxing. The paperwork with the stools recommended keeping them out of the sun and rain as much as possible in order to preserve their performance.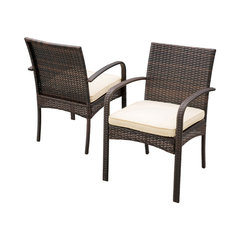 Carmela Outdoor Multibrown PE Wicker Dining Chairs, Set of 2
Outdoor Dining Furniture
Comfortable, easy to assemble: I love these chairs - they look great and are comfortable to sit it (I'm 5'5"). My husband is a tall/large person and he also likes them, although he would prefer the back to be taller (due to his height). The chairs were easy to assemble, no tools other than the provided Allen wrench required. The chairs came with lots of spare screws, which is a plus. I cannot think of any drawbacks other than that the chairs are not stackable.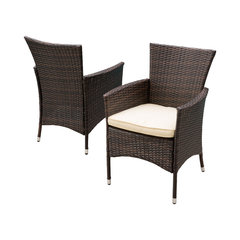 Clementine Outdoor Multibrown Pe Wicker Dining Chairs, Set of 2
Outdoor Dining Furniture
Attractive, reasonable: I looked around for a set of two chairs for my moms porch and decided on these. They're very pretty and seem comfy although they haven't gotten much use yet, hence the four star rating. We'll see how they hold up. They are in a covered space at least. Seem like good quality for the price! Solid!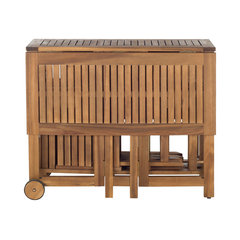 Marquette 5-Piece Outdoor Dining Set, Teak
Outdoor Dining Furniture
All around a very nice piece, a view minor imperfections: Review after 3 days, folded and unfolded, has not been subjected to regular use yet. ***Pro's***: 1. Very nice material 2. good quality construction 3. performs as advertised 4. excellent design, very space economical for storage. ***Cons***: 1. Some of the sockets used to secure the legs in the open position when the table is deployed are a little crooked so I have to work to get the locking bolt screwed in 2. the sockets that the locking bars go in to hold the legs together when the table is folded and the ones that hold the bars vertical and out of the way when the table is deployed don't hold the bars in very securely. ***Overall***: The imperfections are minor and the quality is very nice as far as I can tell. I would recommend this product.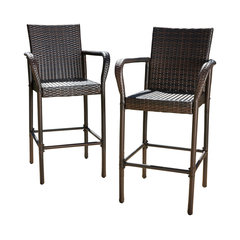 Stewart Outdoor Brown Wicker Bar Stool, Set of 2
Outdoor Dining Furniture
Beautiful chairs: I was worried about buying these chairs from the Internet without seeing them first. The style was EXACTLY what I had been looking for and the price was a lot less than I had been seeing for bar stools. I wasn't sure what to expect when they arrived, but could not have been happier. They look beautiful. I had to assemble them, which was pretty easy. They are heavy and sturdy and I feel like I hit the jackpot!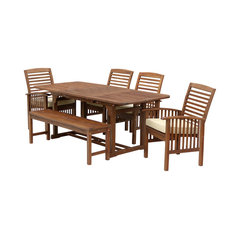 Herman 6-Piece Acacia Dining Set, Dark Brown
Outdoor Dining Furniture
Nice Set: When I first received the table and chairs, I was mildly disappointed that the wood was stained and not bare wood as it would have looked better on our deck. I had also planned on putting on teak oil to protect it but didn't want to chance smearing the stain. I opted for 3 coats of General Finishes Exterior 450 water based varnish to give the wood some life (the furniture looked pretty dull without it). After curing for a couple weeks, I put a coat of wax on everything. Lastly, coated all of the chair and bench leg ends with epoxy to reduce any chance rot. The assembly was straight forward though the table had a cracked cross member, which I opted to glue back together instead of hassling for a new piece. I also opted for a bench cushion, which I got from hayneedle that fits perfectly. All in all, I'm happy with the purchase and the extra work that I did to make more durable than it already was. The product came when expected.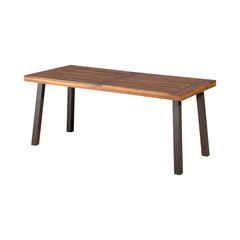 Daria Natural Stained Acacia Wood Dining Table
Outdoor Dining Furniture
Great for a Desk as well.: I bought this outside table, but when I opened it up and put it together, I thought it would look great in my office. Nice smooth surface and easy to assemble. I would recommend for an outside table or a nice office desk.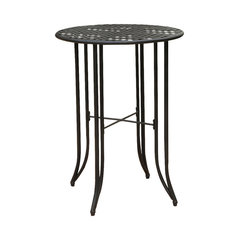 Mandalay Iron Bar Height Round Table, Antique Black
Outdoor Dining Furniture
Sturdy attractive table that was easy to put together.: Sturdy attractive table that was easy to put together. Perfect size and height for stand up eating or to display appetizers.Will probably use it them at every party I host from now on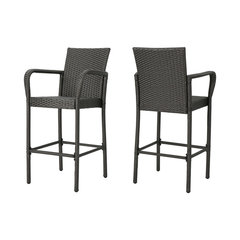 Dunedin Outdoor Gray Wicker Barstools, Set of 2
Outdoor Dining Furniture
Large Chairs: These chairs are tall-30" at the seat. They are large appearing, but note that they only hold up to 250 pounds, so big people, beware. They are a dark grey, nice looking, and seem sturdy but I am concerned about the strength of support under the seat bottoms. We will be using them with an outdoor pub table on our patio. The price definitely made them worth trying. It's nice to have 2 people putting them together also.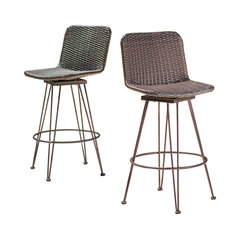 Pines Outdoor Wicker Barstools With Black Brush Copper Iron Frame, Set of 2
Outdoor Dining Furniture
Great chairs!: I ordered 6 chairs, and received them in only 2 days. They were really well packed, which was impressive for the price. Also, very easy assembly - only 4 screws, so took me two hours, including the unpacking. (I'm a 60 year old woman, and could do this myself.) They look great and worked well. Also, it doesn't state in the description, but they also swivel.