1 - 36 of 82,136 products
Sponsored Products
Featured Reviews of Rugs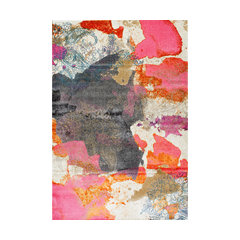 Vintage Abstract Paisley Rug, Pink, 5'3"x7'7"
Rugs
Perfect Colors: I love the mix of pinks, oranges, and grays on this taupe-base rug. The hints of purple and turquoise make for good accents. There is even some metallic gold in it that is brought out when the sun shines on it. The rug is also super soft but not too thick so it fits under furniture.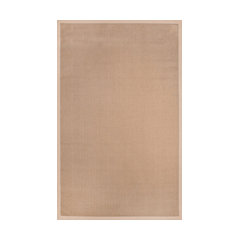 Rodanthe Reversible Jute Rug, 5'x8'
Rugs
Not reversible: I love the rug it was as expected however mine was not reversible, instead it is sort of padded with little rubber dots that help anchor the rug in place. It's exactly what I was looking for so I'm very happy with my purchase.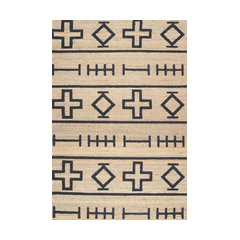 Clay Geometric Area Rug, Natural, 2'6"x8'
Rugs
Great rug for the price: This is a great price for this rug, it's a nice combo of jute and cotton so it's not super scratchy like some of the jute/sisal rugs out there. Has a cool southwestern vibe. It does smell a little at first (like all natural rugs do), a bit like seagrass or hay, but it goes away after about a week. Very happy with purchase, would highly recommend, especially for the price!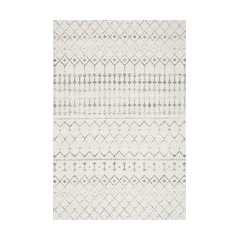 Peverelle Trellis Rug, Gray, 8'x10'
Rugs
Exactly as Pictured: I am so happy with this rug! At such a great price, it came exactly as it looks in the photo. Colors are on point and quality is what you'd expect for a rug at this price. Loving my bedroom now!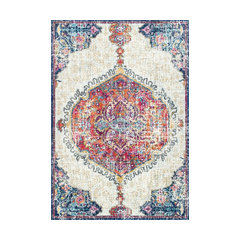 Traditional Medallion Area Rug, Multi, 8'x10'
Rugs
Love this area rug.: Love this area rug. Shopped quickly, and the quality is fantastic. I can't believe we got this price for such a high end piece that has found a permanent home in our living area. Recommend getting a felt pad underneath -its so comfortable and those foam composite pads can stick to wood underneath over time. Love this area rug. We will be back.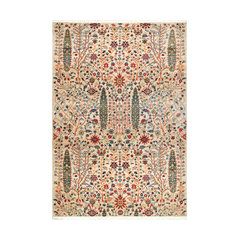 Vintage Fringe, Olive, 5'x7'5"
Rugs
Picture perfect: Looks exactly as it does on the site. Very attractive large rug. Looks well made. Not a high pile rug but yet soft. It has fringe on the ends which I like. It was an excellent price for the quality that I see. I hope it holds up as well as I think.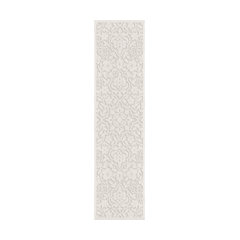 Indoor/Outdoor Sculpted Cottage Floral High-Low Area Rug, Ivory, 1'11"x7'6" Runn
Rugs
Unbelievably beautiful, detailed, and SOFT for such a low, dense pile! Perfect for under furniture too: This rug is so stunning in person! I can't believe how detailed the beautiful woven design is. I have gotten so many compliments already! It is a very low pile and is super soft. It has a high-low detailing that reminds me of a sculpture. I have never seen a rug like this before and it's amazing! I love purchasing from Orian Rugs too - they are made in America and their prices are INSANE for the incredible quality and designs! They also ship VERY fast! I am so pleased with the neutral color too - this ivory makes my room look so much bigger and matches with all of my decor! Will definitely recommend this rug to anyone who asks! Our kitty, Silver, agrees too! :)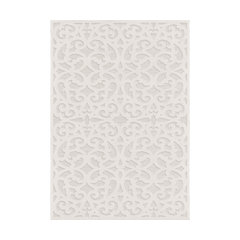 Indoor/Outdoor Sculpted Seaborn High-Low Area Rug, Ivory, 5'2"x7'6"
Rugs
BEST RUG EVER!!!!: I buy this rug and the runner and I love it SO much that I'm gonna buy another for my room too. Only one question, hopefully someone help me or this company see my question... about clean it , how do I clean it? Can someone give me suggestions or should I just hired a cleaning carpet person? Not sure how do I suppose to clean it. I love it so much that I don't want to messed up. I will appreciate your help please!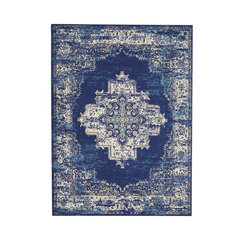 Nourison Grafix Area Rug, Navy Blue, 5'3"x7'3"
Rugs
Great deal!: After searching high and low for rugs, I just couldn't come to terms with spending 200+ on a cheap rug. With small kids, an expensive rug isn't a good investment for my family right now. So I was extremely pleased to find this rug, and under $100. It's thin, and will slide around, but with my furniture on top of it, it doesn't budge. Exactly as pictured.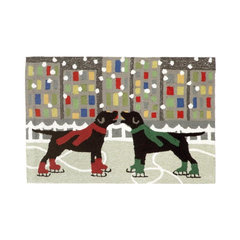 Liora Manne Frontporch Holiday Ice Dogs Rug, 2'x3'
Rugs
Love this rug! So festive!: I purchased this rug for indoor and outdoor. I have it indoor right now. It is so festive and cute. I love it. It looks well made to me,although I have only had it but a few days.