1 - 36 of 64,288 products
Featured Reviews of Rugs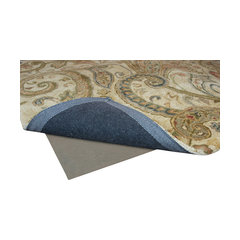 DeluxeGrip Multi-Surface Rug Pad, 7'8"x9'8"
Rugs
Soft and Squishy: This rug pad's measurements were as described. It was placed on a cold tile floor under a jute and wool rug. The dual siding is a huge plus because the felt side really helps hold the rug in place while the rubbery side keeps it from sliding. The rug would have been thin without the pad underneath but this pad makes the rug feel really soft and prevents the cold tile floor from making our feet cold. It really warmed up the whole room. It's also very springy. Although we've only had it out for 24 hours it seems like it will continue to spring back to it's original loft for a long time. Also, since it's just smaller than the 8x10 rug it allows a tapered effect on the edges of the rug so the rug isn't so high off the ground and you cannot see the pad underneath it at all. Seems like a great, durable product and doesn't have any smell whatsoever out of the package. This was important to me since some rug pads smell like rubber and it's impossible to air them out.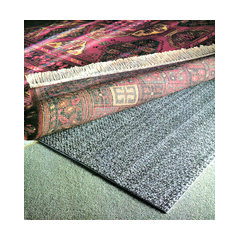 Nonskid Rug Underlay, 9 x 12 ft.
Rugs
Non-skid rug pad: We have # of these pads. They are very effective at keeping the rugs in place. There is a slight sticky reside on the floor when the pad is removed, which is easily removed with a damp mop. I imagine there is residue on th back of the rug as well, though I can't feel it. Manufacturer claims it is harmless to the rug, and I guess it would be easily cleaned away as well. It's not very thick but does add moderate cushioning.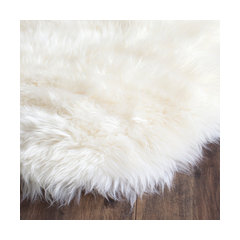 Safavieh Amala Sheepskin Rug, White, 2'x3'
Rugs
Gorgeous rug: Extremely soft, beautiful rug. Unfortunately, it smells horrible. Left it outside for three days to air out, per other reviewers' instructions, which took away a lot of the smell but it was still too bad to bring back into the house. I rubbed baby powder into it until the smell was mostly gone and set it outside for two more days. Got rid of the smell but the rug was not silky soft anymore. A quick vacuuming on low power with the upholstery attachment to remove excess powder and it was almost as soft as when I got it. If I had it to do over, I'd try leaving the rug outside for a week and skip the baby powder, but as a last ditch effort it does take away the smell.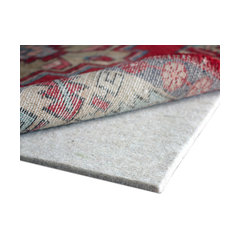 Eco Plush 100% Rug Pad, 8'x10', 1/2" Thick Felt
Rugs
Nice and Thick: I got this rug pad for a playroom. So far it's nice and thick and comfortable to sit on. It doesn't have the rubber grippers on the bottom, but I haven't had any issues with it sliding around.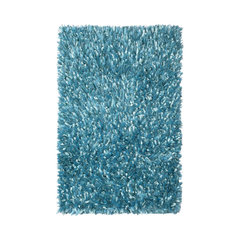 Shimmer Shag 30"x50" Rug, Aqua Blue
Rugs
Softttt: I love this rug. When it arrived I wasn't sure. It was a little stiff and prickly, and shed a lot of scratchy fluff all over the place right out of the bag, but then I washed it in a huge washer at the laundry and threw it in the dryer and all the scratchy stuff went away and no more fluff. Now it is just delightfully soft and it stays where I put it and it doesn't creep all over the place when I walk on it.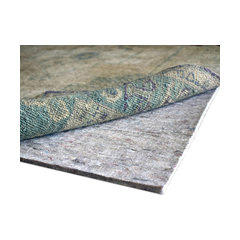 Superior Lock Rug Pad, 8'x10', 1/4" Felt/Rubber
Rugs
perfect pad: I love the combo of the rubber backed side for our hardwood floors, combined with the felt side to firmly grip the rug I place on top. I think I will be using this type pad again in the future. Its also thick enough to add a nice layer of cushioning to the rug.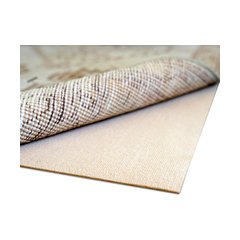 Anchor Grip Rug Pad, 2'x3'
Rugs
Great Rug Pad!: Super fast shipping! This pad is exactly what we needed for a high traffic area in our home. It is on top of hardwood flooring and keeps our runner in place. It is very dense and has a low profile so it doesn't add height which helps with the transition from hardwood to carpet. This is especially important for smaller rugs or runners. Highly recommend.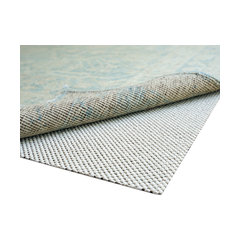 Super Lock Natural Rubber Rug Pad, 2'x3'
Rugs
Sticks to floor and gives carpet a nice feel: The rug pad came a week after I ordered it, fits nicely under the rug, and feels good underfoot. But it is real latex, and smells like rubber. That is why I gave it only four stars.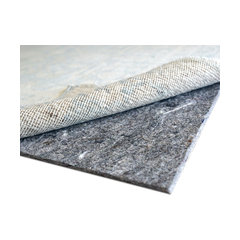 Contour Lock 1/8" Felt and Rubber Rug Pad, 9'x12'
Rugs
Just what I needed: I bought this to go under a huge, wool area rug in my great room. I didn't measure but, either the pad is slightly larger than stated, or my rug is slightly smaller. I plan to trim it down when I'm sure my rug has completely flattened out. Prompt delivery.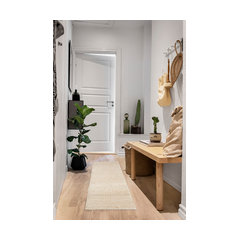 Tuscany Handmade Beige Jute Dhurrie Runner Rug, 2.5'x9'
Rugs
Tuscany Handmade Beige Jute Dhurrie Runner Rug, 2.5'x9': This is the perfect rug if you're looking for something neutral to blend into your space, but also want to add a little interest. The subtle geometric pattern on this rug is perfect, you can't notice it super easily but it's definitely more eye-catching than your average neutral rug! The heavy weight of the rug is fanstastic and it doesn't move around. It will go with any color scheme.