Beer and Wine Refrigerators
A wine cooler or mini fridge is the best friend of beverage connoisseurs worldwide. Chances are your drink of choice is best served chilled, so you'll want to invest in a wine fridge or beer fridge. Since beer and wine are best kept at different temperatures and sodas are a whole different story, keep in mind what kinds of beverages you'll be storing while you shop. Here's a quick guide complete with chilling tips for every cold beverage lover out there:


What should I look for in a wine cooler?

You'll want to consider what types of wine you prefer — are you more of a chardonnay drinker, or do you prefer a cab? Different varieties like to be kept at different temperatures, so make sure your new wine fridge can beat the heat.
• White wine: Best served between 45 and 50 degrees Fahrenheit, depending on the variety.
• Red wine: Best served between 55 and 65 degrees Fahrenheit, depending on the variety.
• The best of both worlds: If you can't decide which type you like best, consider purchasing a dual zone wine cooler. This style has two separate temperature zones that allow you to keep both your red and white wines chilled to their maximum potential.


What range of temperatures should my beer fridge have?

Just like wine coolers, a beer cooler's temperature range depends on the variety of beer you prefer.
• Warm temperatures: Beers like strong ales, bocks, Scotch ales, imperial stouts and barley wines prefer temperatures of 50 to 60 degrees Fahrenheit.
• Cool temperatures: Your American pale ales, porters, medium-bodied lagers and Irish stouts like it to be 45 to 50 degrees Fahrenheit.
• Cold temperatures: Treat those pilsners, light-bodied lagers, and Hefeweizen beers to a chilly 40 to 45 degrees Fahrenheit.
• Very cold temperatures: Your macro lagers, light beers and malt liquors should be kept at 35 to 40 degrees Fahrenheit.


What's the difference between a beer fridge and a kegerator?

If you enjoy a fresh draft beer from the comfort of your own home, a kegerator is a great choice. Along with your new dispenser, you'll need a carbon dioxide (CO2) tank, a tap and a faucet. The best part is your beer will keep for up to a few months without diminishing in quality. If you'd rather hear that satisfying sound of cracking open a cold can or bottle of lager, a beer cooler is your best bet. Don't forget to restock when you take out a cold one!


Can I keep my beverages in a mini fridge?

Beer, soda and other brews can be kept in a mini refrigerator along with some snacks for those movie marathon cravings. Wine lovers beware, however! A regular mini fridge's temperature is much too cold for your vino and could damage the taste.
Sponsored Products
Featured Reviews of Beer and Wine Refrigerators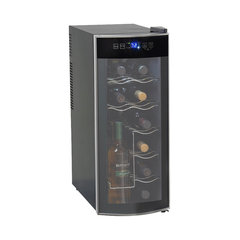 12-Bottle Thermoelectric Countertop Wine Cooler
Beer and Wine Refrigerators
Nice product but not for large bottles: Overall this is very satisfactory, compact, quiet, easy to use. It came with a support bracket in back unscrewed, but the phone support line responded well and it was an easy fix. One caution: it is designed only for standard wine bottles. I assumed the "standing" part would hold champagne-style bottles but no. You can barely squeeze two of those onto the top shelf. So if you're a big bubbly drinker, plan to store it somewhere else.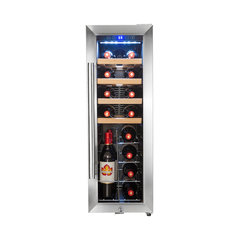 AKDY 20-Bottle Touch Panel Single Zone Wood Shelves Freestanding Wine Cooler
Beer and Wine Refrigerators
Good price, easy to setup and function: Great design!This does exactly what I wanted it to do. It keeps my white wines nice and cold. I love the added benefit of the section for standing wine, as I am able to store already opened bottles. Couldn't be happier with this purchase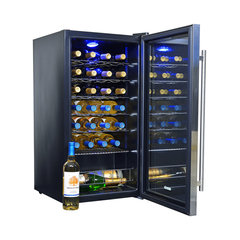 NewAir AWC-270E 27 Bottle Compressor Wine Cooler
Beer and Wine Refrigerators
Easy installation: We just installed it so can't give a review on the performance yet. So far it's good. However, the delivery system needs to be revamped. We already had a scheduled delivery day, they still had to call and verify the order and since nobody was home to answer the call, our delivery was rescheduled to a much later date. After much going back and forth with the delivery customer service we had no choice but to accept the late delivery date. I ended the call with 'I will remember not to order from Houzz again due to the hassle & inconvenience of delivering the product'. Lo and behold, the wine cooler showed up at my doorstep the next day.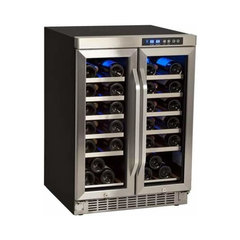 36-Bottle Built-In Wine Cooler
Beer and Wine Refrigerators
Quiet operation: The Edgestar wine cooler runs very quietly and stores a lot of wine! It has an attractive appearance with the stainless steel front and handles. I've only had it for one week, but I hope it lasts for years beyond the warranty.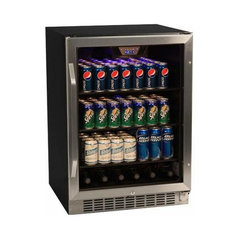 Beer and Wine Refrigerators
Great product!: Keeps drinks COLD and fits perfect in our new kitchen. It looks great and it's a very sturdy product with a heavy door, great insulation, and a tight seal. Only minor setback is that the drinks on the very bottom shelf aren't quite as cold as the others, but after adjusting our beverage placement, we figured it out. Have had several compliments on it since we put it in. Would recommend this product to others.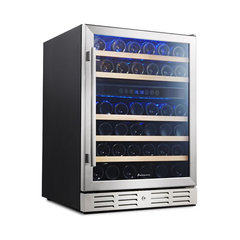 Kalamera 24'' Built-In Wine Refrigerator 46-Bottle Dual Zone
Beer and Wine Refrigerators
Good looking wine fridge and very quiet.: It was a leap of faith to buy this sight unseen and have it installed in our kitchen. It arrived and was installed under our counter and we were so pleased. The blue light is elegant and the compressor is truly silent. Love the wooden shelves (research says wood minimizes vibration and its effects on the wine). It is exactly as pictured on the Houzz website. Each shelf accommodates eight bottles. If I had to identify a shortcoming it would be that, depending on the shape of the wine bottle, they may not lay directly between the slats when the shelf is filled to capacity. Not an issue for us. Extremely pleased with this wine refrigerator.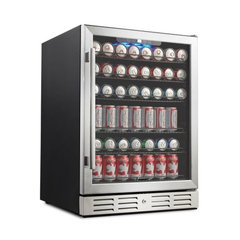 Beer and Wine Refrigerators
Nice Beverage Fridge: This product came well packed and so far is 5 stars in my book. The shelves slide nice, though could come out a little further. It is being installed under cabinet. Looks nice.I will update this post once I've used for a month.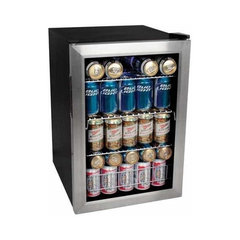 EdgeStar BWC90 17" Wide 84 Can Beverage Cooler
Beer and Wine Refrigerators
EdgeStar Smal Fridge: It fit almost perfectly well. The dimension posted is misleading as it did not include the hinge so it was a tad too tall for under the counter where we needed to put it. Luckily, the problem was solved by removing the plastic cap over the hinge.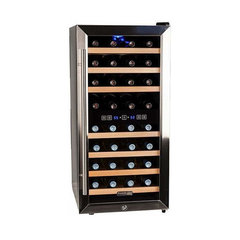 Koldfront TWR327E 16" Wide 32 Bottle Wine Cooler, Black and Stainless Steel
Beer and Wine Refrigerators
Looks good and now a "built in"!: Loved this! Dual temp controls, great price and beautiful to look at! We gave it a built in look - husband built a cover and bench storage banquette next to it, added grates on top and and the sides and painted the "housing" white to match our new white cabinetry - looks seamless and so modern and we saved $$$ !!!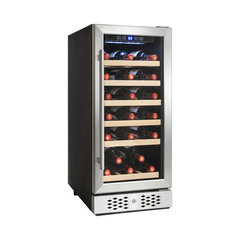 AKDY 30 Bottle Single Zone Built-in Compressor Electric Wine Cooler Refrigerator
Beer and Wine Refrigerators
Good purchased.: Good look. Quite motor. I wish we picked a size a little bigger than what we've got, but its ok for now. Lighting (blue light inside) is pretty when empty and once its full, fridge turns dark in the inside. We keep the top layer empty instead (see photos). Manufacturer need to add light from the bottom. Overall, it was a good purchased.