Bookcases
While bookshelves are traditionally used to house one's literary collection, they are also a useful storage and display solution. Consider using a bookcase to exhibit photos, artwork, souvenirs and collectibles alongside your hardcovers and paperbacks. Whether you're looking for a more unique look, like a ladder bookcase, or a compact storage solution, such as a corner bookshelf, shop for bookcases below!


What types of bookcases are available?

As you browse the wide variety of bookshelves for sale, think about where they will go and what you'll use them for — their design should be complementary to your current decor as well as contain the type of storage or display components you are looking for. Apart from the standard vertical design to showcase and store your books, there are a few other options you might want to consider:

The ladder bookshelf looks like — you guessed it! — a ladder. These neat pieces lean against the wall and typically feature shelves that diminish in depth from bottom to top. Given their narrow, vertical shape, a leaning bookshelf is a great space-saver that doesn't need to be attached to the wall, making them portable, low maintenance and a solid choice for almost any room.

A corner bookshelf is a nifty design that utilizes every inch of space in your corners, which make these unique pieces ideal for smaller rooms or homes. Corner units are also ideal decor — they are functional, aesthetically pleasing storage solutions that fill awkward spaces that may be otherwise difficult to stylishly occupy.

Originally used by barristers, a Barrister bookcase is constructed of multiple shelves that can be stacked atop one another to form a complete unit. This, along with handles and top-hinged doors on each shelf, allows for the entire unit to be moved easily with books still inside. Modern models may not be fully portable like the originals, so if you're looking for something truly authentic, double check the product description to be sure.

Wall bookshelves are great storage solutions for a home that has little floor space and a lot of bare walls. Doubling as both decorative and functional, floating bookshelves and wall units are the perfect way to add a little extra organization and pizzazz to a space — just make sure they are mounted well and made to hold the amount of weight you intend to put on them!


What material should I choose for my bookcase?

The most common and affordable options for bookshelf materials are wood veneer or boards created from compressed layers of wood and plywood. While they may cost less than other options, these two bookcase materials are not as sturdy and may crack, chip or even warp over time. More durable materials like solid hardwood and metal tend to ask more of your wallet, but they'll also be a piece that you can use for years to come.


What should I keep in mind when looking at display cases?

Different types of collections require different exhibition strategies. Here are a few items to consider while you shop for your assemblage's new home:

Size. Keep in mind how large your collection is, but don't forget to consider the available space in your home too. Be sure to measure the length, width, depth and height of your available area to ensure that your chosen display case will fit.

Materials. Certain collectibles will look better and last longer being housed in a translucent material like glass, acrylic or plexiglass. Other collectibles will look stunning in a wood or plastic case. Whatever you choose, keep durability in mind. If your collection features heavier items, it's best to invest in materials that will hold up over the years.

Mounting. If you have ample floor space and a large collection, consider a tall, freestanding unit or a wide, horizontal case that offers even more display surface on top. If your home is smaller or you'd like to arrange your grouping at eye level, wall-mounted display cases are a great solution. If you do opt for a wall-mounted design, be sure to mount it on studs and with a mounting system that holds it securely to your wall; it's also important to make sure the combined weight of your collection and case don't exceed any weight limits for the system you choose.

Lighting. Lighted display cases can illuminate collectibles or put a spotlight on featured items. Some offer bottom lighting while others light your collection from above, so choose the style you feel will best highlight your collection.

Humidity control. If you're displaying wooden objects, musical instruments or items that must be stored within a certain range of temperatures, always consider your humidity and moisture control options.
Sponsored Products
Featured Reviews of Bookcases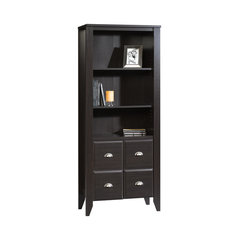 Shoal Creek Library With Doors, Jamocha Wood
Bookcases
Great as usual, Sauder product: Arrived ahead of schedule and in great shape. No damage from Fed. Exp. at all. They look really nice in our living room. Just follow the directions, step by step, and there is no problem putting together. Have used Sauder for 25+ years without issue.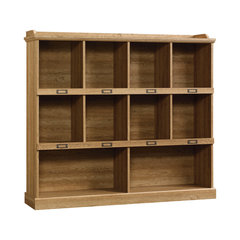 Barrister Lane Bookcase, Scribed Oak
Bookcases
Great Bookshelf: Easy to assemble, looks great, and will hold quite a few books. The bookcase can wobble a bit so if you have children I would definitely recommend using the safety bracket included to secure the bookcase to the wall.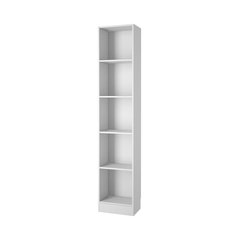 Element Tall Narrow 5 Shelf Bookcase
Bookcases
Nice looking and fits well in small spaces: Nice looking and great for tight spaces. Would be especially fantastic if all shelves were adjustable (the bottom and top shelf cannot be adjusted). I filled this will iKea storage boxes, and it looks great in the office space.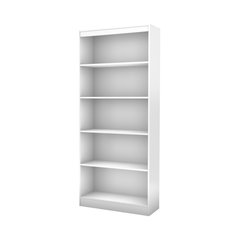 Devon 5-Shelf Bookcase, Pure White
Bookcases
Great, strong bookcase: This bookcase is very nice; it is easy to assemble (my granddaughter and her boyfriend assembled it!), but I would recommend assembling it in the room you want it to go in as it is VERY heavy! My daughter loves it, and it's great because it has moveable shelves. (One is stationary.). Great value.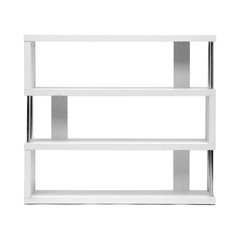 Baxton Studio Barnes White Three, Shelf Modern Bookcase
Bookcases
Perfect!: I ordered 2 of these bookcases to be placed side-by-side. I wanted the shelves to come approximately half way up the wall leaving plenty of space above for framed pieces. Not so easy to find with clean modern lines. Final results are exactly what I had hoped for. Easy to put together and looks great. Cost is extremely reasonable. The shipping did not begin quite as well. One box was fine but the other had a gouge on the outside which extended inside, and unfortunately, lead to a crushed side panel. After conferring with Maureen and later, Beth at the support center, within a few days I had a new side panel delivered. Wasn't happy that the box had been crushed mid-transit, bt the support team could not have been nicer or more competent. And that's all anyone could hope for.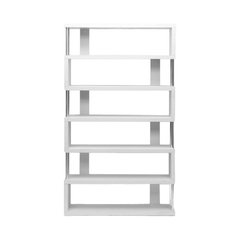 Baxton Studio Barnes Six, Shelf Modern Bookcase, White
Bookcases
Great New Display for our Store Window!: We received the shelving unit approximately 2 weeks after it was ordered. It was very simple to put together with a minimal number of tools that we already had in the store. It has a clean, contemporary profile and is very sturdy once assembled. We have put it in our storefront window to display new collections of products.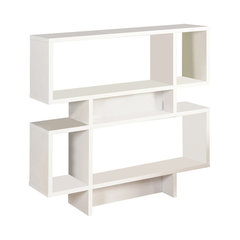 Wood Cube Bookcase Display Cabinet, White
Bookcases
Quality and shipping packaging aren't great but it looks pretty good: I was disappointed and surprised that this bookcase arrived in one giant box of 95 pounds (of pressed board inside, of course), which I had to pay movers to bring into my house and set up. The box was so unwieldy that I'm sure the shipping company had trouble handling it, as was evident in the damage to nearly every corner of the bookcase's particle board (see photos). Some of the dents can't be prevented from being visible once it's assembled, but if you don't look too closely and know going in that it's cheap and will ship like this, it looks pretty good from afar, and is definitely an interesting bookcase. I want to give 10 stars to Houzz for their customer service, however. I have received nothing but professional, prompt, and impressively customer-service-focused assistance from the Houzz support team to resolve both this damaged item problem and another damaged item problem, along with one canceled order. Another thing about the aesthetics of the bookcase: large screw holes are visible once assembled (see photos) and the manufacturer provides thin plastic circular sticker discs to cover these. Mine arrived with just 12 of these discs, but there are 33 screw holes to cover, so I'm hoping the additional discs are coming soon. This of course is not ideal, either, but this is also an inexpensive bookcase.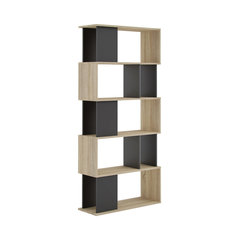 Bookcases
Cool bookcase, sturdy, good price: Really love this bookcase.. it's very unique and creates visual interest while also being super practical and holding a lot of books. It took only an hour or so total to put together and the instructions were pretty good. It's very sturdy. A little heavy, but not terrible. It also came with hardware to attach it to the wall for extra security. Very satisfied with this purchase, especially for the price!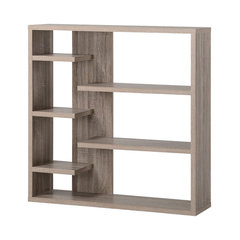 Homestar 6 Shelf Storage Bookcase, Reclaimed Wood
Bookcases
Nice shelf, but best be handy!: This shelf is quite nice and very sturdy, but thank goodness my very handy husband was assembling it. It was tricky to follow the directions to get everything lined up. Once done, super!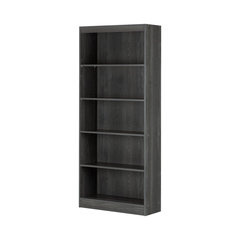 South Shore Axess 5 Shelf Bookcase, Gray Oak
Bookcases
Gray oak bookcase from south shore: South shore customer service reps had great patience and empathy for me. The company is remarkably professional, and the wait time to speak to someone to assist with assembling was around 30 seconds, so glad I bought this book case from South Shore/ Houzz.