Sponsored Products
Featured Reviews of Bathroom Vanities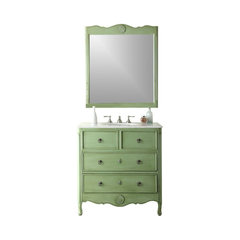 Traditional Bathroom Vanities And Sink Consoles
Bathroom Vanities
Vanity is gorgeous.: Vanity is gorgeous. However the backsplash arrived cracked in half and They will not re send a new one because they say they won't ship it alone- for fear of breaking.... Luckily thenvanityntop is white marble and I'm told I can get a matching one from a local tile company -- hope so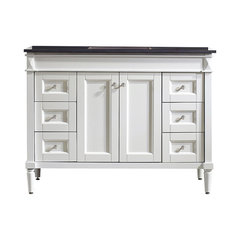 Ida Single Vanity, White, Black Galaxy Granite Top, Without Mirror, 48"
Bathroom Vanities
Great Vanity: This vanity is beautiful ! It is solid wood with the glide option on the drawers and cabinet doors. The marble top and legs add a touch of elegance. Definitely a good buy for the price.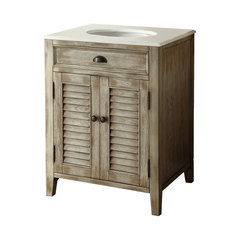 Cottage Abbeville Vanity, 26"
Bathroom Vanities
Beautiful!: This is actually the second vanity y purchase. I have both colors, and personally prefer the green. I felt the color on the driftwood like color is not exactly as one can see in the computer image. This can be due to my computer. However, it is still beautiful and very happy with my purchase.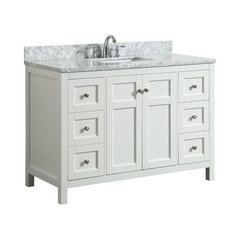 Adley White Bathroom Vanity With Marble Top, 49''
Bathroom Vanities
Chic and timeless: The Carrara marble countertop is solid and smooth, and it's imported from Italy! The drawers and doors are made with soft-close hardware and the feet are adjustable to ensure it's level and there are no gaps. You can tell this piece was made with care and attention to detail. There's also a matching mirror here: https://www.houzz.com/product/110117344-adley-white-bathroom-vanity-mirror-46x32-transitional-bathroom-mirrors/lid=83417480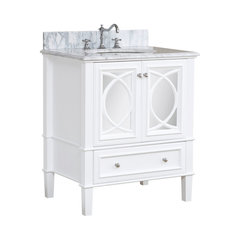 Olivia Bathroom Vanity, White, 30", Top: Carrara Marble
Bathroom Vanities
Everything we wanted and more: Got two for the master bath. Packed with extreme care. Not a scratch. Beautiful workmanship. Stunning marble. Stylish faucets. (Was easy to find pop up drains at hardware store). Love, love, love.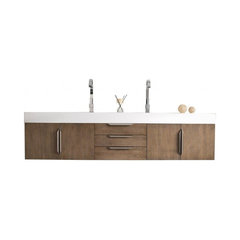 Mercer Island 72" Double Vanity, Latte Oak
Bathroom Vanities
solid modern vanity set: Love the product, appears very well made. Only star looks because of lack of info here on sink design. I had to reduce the water flow for the faucet to not splash over the front. Also know that the sink is not fill able, no plug option. No overflow for your drain pieces. I wish I knew before the entire design limitations, however it is a beautiful modern piece.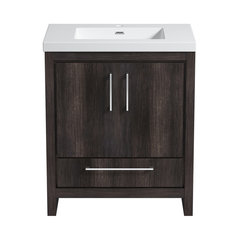 Maddox Freestanding Bathroom Vanity, 30"
Bathroom Vanities
Solid and well-made: I'm impressed with how solid and well-made this vanity feels. The dark wood of the cabinet contrasts well with the ceramic counter. It's definitely a stunning piece. There's ample room to store the whole family's toiletries in the drawers, too. And an added bonus is that because it's wall-mounted, it makes it easy to clean. Assembly is super easy, you just place the top on the body and voila!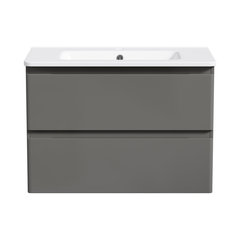 Lexis Wall-Mounted Bathroom Vanity, Gray, 31"
Bathroom Vanities
Clean and simple design: I really enjoy the clean lines of this floating design – right down to the handle-less drawers. It's a fantastic addition to an apartment bathroom, as the wall mounting really saves on space. The matte gray finish contrasts perfectly with the white basin. It also comes with various types of screws that adapt to different walls that ensure it's stable and secure.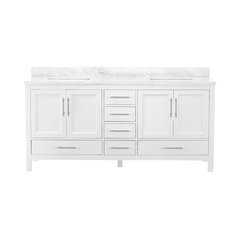 Kendall White Bathroom Vanity, 72"
Bathroom Vanities
Love the drawer dividers: There are so many great storage options with this vanity! The drawer dividers are perfect for keeping cosmetics tidy and the soft-close function is a high-end touch. The smooth and velvety marble top gives it that extra feeling of luxury.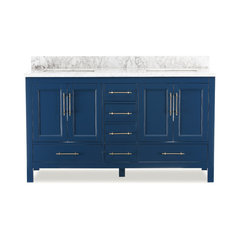 Kendall Blue Bathroom Vanity, 60"
Bathroom Vanities
Love it: So happy with our vanity. The hardware is more of a brushed gold and I purchased a brushed champagne faucet to go with it and it is stunning. The blue is perfect for my kids bath. Keeps things fun and elegant at the same time.