Bathroom Vanity Lights
Vanity lights are essential to bathrooms for many reasons. Brighter bathroom lighting makes precision tasks, like applying makeup and shaving, easier and installing a combination of bathroom light fixtures, including wall and ceiling lights, will reduce shadows cast across your face. And as a place where we start our day, the bathroom should have the potential to be energizing and relaxing. Keep the following tips in mind as you shop Houzz lighting for your new bathroom lights:
What type of bathroom vanity lights are there?
There are two primary types of vanity lighting that you can (and should) layer with a ceiling fixture for optimal illumination of a room that's often windowless.
Horizontal Wall Lights: These fixtures are mounted above the mirror and usually include multiple lights. They're available in a variety of styles, including upward or downward shades. Note: Uplight fills the room with light, which is especially helpful in dim powder rooms, while downlight puts a spotlight on the mirror and the task at hand.


Vanity Light Bars: The difference between horizontal wall lights and light bars are that these can be installed both horizontally above your bathroom mirror or vertically alongside your reflection.


Bathroom Sconces: A pair of single-bulb sconces are small, but mighty. One on the right and left side of the mirror will cast even lighting across an onlookers face. Bathroom wall sconces complement overhead lights and they're usually designed with a decorative flair to act as accent lighting.
Where should I place my vanity lights?
The location of your vanity light fixtures will depend on the size of your mirror. If it's large or flush against a side wall, you'll likely have no other place for installation other than above the mirror. Bathroom lights over the mirror should be about 75 to 80 inches from the floor. If you're working with a smaller mirror, mount bathroom light bars or sconces on either side about 36 to 40 inches apart. The center of each bulb should be at eye level or approximately 66 inches from the floor.
What type of lightbulb should I install in my bathroom wall lights?
Halogen bulbs put off a crisp, pure white glow. They provide the brightest light, but they burn faster and hotter than their energy-saving counterparts. Xenon and fluorescent bulbs may cost more upfront, but they'll lead to energy savings in the long run. If you have a bigger budget for bulbs,
dimmable LED vanity lights
are perhaps the most favorable. They provide bright light for getting ready in the morning and ambient light for relaxing in the tub after a long day.
Related:
Learn the 3 types of lighting and how to use them
Can I install bathroom lighting fixtures over my shower?
The last thing anyone wants to do is clamber out of bed and step into a cold, dark cave of a shower. Installing a bathroom light fixture in a shower can be tricky though since you have to use specially designed lights that are meant to withstand high moisture. A recessed bath light with water-resistant trim is your best bet. You'll want to look for one that's intended for
damp or wet locations
.
1 - 36 of 50,244 products
Sponsored Products
Featured Reviews of Bathroom Vanity Lights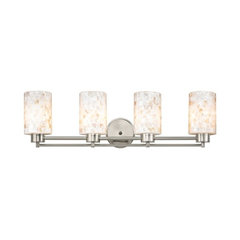 Modern Bathroom Light, Satin Nickel, Mosaic Glass
Bathroom Vanity Lights
Initially undecided: I would describe this product as mediocre. it looks like something you would buy @ a market in Mexico. I was unsure if I would keep it or not but it looks quite pretty installed.It looks as it appeared on houzz, but it is always to tell quality from a photo. I would recommend this product but remember you get what you pay for.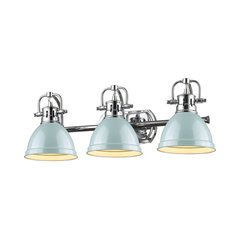 Duncan 3-Light Bath Vanity, Chrome With Seafoam Shade
Bathroom Vanity Lights
Was hoping for better quality: The lamp aesthetically speaking looks good but the quality is not there. The white interior of the lamp shades were scratched. Each individual lamp is not straight horizontally and can't be adjusted. Overall the light was easy to install and works but better craftsman ship is needed. Made in China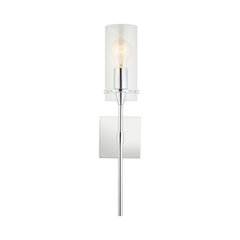 Effimero 1-Light Wall Vanity Corridor Sconce With Clear Glass, Polished Chrome
Bathroom Vanity Lights
Great for the value: This lamp is great for its value, it looks elegant when installed. I wish the brass color was a bit more vibrant but other than that it's beautiful, simple, it makes a statement.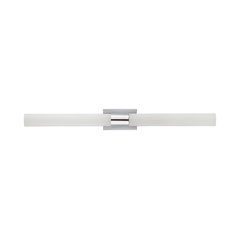 Perpetua 42" LED Vanity Fixture 53.5W Dimmable Frosted Glass 4600 Lumens, Polish
Bathroom Vanity Lights
Good looking light: It is going onto a bathroom that is in the process of being remodeled. The light arrived quickly and was well packed. It is exactly as described but as yet has not been installed so I can't tell you any more but I think it will be a good looking addition to my new bathroom.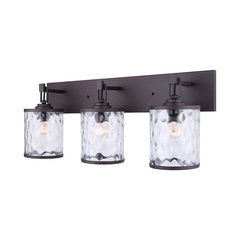 Canarm Cala 3-Light Vanity With Watermark Glass, Oil Rubbed Bronze, Easy Connect
Bathroom Vanity Lights
Bullseye: This wonderful light checks all the boxes for my small guest bath. The light is on a dimmer which renders it perfect for any occasion or need. The tasteful look has a slight industrial vibe but could crosses any lines in terms of decorating as would work in many settings. Installation was quick and easy. Love it.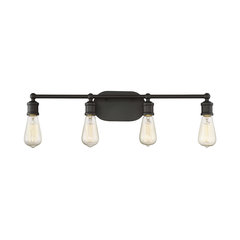 Vintage-Style 4-Light Industrial Bath Bar, Oil Rubbed Bronze
Bathroom Vanity Lights
Arrived quickly: Wasn't able to keep them because they didn't fit right in the space I intended but they seemed nice, arrived quickly. Had to pay shipping to return. Hoping my refund comes quickly.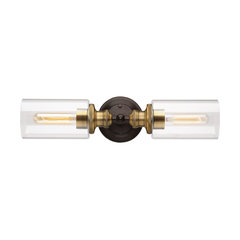 Archives 2-Light Bath, Antique Bronze
Bathroom Vanity Lights
Great for the price: We used this as the light over the mirror in our bathroom and it looks fantastic, we were going for a clean, minimal look and this light gives the bathroom a little bit of flavor.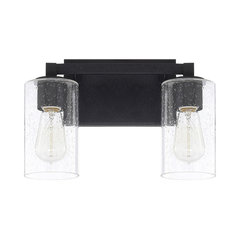 Ravenwood 2-Light Bathroom Vanity Light, Black Iron
Bathroom Vanity Lights
Love!: Love the look of the light and fits my powder room beautifully! A couple little issues, one of the shades has a chip in the edge, not really noticable if turned to the back and because it's the seeded glass. The other is very sharp on the edges, I was afraid I was going to slice my hand when putting the bulb in. Lastly, the screws that hold the shade are centered, top and bottom which allow the fixture to be able to kind of rock side to side if your box is not completely flush in your wall (which mine is not). Once it's up, and the bulbs are in, its perfect!