Window Blinds and Shades
If you're looking for a simple way to dress your windows, that is both easy to maintain and aesthetically pleasing, then blinds and shades may be for you. Depending on your style preference and budget, a range of window shade and blind options are available — just be sure to pay attention to durability, weight and quality while shopping. Read on for advice on how to choose the perfect window shades and blinds for your home.


Are window blinds right for me?

Often one of the least expensive options in terms of window treatments, blinds are easy to maintain, have a clean appearance and don't take up extra room. They allow you ultimate control over privacy and sunlight — depending on the style you go with, you can pull up shades to expose a window entirely, angle slats to control the direction of the light, or close them tightly to block out any sun. Consider where the light comes in from each window and at what times of the day, as well as any privacy concerns (close neighbors, busy streets, etc.) to help you decide on the design that's right for you. Remember, if you can't seem to find ready-made options to your liking, you can always go with custom blinds to get the exact look and function you desire.


What types of window shades are available?

Lot's of specialty features are available, such as solar blackout shades, motorized blinds, and cordless blinds; but the main differences between types of shades are in the material used to make the slats and the size of the slats. See below to learn about each style:

Vinyl blinds: Generally the least expensive option, vinyl units are lightweight but can be flimsy, bend easily and are usually available only in smaller slat sizes.

Aluminum blinds: These are slightly more expensive than vinyl, however they're of better quality while still being lightweight. They're available in a large range of sizes, colors, and finishes, including metallic or soft suede.

Faux wood blinds: Available in one and two-inch sized slats, faux wood imitates the real thing without warping, fading, or cracking. They are easy to clean and are moisture resistant, but also more expensive and the heaviest horizontal blind option.

Real wood blinds: These are actually lighter in weight than faux wood and will give a room a natural, organic feeling. While this window shade option will block a considerable amount of light, they're likely going to be the most expensive.

Vertical blinds: Like the name suggests, this type of blind has vertical slats instead of horizontal slats, which swivel open or closed, and pull to the side of your window.


What's the difference between inside mount and outside mount blinds?

Inside and outside represent the two ways you can mount your shades, which is essentially an aesthetic preference. Inside mount designs sit within the recessed window frame so that the shades are flush with the wall, while outside mount units are hung outside of the frame on the wall and cover a larger area. For inside mount, carefully measure the inside of the window frame from top to bottom and from left to right, as well as the depth of the window; this will give you the overall dimension of your shades. For outside mount, measure from where you plan to hang the shade to where you'd like it to drop, and then measure from side to side. Add 2 inches at the top to allow for mounting brackets, and 2 inches to the sides if you want extra coverage from the light sneaking through the cracks.
Sponsored Products
Featured Reviews of Window Blinds and Shades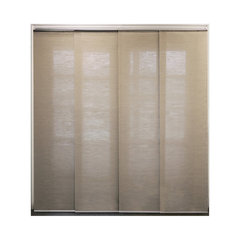 Adjustable Sliding Panel, Nevada Timberwolf, 78"x96"
Window Blinds and Shades
great but...: easy to put up and did the job. I gave it a 4 instead of 5 bc I had to wait for parts because there were key pieces missing. took a week for replacement parts but they were sent.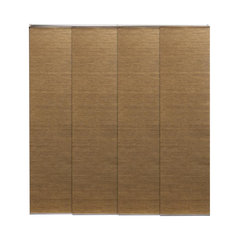 Adjustable Sliding Panel, Lattice Latte, 78"x96"
Window Blinds and Shades
Chicology Sliding Panels: I purchased these panels to cover my sliding doors and was very pleased after hanging them. They look great from the inside, and better from the outside. I only gave 4 stars because I had attached the panel backwards and needed to remove it to correct my mistake. I could hardly get the panel unattached, they were so tight. Instructions did not include how to snap them together.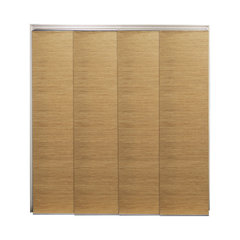 Sliding Cordless Shade, French Sandalwood, 78"x96"
Window Blinds and Shades
Great, unique blinds: I purchased these to hide a washer/dryer from sight. They were easy to install and easy to trim to the desired size. The blinds slide effortlessly and smoothly. The vanilla color is very slightly yellow, not the off-white, slightly tan that I expected (but the color works better for me than a beige/off-white). Overall, a great choice if you're looking for something unlike the ubiquitous louvered or roller-blind winding coverings.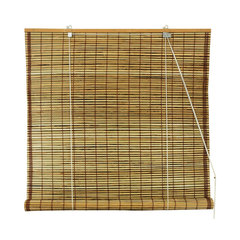 Burnt Bamboo Roll Up Blinds, Tortoise, 60"x72"
Window Blinds and Shades
Overall pretty happy with these but a couple notes: These look pretty nice, and let about the right amount of light through for the room I have them in. I wish the mount points were more even and consistent. I ended up drilling a few extra holes in my wall because I mistakenly assumed that they were all the same and symmetrical, which they are not :/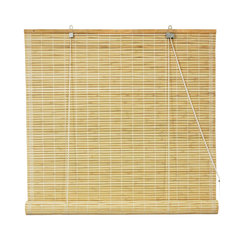 Bamboo Roll Up Blinds, Natural, 24"x72"
Window Blinds and Shades
Great Bamboo blinds: I am very happy to see that the quality of these bamboo blinds do stand out nicely! I just put them up and they look good on my deck. I used those for privacy from my nosy neighbors. I will be ordering 2 more for the other side of my deck to keep the sun out. Thank you for the great bamboo blinds!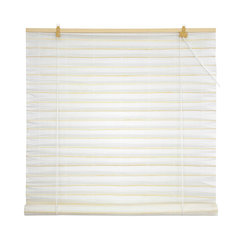 Shoji Paper Roll Up Blinds, White, 24"x72"
Window Blinds and Shades
These paper shades fit my needs perfectly.: These paper shades fit my needs perfectly. They are inexpensive, very easy to install, light weight and provide privacy. They filter light but are not black-out. I would order them again.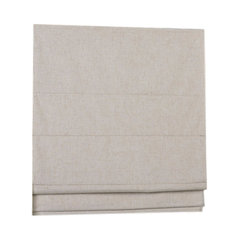 Soprito Blackout Roman Shade, Beige, 32"
Window Blinds and Shades
Received wrong shades - Linen is not Ivory: Order was confused. Needed ivory, but received linen. Not sure where the mistake was. Homespun fabric has imperfections that provide a nice character, but don't expect perfection. Roller mechanism is strong and works reliably. Was tricky to mount roller into brackets, but after mastering the first it should be no problem. Finished installation and shade look very well.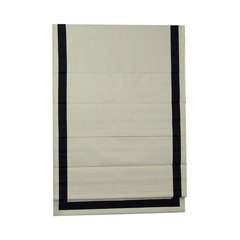 Slumbra Thermal-Backed Roman Shade With Ribbon Border, Black, 36"x63"
Window Blinds and Shades
Perfect !: These Roman shades were a perfect purchase. They coordinate with striped curtains I had already. I purchased 5. All arrived well packed in great shape. I gave each a quick iron press before my husband installed them. Love the no cords feature!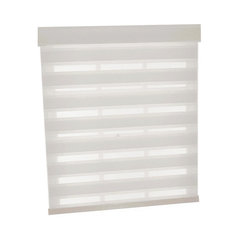 Sumner Sheer Shade, 35"x72"
Window Blinds and Shades
great look - perfect for a bathroom!: I bought this shade for our guest bathroom and liked it so much that I bought another for the master bathroom. It is great for adjusting the amount of light and privacy you want. It has clean lines and looks like it will be easy to clean and maintain in a bathroom. It's a little tricky to install, but so are most shades.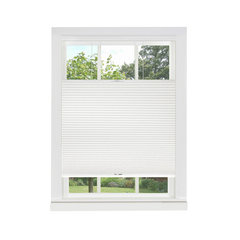 Newkirk Cordless Shade, White, 35"x64"
Window Blinds and Shades
Top Down Bottom Up Cellular Shades: Great cellular shades, at a very reasonable cost, and good color (alabaster)... placed in my bedrooms upstairs. Very easy bracket installation. They really compliment the room.