Kitchen Islands and Carts
You can open up your space and add extra counters, shelving and cabinets with kitchen island or kitchen carts. A kitchen island with seating also provides a place for your family to sit, eat and socialize. Top one off with butcher block and install a sink, and you've also got a lovely space for preparing food. We've put together a few tips to help you decide which style is right for you:


Which should I choose: a kitchen island or a kitchen trolley?

Your choice depends mostly on preference, budget and available space. Here are some pros and cons for each option to help you decide:
• Kitchen cart: A cart is smaller, portable and usually on wheels. They make a great addition to smaller kitchens that might not have room for a typical island as they can be pushed aside when more space is needed. They cost less than a permanent island, as well.
• Kitchen island: If you'd like to use the additional space for food preparation, islands can be customized to your needs by adding a sink or even butcher block. They're more expensive than their mobile counterparts, but can be a huge investment in the long run.


What size should my kitchen island be?

To determine what size you might need, survey the size of your space and determine how you'll use the island. If you have ample space, are an avid cook and plan to use it as the food preparation epicenter, you'll want a large model with a good amount of counter space and plenty of easy-to-access drawers and cabinets. If you have a smaller space and plan to use it occasionally, it's possible a smaller cart with a few shelves will do the trick. Regardless, be sure that there is enough room to move comfortably around your island and open drawers and cupboards — the last thing you want is for your new addition to cramp your space.


What types of countertops can be added to kitchen islands?

There are several different countertop options to choose from, depending on your aesthetic preference and individual needs. If you plan to do a lot of cooking and cutting on the island, you might want to consider a butcher block surface. These are durable and aesthetically pleasing, and they take away the hassle of dragging around a cutting board. However, wood is porous, so it's pertinent that you keep up with cleaning. A stainless steel countertop is sophisticated and sleek; they're also durable, heat-resistant and easy to maintain. On the downside, they're easily scratched, so it's best to avoid cutting directly on the surface. Granite is a timeless choice that looks great in any space, and it is very durable and easy to care for. However, granite is often one of the more expensive options.


What additional features might I consider for my kitchen cart?

The great thing about islands is you can customize them as much you want, so think big picture when you're planning your purchase. If you'll need extra space only occasionally, seek one out with a drop leaf so you can set it up and tuck it away as needed. If you need a sink, be sure to attach towel racks, and if you choose a granite or stainless steel countertop, perhaps you'd like to add a cutting board.
Sponsored Products
Featured Reviews of Kitchen Islands and Carts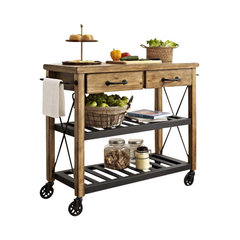 Roots Rack Industrial Kitchen Cart
Kitchen Islands and Carts
nice, practical rustic looking cart: Well made, solider and very attractive. Easy to assemble - good instructions. Only comment is that description could have been clearer about the wood on top of the piece. I thought it would be butcher block. It is not.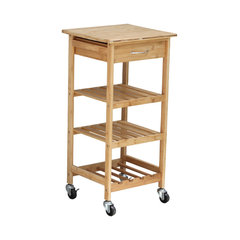 Kitchen Islands and Carts
Cute cart and does the job!: This product is perfect for small kitchens. It was easy to put together and fits well into a small space! The quality appears good and I am happy with the purchase. The order arrived on time.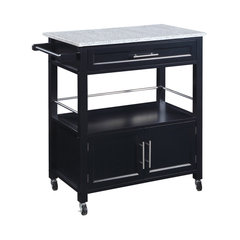 Michelle Granite Top Kitchen Cart, Black
Kitchen Islands and Carts
Excelent cart for the price.: I shopped pretty hard for a good quality cart both on line and brick and mortar stores. This unit is as good as it looks thought does require a lot of assembly. The only drawback It had is that the cabinet hinges are not adjustable and one of my door doesn't close properly. I will have to mess with it. My unit was delivered promptly but did not have instructions. I was able to put it together anyway but could have used some guidance. That may be why my door doesn't close properly? Any way I would recommend to anyone with some skills in assembly.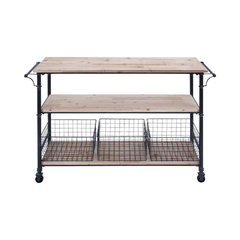 Gilbert Kitchen Island Cart With Baskets
Kitchen Islands and Carts
Kitchen Cart: I have been looking for something to use in my walk-in closet as a folding/ironing/staging station and this is perfect. Right height, wheels turn easy, and the baskets are great for storing socks and undies.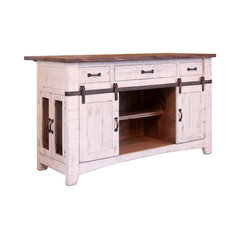 Greenview Kitchen Island, Distressed White
Kitchen Islands and Carts
Absolutely beautiful! I'm very happy with this island!: Very well made and so unique. I wouldn't hesitate to order another product from this company! Easy to order and delivered earlier than I expected. The delivery person communicated very well the delivery time and was helpful with any questions we had.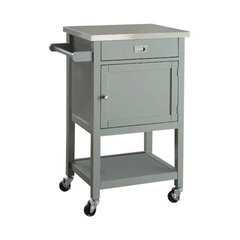 Sydney Gray Apartment Cart
Kitchen Islands and Carts
Will Not Disappoint: Beautifully crafted and easy to put together! I was very impressed at how well it was packaged! Fast shipping, it is perfect for my daughter's dorm! It exceeded my expectations.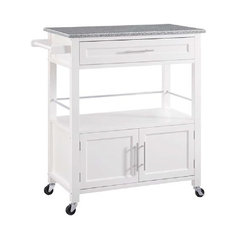 Kitchen Islands and Carts
Perfect size: This table adds a nice touch to our kitchen. Granite is good quality. It took some time to put together, but worth it. There were a few nicks on our price but staff at houzz took care of us.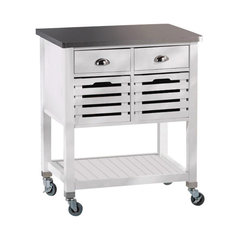 Mercer Kitchen Cart, White
Kitchen Islands and Carts
Cute, sturdy kitchen cart!: Perfect size for our space - not super big, but big enough to have extra prep space. Assembly was pretty involved, but not too bad. Made of sturdy materials and looks great in person!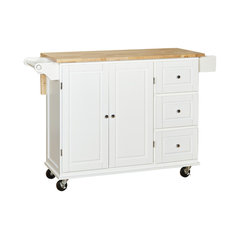 Galloway Kitchen Cart, White and Natural
Kitchen Islands and Carts
I was very pleased with the product we received.: I was very pleased with the product we received. It is made well and seems very sturdy. There are only two minor issues that didn't make it a 5 star. One the slide on the bottom of two of the drawers were backwards so my husband had to take it of and put it back on correctly. The stainless counter top on one side won't fit in completely flat.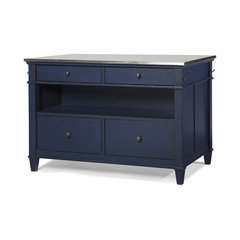 Klaussner Trisha Yearwood Home Miss Yearwood Kitchen Island
Kitchen Islands and Carts
Gorgeous statement piece!: I'm in love with this kitchen island. It's solid, well put together and perfect for our space. We have received a lot of compliments on it. Our kitchen is grey and white so the pop of blue color and the somewhat industrial feel of the countertop pulls out space together. The storage is practical for our needs and we couldn't be happier. Houzz also was excellent to work with and the upmost professional service. Waiting for the piece was the hardest part, but it was well worth it and withing the estimated timeframe.