Bathroom Fixtures
Bathroom fixtures make up the majority of a washroom or powder room's contents. Between the big items, like showers, bathtubs, sinks and toilets, and the smaller components, like sink faucets and tub faucets, you've practically got a complete space. Because they have such a huge impact on the function and style of the room, it's important to have good quality bathroom fixtures that will last long and be low-maintenance.

The larger components may set you back a bit in terms of cost, but having a reliable sink or toilet when you need it most is worth the investment (plus newer models can even help conserve water!). If you're looking for a quicker fix to re-style your room, change out the bathroom faucets and other bathroom hardware, and try out some new linens or decor. Luckily, bathroom fixture trends tend to stick around for a long time, so focus on finding pieces that meet your functional needs, and the styling will fall into place after.

Browse our bathroom fixture section to find the products you love.
1 - 36 of 58,686 products
Sponsored Products
Featured Reviews of Bathroom Fixtures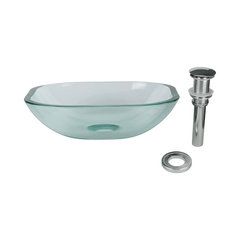 Mini Tempered Glass Vessel Sink With Drain
Bathroom Fixtures
perfect fit vessel sink: This square vessel sink is perfect to turn our antique dresser into a bathroom vanity. Now the full re-model can begin! I couldn't be happier. The price was right and product was shipped promptly.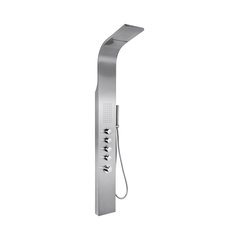 AKDY 63" Shower Tower Panel Spa Rainfall Style Waterfall Thermostatic Handheld
Bathroom Fixtures
I am in love with this product!: I have been using my new shower for 2 weeks. I like the way it looks, but most important is I am in love with the shower features and water pressure it delivers. It feels like I am using a shower in a five star resort or luxury spa. I stay in the shower till I drain all hot water.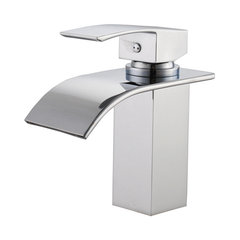 Waterfall Contemporary Bathroom Sink Faucet
Bathroom Fixtures
huge: this is much much much bigger than the picture...if you have a small sink, or don't like bulky things this is not for you. however, it is a very heavy feeling faucet and it does look cool. i happen to like bigger looking fixtures, however some think this is for a tub not a 24" bathroom sink. i have not installed it yet, so not sure exactly how good it will look. but out of the box it feels nice and sturdy. oh and I wonder how it is going to take calcium build up form the water. we will see!!!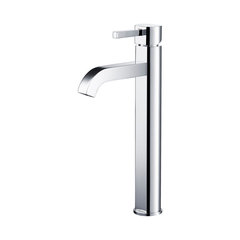 KRAUS Ramus Tall Vessel Bathroom Faucet, Chrome Finish
Bathroom Fixtures
Quality Faucet: Was a little hesitant with a online purchase cause a faucet is a touchy feely thing. The faucet is sturdy and with the aerator water won't splash everywhere when you turn it on.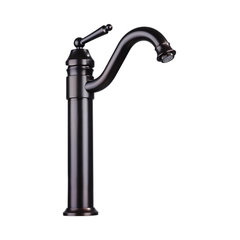 Vessel Sink Faucet Lavatory Mixer Tap, Oil Rubbed Bronze
Bathroom Fixtures
Perfect color: Perfect color i'm very happy with this faucet it is exactly the satin nickel color that I was going for this faucet is a heavy duty quality faucet I have not installed it yet to see how well it works but I'm sure that it works just fine I will update with further information once I have installed it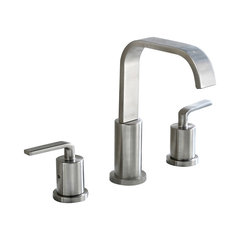 Luxier Bathroom Vanity Sink Widespread Lavatory Faucet Lead Free, Brushed Nickel
Bathroom Fixtures
whagt I was hoping for: I don't like giving reviews before an item is in place, but I will say this faucet is good weight, well made and the finish also looks good. A very nice, expensive looking faucet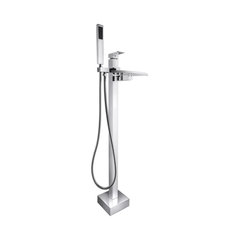 AKDY Freestanding Bathtub Waterfall Style Faucet, Floor Mount
Bathroom Fixtures
Beautiful: This package came in a heavy duty box. We expected a longer delay but was here within five days of ordering. Have not installed so cannot speak to the functions but absolutely love the way it looks and feels.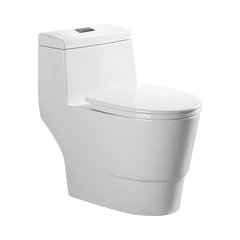 Dual-Flush Elongated 1-Piece Toilet With Soft-Closing Seat
Bathroom Fixtures
Very good quality toilet, Sleek and Stylish: Really nice, low profile, low water toilet. The very smooth exterior provides both great looks and ease of cleaning. Easy to install. Has strong flushing mechanism can be adjusted to your preference. Love this toilet!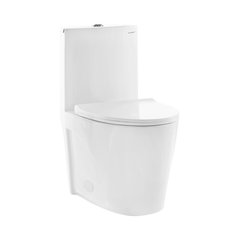 St. Tropez 1-Piece Elongated Toilet, Dual Flush, 0.8/1.28 GPF
Bathroom Fixtures
Bathroom remodel: While remodeling our bathroom, I decided to order this model of toilet for its sleekness and dual-flush operation. It looks great, a little difficult to install with small port access secure base. Works great, the right choice for our bathroom. Very quick shipping too.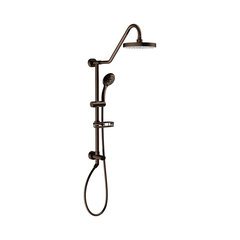 Kauai Brass Rain Shower System With Handheld, 1.8 GPM, Oil-Rubbed Bronze
Bathroom Fixtures
Quality product, great price.: I looked on line for a rain shower with additional hand held head for retrofitting to our existing master shower and this looked like the best option available. I knew when I ordered it the vertical arm would be too long so I ordered the additional short one. The price was great but I do think it'd be nice if they provided the product with a shorter arm option rather than wasting the long one. It was very easy to fit, not requiring drilling holes. Of course you have to get the righr length nipple and I needed a 3" one which I got at home depot without issue. Everything was provided and the instructions were detailed enough. A couple of hours and the job was done and we are very happy with the result.