Living Room Furniture
The appropriately named living room is the space where any and everything happens. It's where you put your feet up after a long day, have family game night, throw parties and swap stories. Your living room furniture needs to be up to the job. Sofas, chairs, coffee tables and media storage must all work together to support your lifestyle. It can be tricky to find the perfect balance of living room furniture, but these tips will help get you started:

If you're going for the more casual feel, find comfortable family room furniture that will help everyone feel welcome and relaxed. A big sectional and ottoman will provide plenty of space to stretch out — perfect for weekend lounging. For a more formal living room, try a few structured armchairs and a chaise, coupled with an elegant coffee or accent table. If movies and technology is your thing, shop for media storage furniture like TV stands and bookcases that neatly store and/or display your DVDs and electronics. Regardless of your room's main purpose, it's always smart to plan the layout before purchasing any big or small living room furniture to make sure you're using the space to its full potential.

Browse our living room furniture section to find the products you love.
1 - 36 of 146,446 products
Sponsored Products
Featured Reviews of Living Room Furniture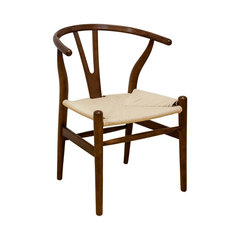 Charlestown Side Chair, Walnut
Living Room Furniture
Great chair: This chair is just as it appears in the picture - no surprises here. Quite comfortable and well made. I wanted to order one and check it out before ordering enough for my dining room...I'll be ordering more.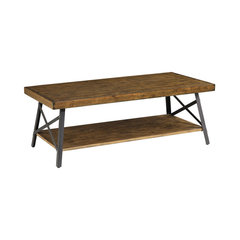 Living Room Furniture
Simply beautiful!: This table is absolutely beautiful. Subtle variations in color and texture add to its quality. It was very easy to assemble, although I suggest that you have another person to help you when adding the wood. It is a little awkward to put together by yourself. I have had more compliments on this table than any other piece I put in the room.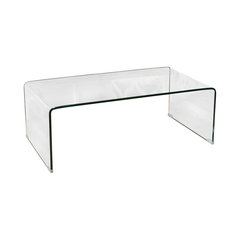 Classon Glass Rectangle Coffee Table
Living Room Furniture
Clean lines: This is truly as good as it comes for a all glass table. My one design complaint would be the white plastic feet on the ends could be upgrade. It is made out of really cheap looking plastic and the light color sticks out like a sore thumb.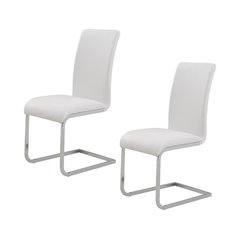 Bhandi Side Chairs, Set of 2, White
Living Room Furniture
GREAT PURCHASE: Chairs look great, very well made and were delivered on time. Very easy to assemble and the price was right! Very satisfied with the purchase. We recommend this product to others and the overall experience was positive. We were going to pay for similar product in another store 3 times more the price that we paid for the 6 chairs that we purchased.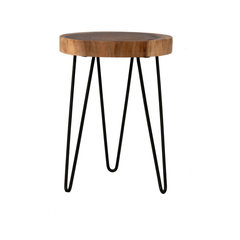 Living Room Furniture
perfect size for laptop: I bought this to put next to my sofa as I eat dinner or drink tea or work on my laptop. It is slim visually for a small space, handy, and rustic/modern. I like clean lines and this little table was perfect.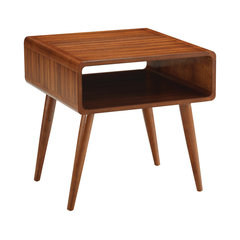 Living Room Furniture
Nice/Large end table...: If you're looking for something larger, modern, with rich-wood paneling...this is it. It does have a very mid-century feel so make sure that style blends with yours if purchasing. Great value.
Living Room Furniture
Great chairs: These chairs are great. I ordered two to be the end chairs to my dinning room table. They arrived quickly. They look beautiful, are very comfortable and seem to be of high quality. I've had them for a few weeks now getting moderate use and they are doing well. The only drawback is the legs - they are metal covered with something that makes them look like wood, but they are not wood. I wasn't expecting that, but I have to admit - you'd never know it unless you are the one putting them together. Would definitely recommend for an affordable mid-century looking chair expected to get a lot of use.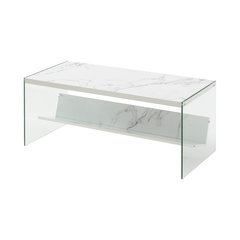 Epoch Modern Coffee Table, Faux Marble
Living Room Furniture
Even better than I expected: At some point in life, you notice how you actually use things in your home -- and you start to build a home that fits to you, not the other way around. Books are often shown in interior design ... but with how I live with books - I've just never been able to keep the coffee table clear of piles of books. This did the trick! I can keep a reading list of a dozen books in rotation with subscriptions too, while also having a home that feels ready for guests any day. From the pictures (and the price), I had decided to buy the table and then replace the shelf and top with reclaimed wood - to elevate it a little. The table arrived (on time), I put it together (in less than 20 min), and the weathered gray top actually looked better than I thought - even perfect. This is a keeper!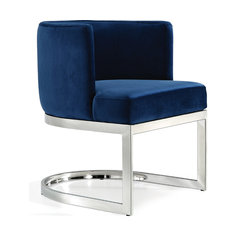 Gianna Velvet Dining Chair, Navy, Chrome Base
Living Room Furniture
Rich looking and modern love the velvet feel: These chairs are very modern and elegant looking - exactly what I wanted. They are well made and they "hug" you and look beautiful with my glass table. They are just slightly too firm, but I would definitely buy them again knowing that.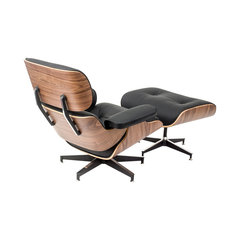 Mid-Century Lounge Chair/Ottoman, Genuine Premium Italian Leather, Walnut/Black
Living Room Furniture
Eames Lounge chair: The chair is beautiful and extremely comfortable. A little hard putting together but the store is extremely fast in responding and helping. It creeks a little, I hope that is just settling but overall so happy with the product and I researched several.