Gas and Electric Ranges
Whether you're an all-star chef or simply cooking basic family meals, a top-of-the-line range will make mealtime easier. Whether you go for a gas stove or an electric stove, chances are that you'll run into the wide variety of options available. Knowing the differences among the choices will ensure you order up the right range for your cooking style.


Should I choose a gas stove or an electric stove?

Much like apples and oranges, electric and gas cookers have distinct differences:
• Electric: An electric stove will generally be less expensive than its gas counterpart and will allow you to maintain low heat levels. It can sometimes be difficult to regulate a consistent temperature overall with an electric model, and keep in mind that the higher the wattage is on your burners, the faster your food will cook. Burners typically come in one of two styles: a standard coil burner that features coils sitting above the surface, or a smooth top, for which heating elements are installed beneath a glass surface for a smooth look.
• Gas: Providing better control of temperatures, gas stoves also allow you to heat up or cool down your cookware much faster than electric cookers. Check that your gas range comes with at least one high-output burner, used for quick boiling and searing, as well as low-temperature options for simmering.


How large should my range be?

Range cookers come in a variety of sizes to accommodate your needs. The standard size is 30 inches; however, you can go as large as 60 inches. To determine what size will work best for you, consider how many people you'll typically be cooking for and if you'll need to utilize several burners at a time for large cooking projects. In addition, take into consideration how much room you have in your kitchen — it's likely this will also affect how large your range can be. With that in mind, be sure to measure your available kitchen space as well as the stove itself to make sure there will be no surprises when it arrives at your home. Don't forget to also make sure you have access to a natural-gas source or an electrical outlet, depending on which type of range you choose.


What types of stoves are available?

Depending on your kitchen setup, you can choose from a freestanding, slide-in or drop-in model. Freestanding range cookers don't need to be fitted into your cabinetry and can have finished sides. A slide-in range does just what it says and slides in between your cabinets, while a drop-in range rests on a toe kick plate in between your cabinets.
Sponsored Products
Featured Reviews of Gas and Electric Ranges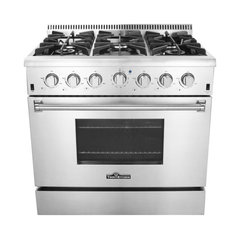 36" Professional Style Stainless Steel Gas Range, Natural Gas
Gas and Electric Ranges
FYI: I might change the rating once I have it installed and am using it. I just had this range delivered yesterday so its not installed yet, but I wanted to make buyers aware of something. This range comes equipped for Natural Gas. If you use Propane/LP then you'll need to buy the conversion kit. The gas man has been here for two hours now installing the kit! It's not a simple, quick install. They are getting it installed and will be testing it soon. Once I have the range in use I'll certainly write a review of its performance. So far, I'm thrilled at how quickly it was delivered, and the looks of it. Its stunning. The burners are brass and the knobs are metal, in case you are wondering. Also, and importantly, it is an exact 36" width! Just things to know.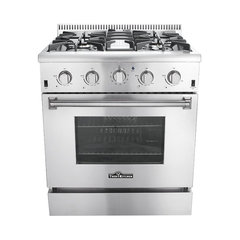 30" Free standing 4-Burner Gas Range
Gas and Electric Ranges
Amazing Stove: This stove is the star in the kitchen, aside from myself of course. After the kitchen renovation, all the positive comments go to this stove. This is a great professional looking stove for the price.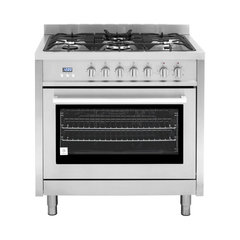 Cosmo 36" Dual Fuel Range (F965), 36", Natural Gas
Gas and Electric Ranges
Love my new range: I was in the market for a new range after 12 years of using my older range. After searching and searching for a range that will best fit my needs I managed to come across this cosmo range and I placed an order. I must say shipping was quite fast. When i received it I immediately had it installed and my god does it look beautiful in my kitchen. overall this range is an A++ in my books. I will definitely recommend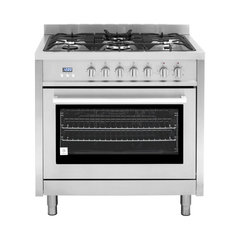 Gas and Electric Ranges
Beautiful range and great for cooking!: Very satisfied with my purchase of this 36 inch dual fuel range. Has a lot of power on the stove top burners and boils water really fast. The electric oven features true convection which a lot of people might not understand what the difference is but to simply put, it helps roast evenly and faster. Not to mention the design of this range is also stunning.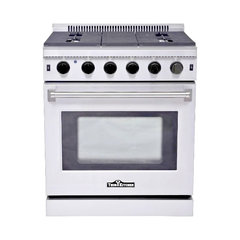 Thor Kitchen 30" Stainless Steel Gas Range Oven With 5 Burner LRG3001U
Gas and Electric Ranges
Arrived on Time and in great condition: We received the stove on time and it was in great condition. All working parts, Would have been nice if they brought it in the house instead of just dropping it in the driveway. It is steardy and heavy duty. Love the gas range and the oven is great!