Decorative Storage
We all tend to fall into two categories: those who are organized and those who aren't. Whichever bracket you find yourself in, decorative storage solutions are an easy way to make organization fun. Who can resist the bold prints, vibrant colors and enticing textures of today's storage baskets, bins and boxes? Get some inspiration from the large selection of decorative storage solutions below!


Mix and match colors and patterns.

Think of your organizational scheme much like you would your home decor. Don't feel as if every wooden storage box has to match. Instead, choose items that have a similar color scheme and different patterns, or the same pattern in different colors. If you prefer a DIY customization job, choose plain items that can be painted, covered in paper or fabric, or drawn or painted on. Create a work of art with items like wooden storage boxes so whenever you open your closet door or desk drawer, you'll be greeted with a cheerful, well-organized interior.


Let your decorative boxes and baskets be seen.

Tradition has it that our storage items should be tucked away out of sight. Not anymore. Let your decorative bowls and fabric storage boxes be seen. Place them on a side table in your entryway or living room, or let them become a centerpiece on your coffee table. Better yet, add some decorative wall shelves to complete the look. As long as their colors and patterns fit with your room's decorating scheme, you're good to go. The same goes for antique storage pieces, like a wooden jewelry box. Along with housing your earrings, rings and necklaces, it can become an accent piece with a unique vintage vibe.


Get crafty with your wicker storage baskets.

Every wicker storage basket can benefit from a liner, and if you're fairly handy with a sewing machine, it can be easy enough to select a fabric of your choice and create your own. Try a fun, colorful plaid for your country kitchen or a vibrant chevron pattern for a contemporary living room. A floral pattern will complement a traditional bedroom, while a paisley design can be a fun accent for an eclectic entry.


Label it all.

Your best bet for keeping things organized, especially if you have other helpers around the house, is to attach labels to each container. You can even use this as an opportunity to further customize your storage. Cut out labels from decorative paper and glue them on with adhesive spray. Punch a hole in one end of your labels and use a pretty ribbon to attach them to your decorative baskets. Use washi tape for an easy and colorful labeling fix. Create labels out of chalkboard wallpaper or use chalkboard paint and hand write your notes on them. Whatever you choose, labeling is a fun and effective way to ensure that any removed items find their way back home.
1 - 36 of 22,508 products
Sponsored Products
Featured Reviews of Decorative Storage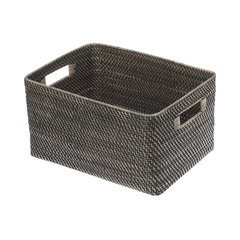 Black Antique Rattan Storage Basket, Large
Decorative Storage
Antique-Style Rattan Storage Basket, Black, Large: Excellent value. Classy color. Sturdy. I am using two of these large baskets to store books on the bookshelf in my living room. The baskets break up the cluttered look I had before in an elegant way. I am very happy with the quality and sturdiness of these baskets.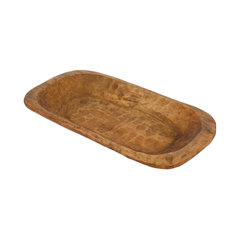 Decorative Storage
Rustic and Attractive: The dough bowl arrived in good time and looks just as pictured. The price was good compared to other sites. Looks handmade and just what I wanted. I just wish it came in an even bigger size.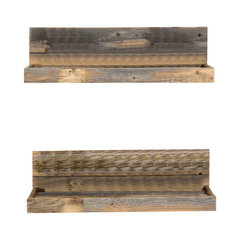 Reclaimed Wood Floating Shelves, Set of 2, Natural
Decorative Storage
rough cut: I did not release how rough this wood was going to be. It works for what I am using this for. Have not hung it yet so I am a little worried about how sturdy it will be. Also, a lot deeper than I than I expected.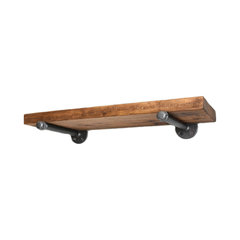 Urban Industrial Rustic Floating Shelf, 48"
Decorative Storage
Great Quality!: These shelves are perfect for that rustic industrial look. Sure, you can actually make them yourself by going to Home Depot or the like but why? It's all ready for you to install without having to hunt down the parts.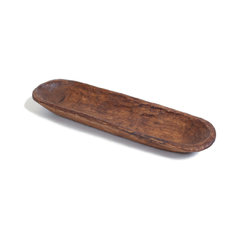 Rustic Baguette Dough Bowl, Natural, Small
Decorative Storage
The perfect accent for rustic or contemporary settings.: I ordered this baguette bowl for it's linear shape and couldn't be happier. You could actually use it for a baguette, but I am going to put green moss rocks in it for a sleek table centerpiece. J'adore!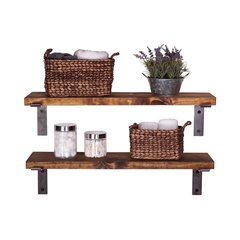 Industrial Shelves With Metal Brackets, Set of 2, Walnut, 36"
Decorative Storage
Open Shelving: These shelves work perfect in my kitchen. Only issue I had was they only sent 1 and had to ship the 2nd one later. Although they sent it right away!! Great looking and serve the purpose.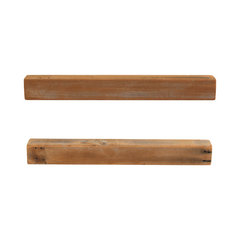 Cedar Floating Shelves, Set of 2
Decorative Storage
Just what we ordered: Exactly what we ordered. Arrived on time and in tact. Came with directions to install and all hardware needed. I like that each piece is unique and real wood, so it has some character. We bought three sets so we could put 3 on each side of our mounted television.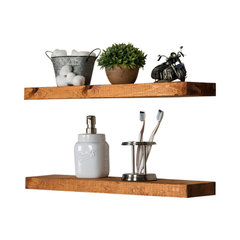 True Floating Shelves, Set of 2, Walnut, 24"
Decorative Storage
Nice shelves: These shelves are sturdy and real wood... the color is a little odd and not what I expected and there was some stain inside the packaging which gave me the impression these were stained and packaged before they dried completely. I'm going to keep them though and if the color bothers me enough I may try to tone down the orange-ness of the color.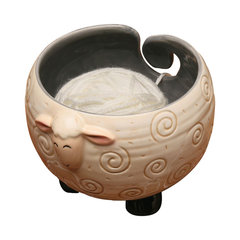 Sheep Shaped Yarn Knitting Bowl
Decorative Storage
Great Yarn Bowl: I like this yarn bowl so much that I bought two for myself and another for a Christmas gift! Its glaze on the inside is smooth so the yarn doesn't snag. The cut out for the yarn end does a good job of keeping it in place. The order was well-packaged and arrived sooner than I expected. And it's a SHEEP!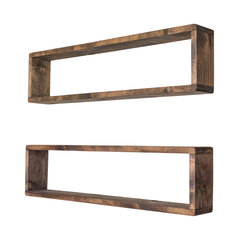 Floating Stackable Box Shelves, Walnut, Stain, Set of 2
Decorative Storage
Love these.: These shelves are awesome. Perfect for the rustic, but not too rustic look. They've been up a week and we've already gotten 2 compliments. Great size for holding small trinkets / plants. There are holes on the back of the shelf to hang from, but these shelves do not come with any hardware. We had screws lying around the house that worked great.