Floor Lamps
A well-placed floor lamp can make a huge impact on the ambience of a room. These tall lights illuminate dark corners and warm up the overall tone of a space, as well as make great task lights. An arc floor lamp is a popular and elegant choice, whereas a chandelier floor lamp is a more decorative option. No matter what your stylistic preference is, shop the floor lamps for sale below, and light up your home!
What style of floor lamp should I choose?
When looking at floor lamps on sale, your top choice should depend on the style of your room as well as the main function you want your lamp to perform. A more traditional room could have a torchiere floor lamp or even a Tiffany-style floor lamp. If your style is more modern, a tripod floor lamp or an arc floor lamp will complement the room nicely. While shopping, pay attention to the style of the lampshades and bulb, as these can also make a huge difference both aesthetically and functionally. A clever way to mix and match your lamps is to mix bases and match shades. Find out more about matching shades and bases in our
Lamp Shade Guide
.
How tall should my floor lamp be?
For determining height, consider where your light will be placed in the room and what you want it to accomplish, plus the size of your furniture. A reading light shouldn't extend too far up, whereas a light intended to help brighten a large corner or small room will need to be a bit taller. You also don't want your new lamps to overpower your furniture or be in the way of everyday traffic.
Where should I place my floor lamp?
When shopping for your new floor lamp, keep in mind where your available electrical outlets are as well as the layout of your furniture. Avoid stringing the electrical cord across the room — it can become a tripping and fire hazard, plus it can make your space look odd and unfinished. If you choose an arc lamp, be sure to position it in the corner so anyone taking a seat doesn't bump his or her head. Smaller floor lamps are easier to place along walls or the edges of furniture.
1 - 36 of 10,379 products
Sponsored Products
Featured Reviews of Floor Lamps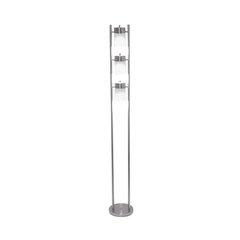 65" Tall Metal Floor Lamp With 3 Adjustable Lights, White Acrylic Shades
Floor Lamps
Triple Floor Lamp: This arrived quickly, was well packaged, but missing a key item to complete assembly. I called to get this part replaced and it came within a week. After final assembly, three LED bulbs were installed to illuminate a key part of an art display. It works well enough, and is unobtrusive in appearance.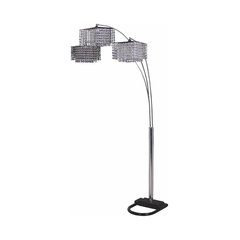 Silvanus Crystal 84'' Floor Lamp
Floor Lamps
Awesome lamp: I absolutely love my lamp. It brings so much elegance to my living room and is always a conversation starter. The item was just as pictured....even better. I will definitely purchase other items from Houzz and I will recommend to others.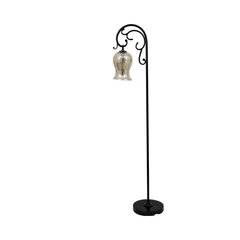 Textured Bronze Floor Lamp With Mercury Glass Globe
Floor Lamps
This lamp is absolutely gorgeous: If you're thinking of buying this lamp do it! The lamp looks even more beautiful lit. I put it together in about 5 minutes (including time to open the box) I really like that it has a "step dial" on the floor to turn the lamp on/off. It's the perfect bedroom lighting. Think I'll buy another one for my husband's side of the bed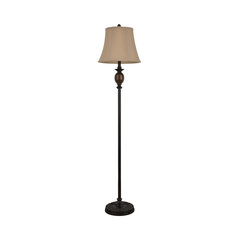 Bronze and Marble Floor Lamp
Floor Lamps
Love it: My online buying experience was simple and delivery was quick and timely. I love the lamp. It s perfect for a corner behind a sectional sofa in my living room . It s beautiful and so reasonably priced with free shipping! Love HOUZZ.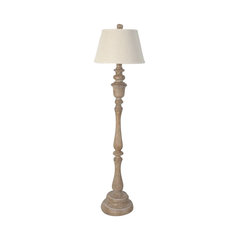 Jacqueline Floor Lamp With Shade, Reclaimed Wood
Floor Lamps
Perfect: This lamp went great together with 2 chairs I got on Wayfair. The lamp is resin not wood. But you can't tell. It is on the shorter side but perfect for my corner. Sturdy. Easy to put together. I actually love it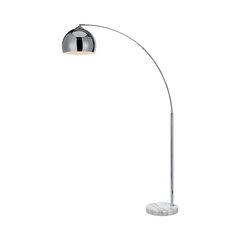 Maison Arc Floor Lamp, Silver Shade and White Marble Base
Floor Lamps
Beautiful Bistro Set: We purchased this set in the indigo stripes, and it looks great. Box came all banged up, but luckily the set was not damaged. No assembly required, the 2 chairs and table look great on my porch in my new apartment. Great price, definitly recommend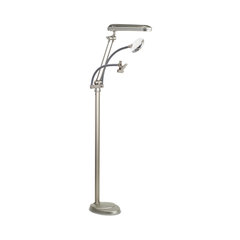 OttLite 3-in-1 Craft Floor Lamp
Floor Lamps
Almost perfect!: This lamp gets 4 stars.... if the stem was adjustable in height, I would have given it 5 stars. The magnifier is a bit too high to be used easily for stitching. The light is excellent, and the instruction clamp is convenient.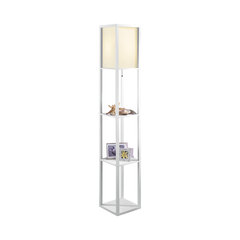 Catalina Finley 62.8" White Faux Wood Square Etagere Floor Lamp
Floor Lamps
Great lamp: Easy to assemble. Looks very clean, crisp, soft lighting(I chose softer light bulb) good for small space & shelves allow you to personalize with a plant or frame or leave bare for a more modern feel.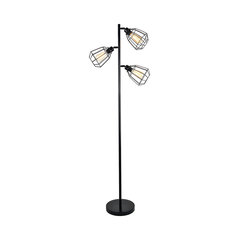 60W 3-Light Floor Uplight Lamp With Metal Shade, UL-Listed
Floor Lamps
Great lamp!: Just exactly what I was looking for. Matches my desk lamp. I have looked at several black floor lamps and this was the one. Great price. Includes light bulbs with it also. They cost $5.00 each at stores.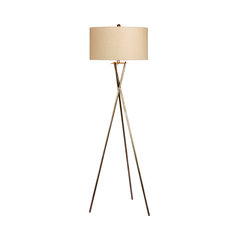 Fangio Lighting 63.5" Industrial Tripod Metal Floor Lamp, Rusted Silver
Floor Lamps
Very pleased: Easy to put together. I was really happy to see that the cord is hidden in a leg. I was concerned that the photo didn't accurately reflect where the cord was attached. Perfect corner lamp - purchased to use at my office - it looks great. The quality was much better than expected at the price point.