Chaise Lounge Chairs
If you're looking for a way to sneak in stylish sophistication to your home's decor, consider a chaise lounge chair or divan. Whether you're outfitting a reading nook or adding extra seating to your living room, they're sure to be a chic accessory that will complete any look. Since it will likely be an investment piece, be sure to make the right decision when purchasing by understanding what to look for and deciding what chaise lounge is right for your home.


What's the difference between divans, chaise lounges and settees?

There isn't a big one, and they essentially function in the same fashion. A chaise lounge (meaning "long chair" in French) is a one, two or no-armed sofa featuring a low or half back — think chair and ottoman combined. A divan tends to be a bit larger and closer to the ground, and usually does away with any arms or back, leaving a mattress-like cushion that can be used as a daybed of sorts. Lastly, with two arms and a back, a settee is most like a small, slender sofa. Some settees resemble a bench, and work well at the foot of a bed or in an entryway.


Which chaise lounge chair should I buy?

This depends a lot on the style you're looking for: many have become more trendy as well, so often the styles appear very similar. Divans tend to be perceived as more functional than a traditional chaise lounge sofa, given their bed-like ability, but the latter can add an elegant touch to a living room or bedroom. In the end, it comes down to function and aesthetics: determine where and in what way you want to use it, and how you want it to look in your home.


Where should I put a chaise lounge?

These pieces of furniture are actually useful in a wide variety of spots throughout the home. Want to create a cozy reading nook in your bedroom? Outfit it with a comfortable chaise lounge sofa and enjoy a book into the wee hours. Settees and divans are also great for adding seating space to living rooms without creating a visually bulky set-up. Place an armless chaise across from a sofa with a coffee table in-between for ample entertaining.


What style chaise lounge sofa should I choose?

Determine where you're going to place it, and then survey the room's current decor. For a vintage look, scour flea markets or antique stores to score an affordable settee that will add instant charm to your space. If you're looking to go modern, consider something sleek and plush. For contemporary appeal, find an armless lounge chair or divan and consider a bold or vibrant colored fabric.


What should I look for in upholstery?

Since chaise lounges are usually meant for relaxation, find a fabric that will suit that. Cotton, linen and polyester will provide a soft surface that's durable to boot. If you want to go sleek and contemporary, choose ultrasuede for an eye-catching element. If you're thinking more Victorian era, velvet will do the trick.
Sponsored Products
Featured Reviews of Chaise Lounge Chairs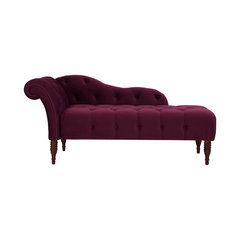 Sadie Chaise Lounge, Burgundy, Right Arm-Facing
Chaise Lounge Chairs
Beautiful navy color and unique Chaise Lounge: The color of the couch is true to the picture and very beautiful. It's a nice accent piece but not comfortable at all,, which doesn't matter for us since it's more of a decoration. Trying to replace the legs as the picture showed a darker brown wood than is actually on the lounge. Easy to put together.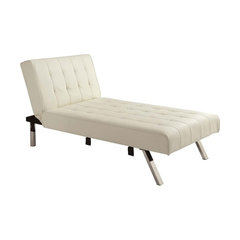 DHP Emily Faux Leather Chaise Lounge, White
Chaise Lounge Chairs
Great value!: It's a great piece to add to an eclectic mix. I've enjoyed having the extra sitting spacr, but it's not something you would stay on for a long period of time. It arrived on time, well packaged and covered, and was easy to assemble.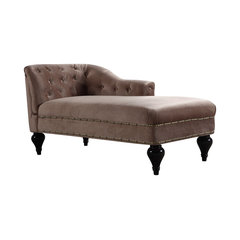 Elegant Kid's Velvet Chaise Lounge for Living room or Bedroom, Champagne
Chaise Lounge Chairs
Perfect for shorties: This item is fantastic. The color is as described and it is quite elegant. I'm only 5'1 so the length is perfect for me but if you're a regular sized adult it would feel small. See picture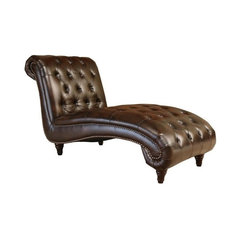 Abbyson Living Mirabello Bonded Leather Chaise Lounge, Brown
Chaise Lounge Chairs
Instructions are not as good as they should be but I was able to figure out how to put back and seat together.: Instructions are not as good as they should be but I was able to figure out how to put back and seat together. I put the 2 pcs. together on a carpeted floor and easily put the pcs. together with the screws and wrench provided and then attatched the legs and turned it over. I am a 74 yr. old women alone and was able to do it by myself. It is beautiful in my den for watching T.V. and is a beautiful pc.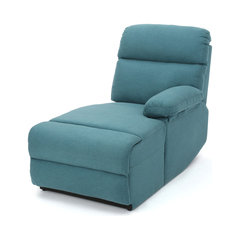 Susana Comfort Modern Fabric Chaise, Dark Teal
Chaise Lounge Chairs
The right Choice for me: Okay, so here's my review of this purchase. I'll start by saying that because the apt I am now living in is super small (living room & bedroom) so buying any furniture that will work is a challenge. The color is exactly like the photo online and as hoped it's construction is good. The other thing is that because it comes in two pieces it fit up the stairs of my tiny building & into my apt. It's comfortable & and looks great in my apt. (The arm rest which has a compartment for storage is actually handy) I'd highly recommend this piece as additional seating (also have a love seat which I also bought from Houzz and which I like less than this new piece). The only complaint is with the always unreliable FedEx. Getting the delivery was a bit of a nightmare but we've all been through it. I've asked Houzz to ship it through UPS but no...sigh). As for their customer service reps, it's a mixed bag, some good, but not all. Depends who you get. The Chaise is great though. Love it.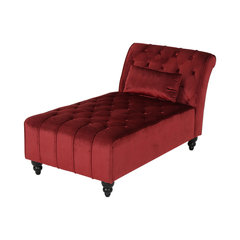 Rafaela Tufted New Velvet Chaise Lounge, Garnet
Chaise Lounge Chairs
rafaela chaise lounge: Love this product fits me perfect and matches my color scheme, I love Houzz products and doing business with them orders are always here in a timely manner and products are worth having.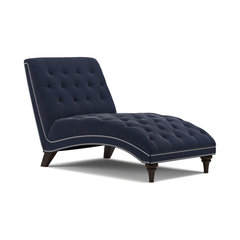 Butler Velvet Chaise, Navy
Chaise Lounge Chairs
nice chair: I love this chaise, the fabric is nice and the chair is comfortable. The color is beautiful, one of the back legs had a nick in the wood and the packaging was flimsy--it was raining the evening it came and the box was damaged. other than that all is well. Thank you. Nancy B.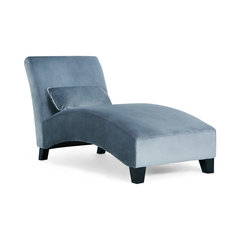 Chaise Lounge Chairs
Love it!: Very nice chaise lounge. It is the true color as the picture. A little blue which was perfect for my décor as I had hoped. Maybe people know this, but it is short to the ground which I don't mind. Very comfortable for my r&r time. Love it!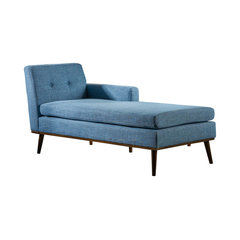 Sophia Mid-Century Modern Fabric Chaise Lounge, Muted Blue
Chaise Lounge Chairs
4 ½ stars: It is a nice looking lounger and very comfortable. Assembly was easy, although the directions were not the clearest, it was pretty intuitive as to what went where. The reason it does not get 5 stars is because the cushion is not a precise fit with the frame. If I push it up even to the back then it shifts to the left at the feet. Vice-versa, if I even it up at the feet then there is a gap at the back. Throw pillows can cover that, but I wish it all aligned better. Great place to sit on the porch and enjoy a summer breeze...it is fought over by all people and pets in our house.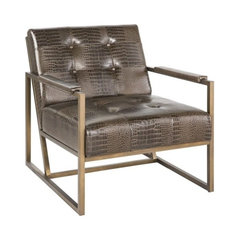 Waldorf Lounge, Chocolate
Chaise Lounge Chairs
beautiful: I can't believe the price I paid for this. Super easy to put together and it looks AMAZING and lux. I loooove how it looks in my penthouse loft. My husband asked my I didn't buy 2. This chair could easily cost $700+ I was nervous because no returns and there wasn't a review but because so many other products had great reviews I went for it. I love how deep the seat is too.